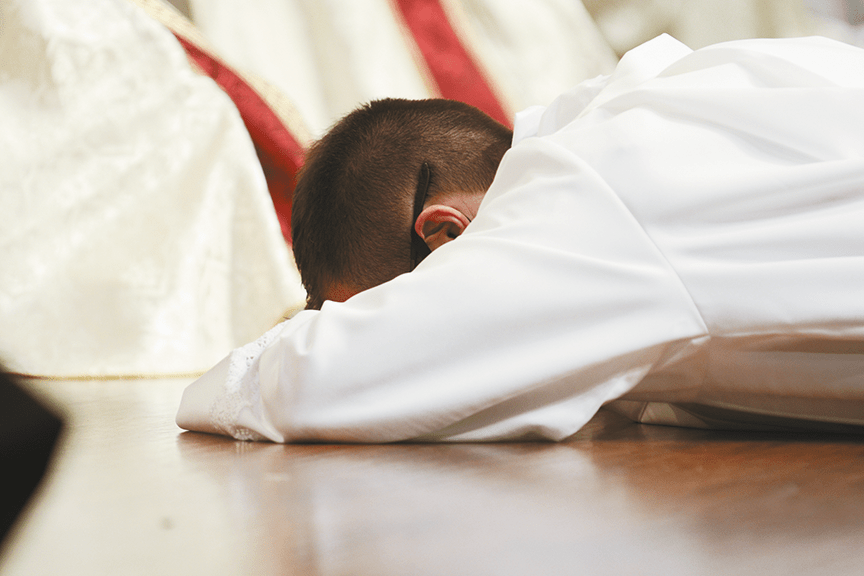 The Eucharist. Reconciliation. Anointing of the Sick. Pastors for our churches.
Without priests, none of these things would be possible, said Father Austin Gilstrap, director of vocations for the Diocese of Nashville and pastor of Our Lady of the Lake Church in Hendersonville, which is why vocations needed to be one of the areas supported by A Legacy of Faith Hope and Love Campaign.
"It makes sense because vocations is one of the very stable expenses in the diocese. We're always going to need to educate young men to be priests. That education comes at a certain cost," Father Gilstrap said. "It's not something that we can choose to do or not choose to do. It's something that we have to do.
"As we move forward and continue to grow as a diocese, we know we're going to have more and more need for priests, and we believe that God is going to call more and more men because of our need," he said. "God sends the laborers that we need to us, and it is our job to work with those men that God has sent to us to help them to prepare to answer that call from God, and that's always going to be a need for the diocese, so it just makes sense to make an endowment for those expenses" through the Legacy Campaign.
The $50 million A Legacy of Faith, Hope and Love Campaign is a diocesan-wide fundraising initiative to build up endowments to support in perpetuity parishes, schools, ministries and agencies of the diocese.
The historic campaign, with the assistance of Steier Group, is raising money to create new endowments or enhance existing endowments to provide future revenue for five key priorities: individual parish needs; Catholic education; vocations; parish growth and expansion; and outreach to those in need; and the money will be split among each of the key priorities.
Vocations is set to receive 15 percent of campaign funds.
The endowment for vocations created from the Legacy Campaign is meant to support all areas of vocations including seminarian education and formation as well as the formation and education of men studying for the permanent diaconate, Father Gilstrap said. Seminarian education alone costs $75,000 per year, per seminarian, he added. That includes their tuition costs but also supporting them in other aspects of life.
"We want the men to be completely free to discern God's will and to be able to support them in such a way that they don't feel constrained or restrained by financial burden," Father Gilstrap explained. "We have to take on that burden in order for that freedom to exist" and the same effort is given to the permanent diaconate candidates as well.
The endowments, which Father Gilstrap said he hopes will be built on every year for decades to come, will also be helpful in what he hopes is a growth of the program in the coming years.
"My expectation is that as the diocese continues to grow, God's going to have to send us some more men, so we're going to need more funds to support that growing vocations program," Father Gilstrap said. "We're very proud of our program, we're very proud of the way in which we're forming these men, and we're very proud of the men themselves.
"Ultimately, it is God's job to call the priests, but it's our job to make sure that they are prepared to answer the call that God has given to them," he continued.
"It's the man's job to serve and to submit himself to that formation and to allow himself to be formed," he said. "When we as young men try to answer that call, we're going to the bishop and, from the moment that we say yes to the priesthood, we're placing our entire lives in the hands of the bishop, and we're saying, 'I'm trusting you to form me into the man that I believe God is calling me to be, the priest that God is calling me to be.'"
And it's for those reasons that Father Gilstrap said it's appropriate for everyone in the diocese, be it the bishop, priests or laity, to support vocations through the Legacy Campaign.
"We all benefit from having priests, period," Father Gilstrap said. "It's appropriate for all of us to participate in that, that financial burden that the diocese takes on in order to make sure that we have a future filled with good, happy, holy priests."
As of late May, the campaign is closing in on $34 million raised.
"That is a real testament to … the incredible generosity of all of our people from the smallest parish to the largest parish," Father Gilstrap said. "Even my own personal experience of making my own pledge to the Legacy Campaign, it was not comfortable.
"But every time I feel a little bit of that sacrifice, I think about the great generosity of all the people who came before me who paid for me to become the priest that I am, for me to be educated with the finest formation that was available, and to be able to continue to serve and perpetuate that in the diocese," he said. "I'm just so incredibly excited, and I'm confident that we're going to reach that goal of $50 million, and it really is going to lay the groundwork for a true legacy in the Diocese of Nashville, which I'm personally proud to be part of."
The campaign is being rolled out at churches across the diocese in three waves, with a different group of churches in each wave. Wave One is complete, and Wave Two kicked off in late March. Wave Three of the campaign will begin kicking-off in late summer.
Steier Group, a capital campaign fundraising firm out of Omaha, Nebraska, has assisted dioceses in similar campaigns all around the country. Corporate donations have covered the fees for Steier Group to assist the diocese in managing the campaign.
For more information, visit dioceseofnashville.com/legacy.