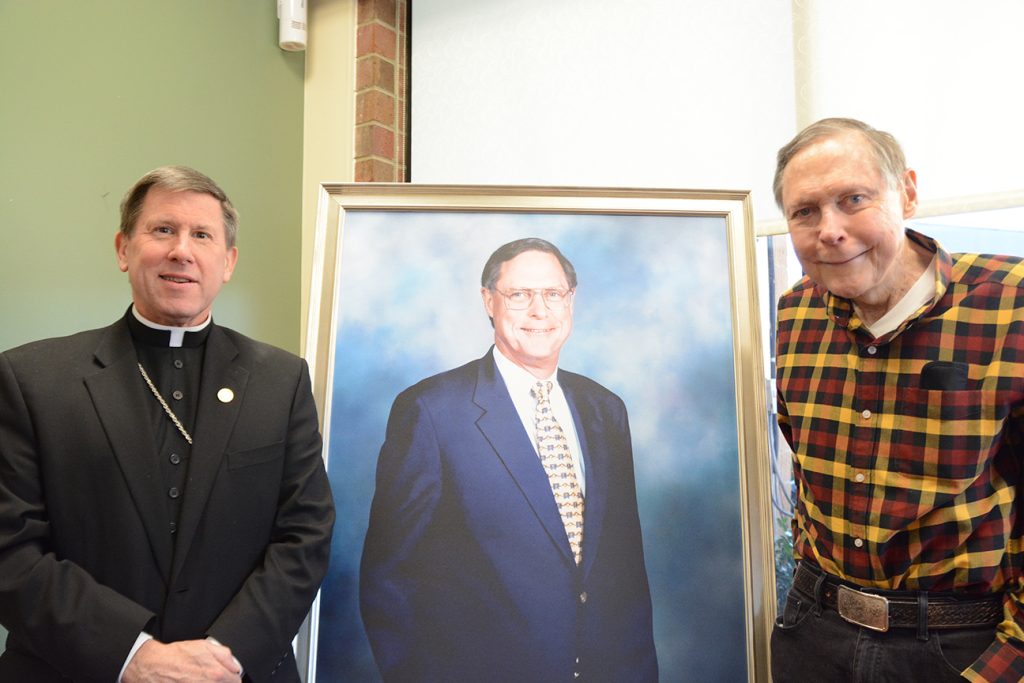 Robert Wilburn Fidler, who served as president of the Villa Maria Manor Board of Trustees for more than 20 years and was a parishioner of Holy Family Church in Brentwood, passed away on Saturday, May 21, just six days shy of his 80th birthday.
A Mass of Christian Burial is at 11 a.m. Monday, June 6, at Holy Family Church in Brentwood. It will be preceded by a visitation from 9-11 a.m. and followed up with continual visitation hours from 1-3 p.m.
"Robert Fidler was an extraordinary gentleman who unselfishly shared his expertise and time," said Richard Borofski, chief executive officer of Villa Maria Manor and Mary, Queen of Angels Assisted Living Facility. "As the president of the board of directors for Villa Maria Manor for over 20 years, his leadership enabled thousands of people to have access to affordable housing in Nashville. He has created an enduring legacy that will continue to touch the lives of many more people."
"There have certainly been very few servants of the Church that have made a greater impact than he," added David Glascoe, the retired executive director of Villa Maria Manor and Mary, Queen of Angels. "He was energetic, committed, a champion of affordable housing and services for seniors. He was a great mentor to me, and I certainly will cherish his memory forever."
Robert Fidler was born May 27, 1942, in Charlottesville, Virginia. At the age of 16, he moved to Nashville, Tennessee where he graduated from Hillsboro High School, then continued his education at Tennessee Technological University in Cookeville, Tennessee.
Fidler's career in mortgage banking spanned more than 45 years, beginning in 1967 at Guaranty Mortgage Co. Active in all aspects of mortgage banking, he went on to serve as President of the Nashville Mortgage Bankers Association, the Tennessee MBA and as Treasurer of the National Association. It was this experience that led to his significant role for the Diocese of Nashville.
Before serving as board president of Villa Maria Manor, Fidler used his 46 years of experience in finance and banking to assist the diocese's efforts to provide affordable housing for seniors. He served on the boards that oversaw the development of Villa Maria Manor, Mary, Queen of Angels, the Cloisters, and the West Meade Health Care Center.
He also served on the boards for Catholic Charities, Diocese of Nashville, St. Mary Villa Child Development Center, and on the Board of Trustees for Mary, Queen of Angels.
"Robert's reach extended beyond just Villa Maria Manor," Glascoe said. "He was an integral part of every senior living endeavor sponsored by the diocese."
Back in November, Fidler was honored for his several decades of service to Villa Maria Manor with an unveiling of his portrait, which is now displayed in the lobby of the facility.
The plaque below the portrait reads: "Robert Fidler: Our grateful appreciation for over four decades of service to the seniors of Villa Maria Manor as friend, financier, board member and president, placed to commemorate the 40th anniversary of Villa Maria Manor 1980-2020."
The honor was a surprise to Fidler at the time.
"It blew my mind," Fidler said at the unveiling. "I was told I was coming over here for a finance committee meeting.
"Thank you all and thank the Lord for giving me an opportunity to serve … and to contribute," he said. "It's been a labor of love. … I got a lot more out of it than I put into it, I guarantee you."
Robert is survived by his wife of 54 years, Dottie Brink Fidler, his two children and their spouses, Meredith (Chris) Fortune and Brink (Sally) Fidler, his sister, Elizabeth (Bob) Bussey, his three brothers-in-law, Ernie (Connie) Brink, David Brink, Bob (Linda) Brink, sister-in-law Peggy Fidler, six nieces, seven nephews and a slew of cousins. He is preceded in death by his parents Cullie Stafford and James Murray Fidler, as well as brothers Jimmy and Legette.
Memorial contributions can be made to the Brentwood Rotary Club Charitable Foundation (BRCCF) at P.O. Box 382, Brentwood, TN 37024 – 0382, or to High Hopes Preschool and Pediatric Therapy Clinic, 301 High Hopes Court, Franklin, TN 37064.
Funeral arrangements are under the direction of Brentwood-Roesch-Patton Funeral Home in Brentwood.