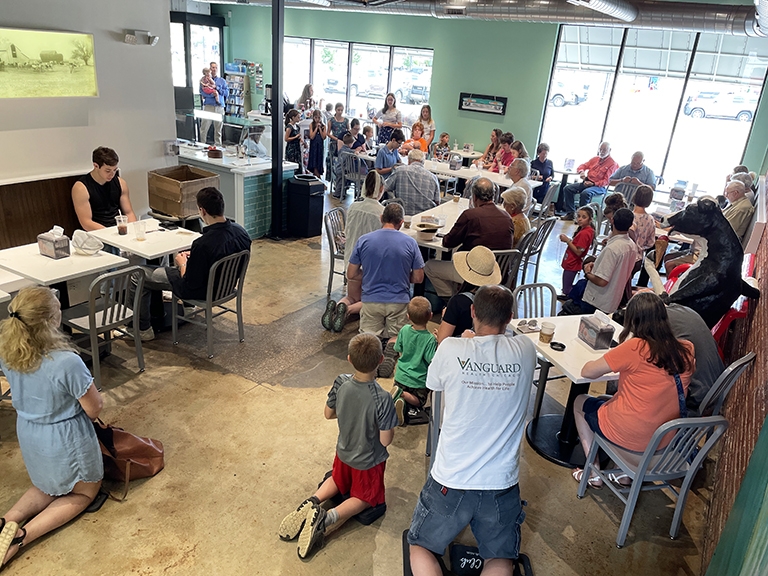 Since 2019, Katie's Ice Cream hasn't only been serving up homemade ice cream and other tasty desserts to the people of Dickson. Tom Costa, owner of Katie's Ice Cream, has also been offering a serving of faith as he hosts a Rosary Club the second Sunday of each month.
"I was looking for ways to contribute … and was searching personally for something to fulfill my vocation beyond a father and a husband, something I'm supposed to do for the faith," said Costa, who regularly attends St. Christopher Church in Dickson and St. Mary of the Seven Sorrows Church in downtown Nashville.
Because of his Portuguese background, he grew up with a specific devotion to Mother Mary, particularly Our Lady of Fatima, and, because of that, "I just felt I had to do something to help promote the rosary," Costa said.
So, after receiving positive feedback on the idea from Dominican sisters and confirmed no conflicts with St. Christopher's calendar, he held the first session of the Rosary Club on Oct. 13, 2019, the Feast of Our Lady of Fatima.
"I saw that as a green light to do this personal apostolate," Costa said. "We made the decision, and the thought was we'll show up and we'll trust that we won't be here alone, but even if we are alone, it's OK.
"It's all to honor Our Lady, and it's a very, very Catholic thing to do," he added. "It was just a little something that I can do in gratitude for what we've been given and gratitude for the business."
But Costa and his family weren't alone as attendance has remained steady every month attracting anywhere from 20 to 75 people.
"There is familiarity with the call to say the rosary, the importance of saying the rosary, and it just hits me as something I should help try to do," Costa said. "We said the rosary as a family, and it has been a blessing in our family's lives. We know there are other faithful Catholics that appreciate the example."
Attendees have said, "it was great for their kids to see other kids praying the rosary, and it normalized the family rosary that people were already doing," he added.
Billy Miller, a parishioner of Church of the Nativity in Spring Hill, who has been attending since the beginning having known the Costas from the Millers' time at St Christopher, agreed, saying, "It was definitely an easy yes," when they were invited to attend.
"We enjoy the community and, especially with my younger kids, having an environment where they see kids and families of all ages saying the rosary together, it inspires them to pray, and it helps them focus," Miller said. "Sometimes when we pray as a family, you drag the kids kicking and screaming, but when they see kids and families all praying together in community in a place other than church, it is really inspiring to them."
Brian Lennon, a parishioner of St. Matthew Church in Franklin, said although his family prays the rosary together daily, "it feels good to say it in a larger community, and it helps us to form a bond with that community."
Lennon said participating in the Rosary Club led to a surprising moment with one of his children.
At the Rosary Club, "participants spontaneously volunteer to say a decade of the rosary. Right around when my son Matthew turned 6, he decided to lead the fifth Glorious Mystery without asking anyone for approval," Lennon explained. "Knowing that our children have been given the gift of the rosary and the courage to pray it gives us hope. Anybody there who knew Matthew got a bit teary-eyed."
Now, as the monthly devotion continues, Costa said he just hopes the Rosary Club will inspire other Catholics to express their faith more openly.
"In the times we're currently in, this is courageous in a way," Costa said. "We are in a very public place with big windows that face the street. We have people coming up to the door expecting an ice cream shop to be open, and, instead, it is filled with people on their knees praying the rosary.
"You've got to have a little bit of fortitude, and you can't be shy about your faith," he said. "My only hope would be that (the Rosary Club) is a good example for Catholics to be faith forward, promote the rosary, look for instances and opportunities to say the rosary with others and build community around that.
"What I've seen is (the Rosary Club) achieves that," he added. "Children are engaged. The fraternity is strong, and it is a very good thing."
The Rosary Club gathers the second Sunday of each month. Doors open at 2:30 p.m. and the rosary begins at 3 p.m. Each rosary is followed by complimentary ice cream, coffee and fountain soda until 5:30 p.m. The next meeting of the Rosary Club is Sunday, July 10.
"We invite anyone and everyone to join us," Costa said.
"There is absolutely nothing to lose (by coming to the Rosary Club), and if you don't know how to say the rosary, it is OK," Lennon added. "Guides are available, and we were all there at one point, so don't let being uncomfortable with the rosary keep you from praying in public."
For more information about the Rosary Club, visit rosaryclub.com.
For more information about Katie's Ice Cream, visit katiesicecream.com. The shop is open 11:30 a.m. to 9 p.m. Tuesday through Saturday.