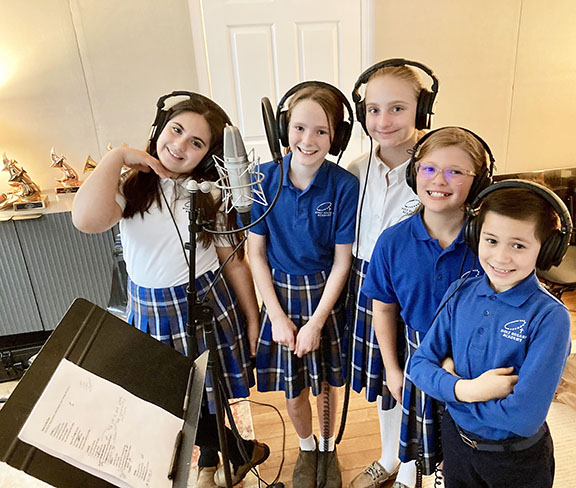 As Christians, we're meant to be a light in the darkness as we spread the good news of Christ, and soon that purpose will be available for all to hear as "Glow in the Dark" by Ryan Tremblay, featuring Elizabeth Tremblay and the Holy Rosary Academy Choir, is digitally released on Tuesday, Aug. 1, on all major streaming platforms.
"This song is an anthem of hope and unity for people of all ages, all generations, written to inspire us to be the people that God created us to be in all times," said Tremblay, who moved to Nashville in July 2022. "The light in the dark."
The song's release date coincides with the opening of World Youth Day 2023 in Lisbon, Portugal, for which Tremblay will perform six times throughout the week; a fact that he said he doesn't believe is a coincidence.
"'Glow in the Dark' speaks to how the voice of the next generation is alive, it's well, and it's important to empower the voice of the next generation," Tremblay continued. "There have been so many people who have encouraged me along the way, and I hope this song can encourage not just the students who sang it, but other young people as well to sing Christian themes, Christian music, and to be proud of who they are as young Catholics.
"Maybe it'll even help people who are not on that path just yet and help them to find a way to be a light in the dark," he added.
The inspiration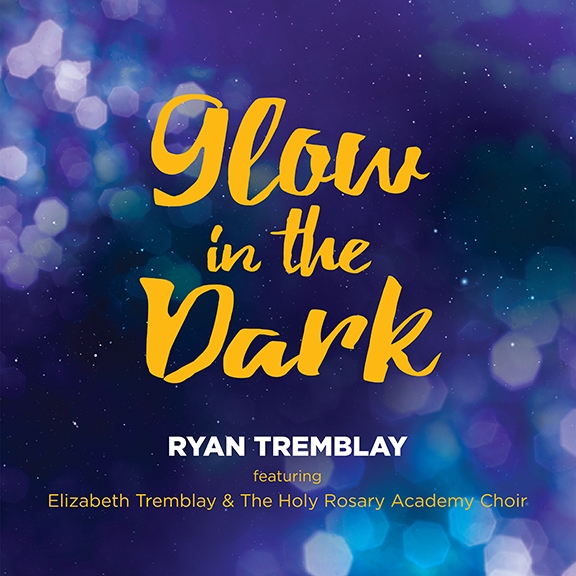 It all began in the fall of 2022 when the teachers of the Diocese of Nashville attended the Diocesan Catholic Schools In-Service at Father Ryan High School. Ryan Tremblay, a Catholic singer/songwriter, speaker, evangelist, educator, and author, who was hired for a one-year contract to be the music teacher and choir director at Holy Rosary Academy in Donelson, was among those who attended.
His creative juices were soon activated when Bishop J. Mark Spalding delivered his homily during Mass.
"Bishop Spalding had challenged us all to the mission of glowing in the darkness; that is what we're supposed to do as Christians," explained Tremblay, who currently attends Mother Teresa Church in Nolensville with his wife, Elizabeth, and their triplets, Elliott, Nicholas, and Andrew. "As educators, we have a great responsibility to be that light in the world every day in the classroom, and I believe that's what he was inspiring us to be for the students we were going to be teaching."
Tremblay wrote down several notes from the homily but made a point to circle "glow in the dark."
"I knew it'd make a great title," he said.
The execution
About a month later, Tremblay attended a songwriting retreat put on by Full Circle Music in Nashville. After sharing the title idea and Bishop Spalding's words with co-writers Tommy Iceland, Joelle Einerson, and Mark Boucot, he said it only took a few hours for the song to be written and composed. Then, after hearing the initial demo recording, inspiration struck Tremblay yet again.
"I thought, 'What would be really good is if we could have a children's choir on this song' because there was a purity about it. It would be incomplete if I sang it alone," Tremblay said. "It needed the voice of the next generation."
After presenting the idea to Full Circle Music producers Seth Mosley and Michael "X" O'Connor, a Grammy and Dove award-winning duo, and then Father Dan Steiner, former pastor of Holy Rosary Church in Donelson and current associate pastor of the Cathedral of the Incarnation, and Kimber Halliburton, former principal of Holy Rosary Academy, the time came to hold auditions.
"The studio could accommodate five students to represent," explained Tremblay, who said their voices were then multiplied in post-production to bring out the full choir sound.
Fourth-grade students Jessica Shaar, Charleena Cooper, Kaelyn Childers, and Nicolas Prickett, and fifth-grade student Sophie Ambrefe were the students chosen by a panel of local community musicians. After a little more than a month of rehearsals they went into the studio on Dec. 8, the Feast of the Immaculate Conception.
"It was a great day," Tremblay said, noting that it started in the recording studio and ended with the students and the rest of the Holy Rosary choir performing at the Christmas Extravaganza later that night.
"This is going to be a very special release for the students to be part of," Tremblay said. "To have the students who I taught be part of this song that the world is going to hear, it is an amazing gift. You can hear the innocence, you can hear the purity, you can hear the sheer excitement in their voices.
"It's not only professional that they did a great job musically speaking," he added, "but what resonated with me most as their teacher was the spirit of Holy Rosary, the spirit of true joy that was captured."
The result
In listening to the final product and reflecting on the journey it took to get there, Tremblay said, the whole experience only proves that God has a plan for everything.
"Whenever we would sing, both these five students and the choir alike, it was always inspiring to me. So to give the world even a glimpse of what I was able to enjoy last year being their teacher, it's nothing short of a miracle it seems," Tremblay said. "The fact that it all came together, the fact that I was even selected for my transitional year in Nashville to be their teacher, the fact that this song was written and recorded within the school year, I had no idea any of that would happen.
"When you take part in songwriting retreats, you don't know the fruits of what's going to come from them. I think it's going to bless a lot of people and bring joy and smiles to the faces of all who listen," he added. "To hear the children sing, 'One light at a time, we can light the night, one life at a time, God help us glow in the dark,' it's a precious recorded moment that I'll always look back and smile upon as the years pass by. I'm grateful for every note we made."
"Glow in the Dark" will be available on Tuesday, Aug. 1, on Spotify, Apple Music, iTunes, and Amazon Music, as well as at RyanTremblayMusic.com. A live, full choir performance of the song by the Holy Rosary Academy choir is coming soon.