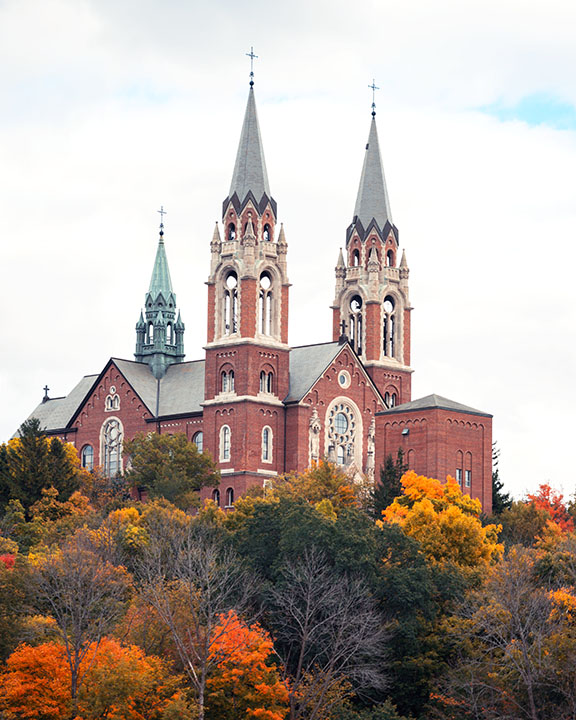 In honor of Mother Mary's birthday, Yana Ancell, a parishioner of Mother Teresa Church in Nolensville, is organizing a pilgrimage in September to three basilicas for the women of the diocese.
Sister Marie Caeli, OP, will lead the retreat, scheduled for Sept. 7-10, to the National Shrine of Our Lady of Champion in New Franken, Wisconsin; the National Shrine of St. Joseph in De Pere, Wisconsin; and the Basilica and National Shrine of Mary Help of Christians at Holy Hill in Hubertus, Wisconsin.
Ancell said she has been organizing and leading various retreats for years, after she felt God calling her to the ministry. While still a young adult in the Church, would organize Bible studies, service projects, and more. Then, life happened, she married her husband and they had their children. But then, in 2018, that call came back.
"It started with a conversation during lunch with a few friends after we went to a talk at the Catholic Pastoral Center (in Nashville). I was encouraging my friends to go to a retreat," Ancell explained. "A friend asked me to plan a retreat. I went straight to adoration after lunch to pray about it, and the Holy Spirit took it from there.
"I planned a pilgrimage retreat and took a group of women to the Shrine of the Most Blessed Sacrament in Hanceville, Alabama, and the Dominican Monastery of St. Jude in Marbury, Alabama, that October," she continued. "God had planned our pilgrimage and retreat so perfectly that we ended our retreat about the saints, our holy brothers and sisters, with Sunday Mass at the Dominican Monastery of St. Jude on the feast day of St. Jude himself. God continued to call me to plan retreats and pilgrimages ever since then."
Planning a retreat for Mother Mary's birthday, recognized by the Church on Sept. 8, was a call Ancell said she received in October 2022 while on her annual four-day silent retreat.
"As a daughter of God, there is nothing more we could do to love Him than to love and honor His mother. She keeps watching over us and listening to our praise and petition," Ancell said. "The pilgrimage and retreat is to celebrate her birthday, and to offer thanksgiving to God for creating her.
"As St. Bonaventure exclaims, 'God could have made a greater world, but he could not have made mother more perfect than the Mother of God,'" she continued. "And yes, we will have a birthday cake for her birthday."
The women's retreat costs $500 per person and includes hotel rooms, meals, and transportation to and from the airport. Flights are the responsibility of the retreat participants. Sign-ups are due by Tuesday, Aug. 15. For more information, email Ancell at yancell09@gmail.com.
"I hope and pray that all the women who are joining us will draw closer to Mary, and that our Blessed Mother will then draw us closer to God," Ancell said. "No matter what season in our lives we are in, our lives are so busy. We need to get away to be with God, to feel His love, and to discern His plans for our lives.
"This pilgrimage and retreat are planned to nourish our body and spirit so we can continue to love and serve the people God put in our lives."