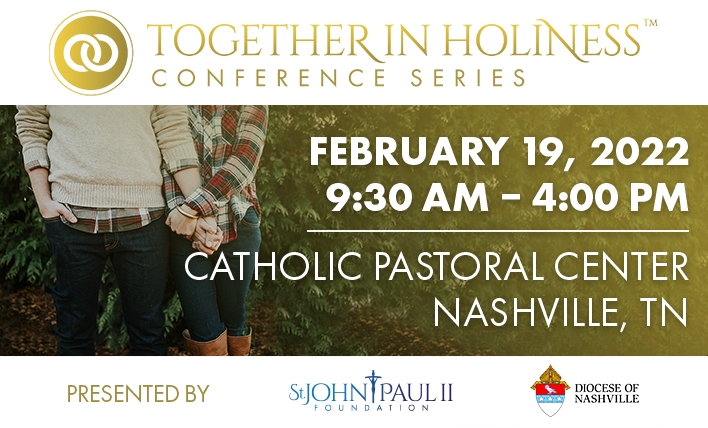 For the second consecutive year, the Diocese of Nashville's Office of Faith Formation is partnering with the St. John Paul II Foundation to present Together in Holiness for couples from 9:30 a.m. to 4 p.m. Saturday, Feb. 19, at the Catholic Pastoral Center.
This year's conference theme is "Family, a Believing and Evangelizing Community."
"We wanted this year's topic to be centered on fostering the domestic church," said Dr. Brad Peper, diocesan director of the Office of Faith Formation. In St. John Paul II's encyclical, Familiaris consortio, he "makes it very clear that the family holds a place of preeminence in the Church being the 'cradle and setting' of where evangelization oftentimes begins," Dr. Peper said.
"Through communion and prayer, the family has the ability not only to witness God's love to one another, but also to the world for its renewal," he added.
The Together in Holiness conference was established by the St. John Paul II Foundation in 2014 and has since reached hundreds of couples around the country.
"Together in Holiness is offered in collaboration with dioceses, parishes and schools that desire to strengthen their evangelizing efforts to couples and complement their existing marriage and family programs," said Susie Lopez, director of conference events for the St. John Paul II Foundation. "The conference series provides an experience of encounter for spouses that inspires them to grow together in holiness and empowers them to form their children in the Catholic faith."
With this year's theme, "couples can expect to walk away with principles, tools and encouragement for how to pass on the faith to their children and their community," she added.
The conference is equally balanced with scheduled presentations and prayer time, but also opportunities for couples to spend time alone together, as well as with other couples, Lopez said.
The three main talks include "Educating in Christ: Parents as Primary Teachers of Their Children in the Faith" by Dr. Ryan Hanning, fellow at the San Juan Diego Institute; "Enkindling and Fanning the Flame: How to Pass on the Faith to Your Children" by Sister Elizabeth Anne Allen, director of the Center for Catholic Education at Aquinas College in Nashville; and "The Saints, Families and Evangelization" by Damon Owens, founder of the non-profit Joyful Ever After. Mass and a marriage blessing will also be offered by Bishop J. Mark Spalding at the beginning of the conference.
Cost is $64 per couple or $40 per individual. On-site childcare will be available for $5 per child. Full and partial scholarship opportunities are available.
Exhibitor spots are also available for $95 for a ministry or non-profit table and $165 for a vender or for-profit table.
For more information or to register, visit https://forlifeandfamily.org/events/th22-nvtn/.