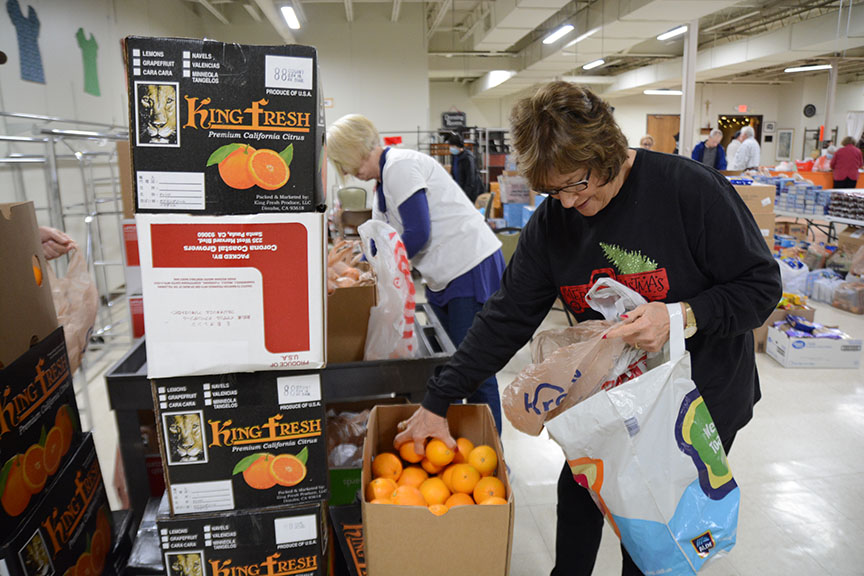 The Ladies of Charity in Nashville once again reached out to the needy with a Christmas basket of food, continuing a decades-long tradition.
Volunteers gathered at the Ladies of Charity Thrift Store on Friday, Dec. 17, to assemble the Christmas baskets with fresh produce, bread, sugar, ham, peanut butter, jelly, spaghetti, canned vegetables, eggs and other items, which were then distributed to people in need.
Of the 775 Christmas baskets prepared, some were given to parishes to distribute to people in their communities, some were given to residents of the Wedgewood Towers Apartments, and others were distributed through the Downtown Presbyterian Church and St. Vincent de Paul Church outreach programs, said Margie Druffel, president of the Nashville Association of the Ladies of Charity.
Some of the food was purchased using the proceeds from the twice-yearly clothing consignment sales sponsored by the Ladies of Charity and donations from members, Druffel said.
Catholic school students collected and donated some of the food, and individual families donated some of the food, she said.
The Christmas baskets were distributed on Saturday, Dec. 18.