The Nashville Catholic Middle School Forensics League has announced the inductees for the Hall of Fame Class of 2023.
The inductees, which include six alumni of the program, three coaches, and three Friends of Forensics, will be inducted during a ceremony at 3:30 p.m. Saturday, Nov. 18, at the Catholic Pastoral Center in Nashville.
Alumni inductees include: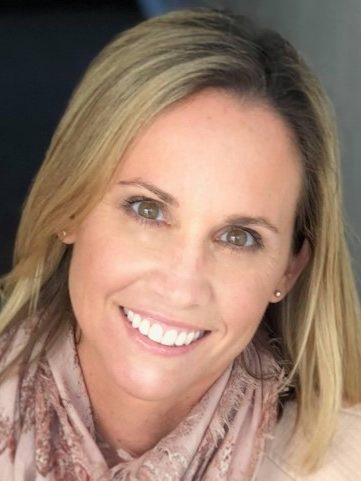 • Christin Baker, Overbrook Catholic School
Christin has been enjoying forensics since she began watching her mother coach. She would recall some of the students' pieces, performing them at home in front of friends and family. She was on the forensic team in Chattanooga and was a founding member of the Overbrook team. Baker was successful in various categories, but debate was her favorite. Using her skills from forensics, Baker went on to become the president of the student body of Middle Tennessee State University in Murfreesboro.
Baker's love for the arts continued after college. She is now a successful filmmaker and a member of the Producers Guild of America as well as the Television Academy of Motion Picture Arts & Sciences. In 2017, Baker was inducted into the Media Arts Wall of Fame at MTSU.
"In my career, I have had to speak with confidence, and debate helped me give presentations in front of large and small groups. My confidence and sense of self have always been positively impacted by debate and forensics," Baker said. "The work between matches, researching the topics, and forming an argument on both sides, this was my passion, and I still use these skills today in making movies and running my company."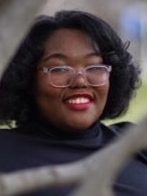 • Tehyah Carver, St. Bernard Academy
During her four years on the Forensics Team at St. Bernard Academy, Carver never missed a tournament and became a competitive force in the Nashville Catholic Middle School Forensics League.
"My adoration for forensics is eternal," Carver said.
In 2017, Carver was the State High School Storytelling Champion and earned a Triple Ruby ranking from the National Speech and Debate Association. While in college, Carver tutored middle school students in English, read children's books over Zoom for the West Orange, New Jersey, library during the pandemic, and became a member of the International English Honors Society, Sigma Tau Delta. She was also a member of the Martin Luther King Scholarship Association, an honor society dedicated to servant leadership and social justice.
Carver is currently a writing professor at her alma mater Seton Hall University in South Orange, New Jersey.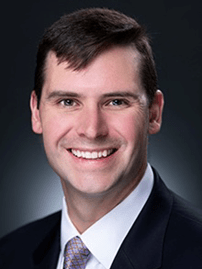 • Chandler Harris, Christ the King School
As a member of the Christ the King Forensics team from 1998-2002, Harris quickly developed into a leader. By his seventh and eighth grade years, he was coaching younger students on the team. An honor roll student at both Christ the King and Father Ryan High School, Harris was an altar server for his parish and for masses at the Cathedral.
Harris graduated from Father Ryan High School and earned a law degree from the University of Memphis. He spent six years as an Assistant District Attorney in Davidson County and is now a partner at the prestigious Philadelphia law firm of Miller/Moughlin.
"The forensics program taught me that while communication skills require keen speaking abilities, it also means being a good listener. As an attorney, both skills are necessary for success," Harris said. "Forensics helped prepare me to be a persuasive speaker, capable of formulating my thoughts quickly and thoroughly. It's helped make me the attorney I am today. I cherish the four years I spent in forensics."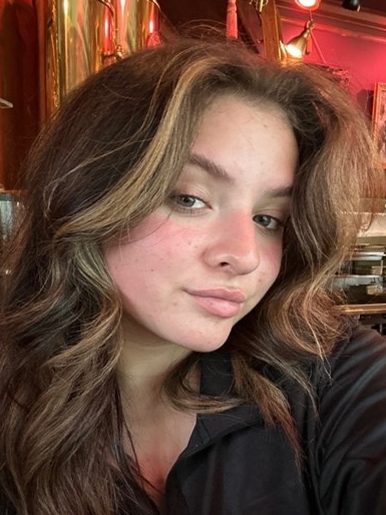 • Zeyna Krampotich Hubanks, St. John Vianney School
Zeyna Hubanks is credited with starting the forensics program at St. John Vianney School in Gallatin as a fifth-grader in 2014 and is the first alum of St. John Vianney to be named to the Hall of Fame.
Hubanks proposed the idea of a forensics team to her school principal and recruited the team's first forensics coach. She also recruited students and talked about the importance of public speaking and how it could give confidence to speak in front of an audience. For four years, she was the face and star of the team, winning her category at the championship finals twice.
After attending Cumberland University in Lebanon, Hubanks graduated from the Paul Mitchell School of Cosmetology in Hendersonville and works as a hair and make-up artist in the Nashville area. She said she feels forensics has made her more confident in talking to clients.
"Zeyna's determination and perseverance of gathering students and a coach to begin a forensic team was huge," said Shannon Smith, who nominated Hubanks for induction. " So many kids have benefitted from having a forensic team."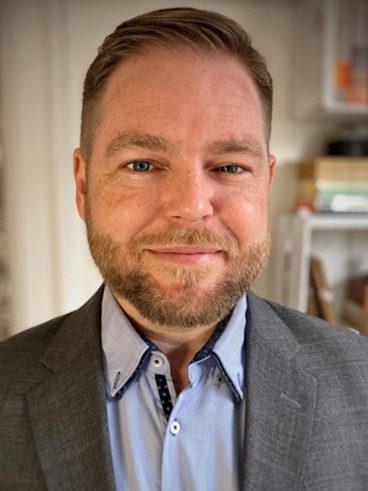 • Tommy McGinn, Overbrook Catholic
McGinn was involved with the forensic program from fifth through eighth grade. He enthusiastically competed in tournaments, garnering numerous trophies. In high school, he had leading roles in numerous productions, and eventually earned his acting degree from Emerson College in Boston.
McGinn continued in the performing arts after moving to New York, including roles with the Living Theatre Company's international tour of "The Brig."
Most recently, he has been using his talents as an independent contractor delivering diversity-focused training programs to companies such as Microsoft, Bank of America, Emory University, and many others. The skills he learned as part of the Catholic Middle School Forensics Program of dedication, respect for others, confidence, and deploying your talents for the good of others, continue to serve him in his career and in life.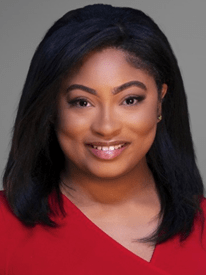 • Mye Owens, Holy Rosary Academy
Owens is a graduate of Father Ryan High School and earned her degree in broadcast and digital journalism from S.I. Newhouse School of Public Communications at Syracuse University in New York.
Owens was a student reporter while at Syracuse and has since covered the news for TV stations in Washington, D.C., Tyler, Texas, and Montgomery, Alabama.
Mye has worked as a reporter for WKRN News Channel 2 in Nashville since 2020.
"I would definitely say the experience made me who I am today," Owens said of her time on the Holy Rosary team. "Learning how to speak in front of a crowd, be confident in what I am saying, and making sure others understand what I am saying were my biggest takeaways."
Coach inductees include: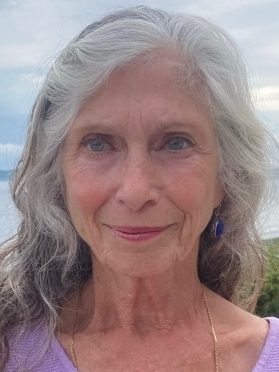 • Patty Donbeck, Overbrook Catholic
Patty Donbeck was a forensic teams volunteer for more than 15 years. It began when she helped judge and chaperone for the St. Cecilia Academy Forensic team in the 1990s. She then began chaperoning and judging for Overbrook Catholic School, as well as helping prepare students for competitions.
When the team grew to more than 100 students, Donbeck was asked to co-coach. She readily agreed and worked tirelessly to help produce an outstanding team, winning the first place sweepstakes trophy numerous times. Donbeck had a gift of working with students and a finesse of a seasoned coach. Her kindness and patience with individuals were evident, especially when helping those students who needed extra encouragement.
Donbeck went on to become president of the league for several years. She was tireless in her desire to help students and coaches from all over the diocese. She truly loved working with students and had such enthusiasm for the entire diocesan league.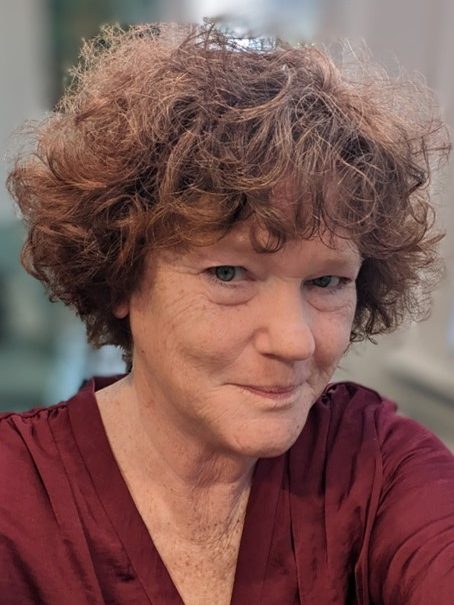 • Jennifer Kitchel, St. Bernard Academy
Jennifer Kitchel has coached the forensic team at St. Bernard Academy for more than 18 years, becoming an inspiration and guide to all students in the program. Kitchel takes time to help students outside normal club times, and she inspires parents and teachers to volunteer with the program as well.
Kitchel has built up one of the strongest programs in the diocese, working with students who haven't found their place to explore avenues within forensics, aiding them to find like-minded friends and a place to have fun and be themselves.
Kitchel has worked with many coaches throughout the diocese and is highly respected within the forensic community.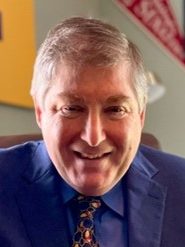 • Joe Zanger, St. Joseph School
Joe Zanger took over the forensics program at St. Joseph School in Madison in 2006. During his tenure, he has coached more than 200 individual students and helped his teams to seven diocesan forensics championships.
In 2019, Zanger was appointed as director of the diocesan forensics program. As head of the league, he instituted the Forensics 100 Club for students who achieve perfect scores for their performances, navigated the league through the pandemic, and helped create the Hall of Fame of which he is now a member. Zanger never taught at St. Joseph, yet he made a huge impact as a volunteer while managing his own law practice.
Zanger's goal is to have every parochial school in the diocese sponsor a forensics team. He says, "Middle school forensics changes lives and creates leaders who change the world," he said.
Friends of Forensics inductees include: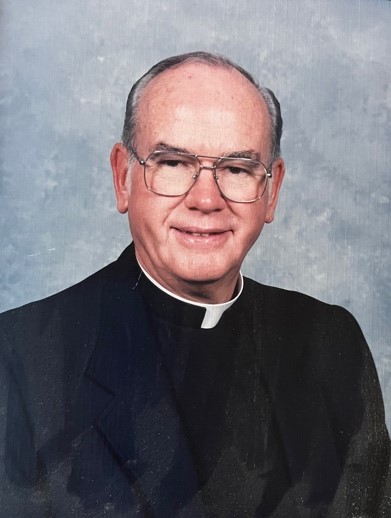 • Father Phillip Breen, St. Ann School
The late Father Philip Breen was "the face" of the Championship Meet in Forensics. The entire team would gather after Mass, and Father Breen would address the children and compliment them on their efforts. He reminded them that these are gifts from God, and they are to be used for God. Then, all would sing the "Doxology," making for a great St. Ann tradition.
Father Breen made sure that any chiId who wanted to be in forensics was financially helped, leading to the school paying for every child's fees for many years.
Whenever the forensic coach would attend other functions, Father Breen would always give a "salute" to the coaches, children, and families of forensic students, and he raised the forensic team to an "honored" level.
Father Breen was highly respected by those who competed at the championship meet.
Leading a prayer before the competition gave the event an almost sacred feeling, prompting the entire league to realize that the competition was more than just trophies. It was Catholic students from different schools with one special bond; that of being gathered under the banner of our Catholic faith.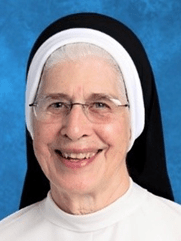 • Sister Mary Charles, OP, Overbrook Catholic
The Nashville Catholic Middle School Forensic League exists because a small group of "pioneers" took a chance on something unfamiliar, entering unchartered waters, and doing something that had never been done before in Nashville Catholic elementary schools. Sister Mary Charles, OP, was one of those pioneers.
When the founder of the league offered to begin a forensic team at Overbrook where she was principal, Sister Mary Charles was a bit hesitant, not sure what this entailed. At the time, the National Forensic League was hosting their national competition in Nashville. Sister Mary Charles went to view the finals in oratory and was so impressed that she wholeheartedly endorsed the program. Thus, Overbrook's forensic team was born with Sister Mary Charles supporting the school by hosting a tournament the first year the league was formed.
With Sister's support of the program, other principals were inspired to have a team at their schools.
Sister Mary Charles later went on to become principal at St. Joseph, and it was there that she convinced Kathy Kazimi to begin a team, making it the second school in the diocese that she brought the Forensics program to.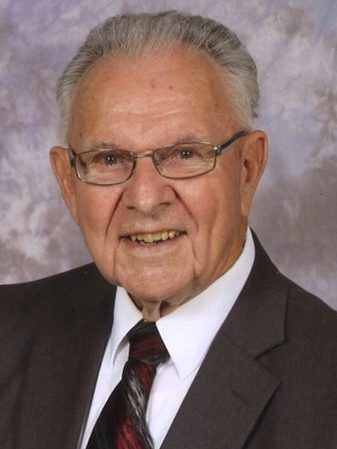 • Ken Loats, St. Rose of Lima School
Ken Loats began volunteering with the St. Rose of Lima School Forensics team in Murfreesboro when his granddaughter joined. More than 10 years later, he continues to attend practices twice each week during the forensics season, coaching students by offering gentle critiques.
As a regular lector at Sunday Mass at St. Rose of Lima Church, Loats inspires students to use the skills they learn in Forensics for the balance of their lives.
He is a fixture at the annual St. Rose Forensics tournament and has become an ambassador of good will for the school and the parish. The St. Rose Forensics students have nominated Loats for the Adult Spirit of Forensics Award five times, and he has won the award once.
Every year at the school's end of the season banquet, Loats gives each member of the forensics team a card with a handwritten note and a $5 McDonald's gift card. The St. Rose Forensics Team would not be what it is today without the support and donation of time and talent of Loats.