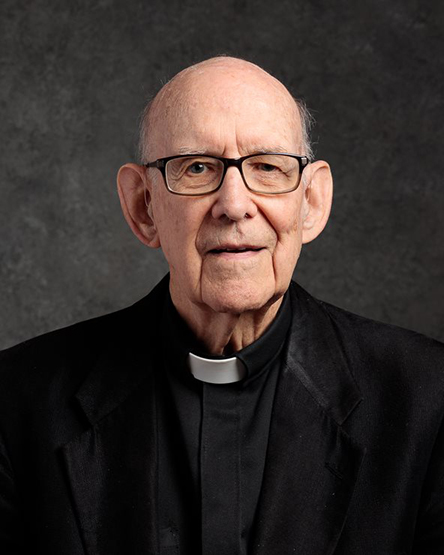 Monsignor Robert Joseph Hofstetter, who was ordained as a priest for the Diocese of Nashville 68 years ago and faithful to the very end, passed away on Thursday, July 7, 2022, at Fort Sanders Regional Medical Center in Knoxville. He was 94 years old.
There were two funeral Masses for Father Hofstetter. The first was celebrated by Knoxville Bishop Richard Stika on Friday, July 15, at the Cathedral of the Most Sacred Heart of Jesus in Knoxville. The second was celebrated on Monday, July 18, at the Church of the Good Shepherd where he was the pastor. Inurnment followed the Mass in the Good Shepherd parish columbarium.
Monsignor Hofstetter was born on Nov. 19, 1927, in Nashville to Oscar B. and Marguerite S. Hofstetter. He was one of six children and received the sacraments of Baptism and Confirmation at Holy Name Church in Nashville.
After graduating from Father Ryan High School, where he lettered in four sports, he attended the University of Notre Dame for three years before being accepted as a seminarian for the Diocese of Nashville.
His seminary formation took place at Theological College in Washington, D.C. He was ordained on May 1, 1954, for the Diocese of Nashville by Bishop William Adrian at the Cathedral of the Incarnation in Nashville, and celebrated his first Mass at Holy Name Church in East Nashville.
Monsignor Hofstetter was incardinated in the Diocese of Knoxville upon its creation on Sept. 8, 1988.
Monsignor Hofstetter held many and various assignments throughout his 68 years of priesthood. In his early years, he served at several parishes in the Diocese of Nashville, including assistant pastor at Holy Name and the Cathedral, pastor of St. Joseph Church in Madison, as well as chaplain and math teacher at Father Ryan, chaplain to the Little Sisters of the Poor and the Dominican Sisters of St. Cecilia, and as a professor at Aquinas Junior College. He also served as the director of Camp Marymount, the diocesan summer camp.
He was named pastor of St. Mary's Church in Oak Ridge in June of 1974. He later served as pastor of Sacred Heart Church in Knoxville, St. Augustine Church in Signal Mountain and St. Jude Church in Chattanooga. He has been pastor of Good Shepherd in Newport since 2005.
In addition to his work in parishes in the Diocese of Knoxville, he served as Dean of the Five Rivers Deanery, Diocesan Censor Librorum, member and later chairman of the Diocesan Commission on Ecumenism. He was the first chairman of the Priestly Life and Ministry Committee and was a Diocesan Consultor.
He also published two books of poetry, reflections and photographs: "Love Pages" and "Reflections, In Gratitude for 88 Years of Life and 61 Years of Priesthood."
He was named a monsignor in 2011.
Bishop Stika called Monsignor Hofstetter "a good and holy man and a magnificent priest."
Monsignor Hofstetter was beloved by all who had the pleasure of knowing him. He always had an encouraging word or funny quip to offer. He was a prolific writer of poetry. His regular emails will be missed, which included everything from his Sunday homilies, to beautiful pictures of nature or short video clips he found interesting and inspiring from the internet.
He was preceded in death by his parents, O.B. Hofstetter and Marguerite Sanders Hofstetter; brothers, O.B. Hofstetter, Jr., John C. Hofstetter, and William S. Hofstetter; sisters, Sr. Adrian Marie, OP, and Sr. Margaret Marie, OP.; and nephews, John C. Hofstetter Jr., and George B. Hofstetter.
He is survived by his nephews and nieces, O.B. Hofstetter, III, Robert B. Hofstetter, James C. Hofstetter, Christian S. Hofstetter, Mary Beth Adgent, Katherine H. Elcan, William S. Hofstetter, Jr., Julie H. Fisher, Barbara H. Sneed, David C. Hofstetter and Holly H. Spell, and by numerous great nieces and nephews.