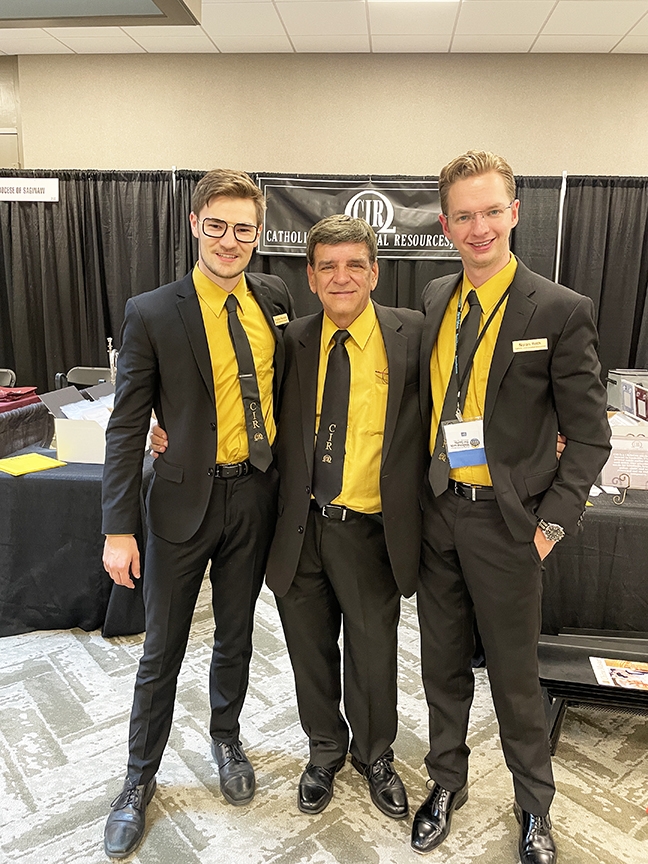 Jeff Hall, music director of St. Joseph Church in Madison, has been composing and arranging music for decades, having several of his works published by major publishing companies.
But he still had several works that weren't out there for the general public to hear and perform, mainly because of their conduciveness to the Catholic liturgy.
"My major publishers won't take those," Hall said. "The Protestant Music Publishing Companies … don't feel like the market is there."
But Hall didn't agree as his body of Catholic specific compositions continued to grow, including: those he wrote for the choir and instrumentalists at St. Joseph; the installation Masses of the late Bishop Edward Kmiec in 1992, the late Bishop David Choby in 2006, and Bishop J. Mark Spalding in 2018; the Prelude of Honor for Monsignor Owen Campion; conventions for the Knights of Columbus; and more.
"I've talked to them and tried to get them to take on these Catholic titles and they just feel that the market is not there," Hall explained. "I thought, 'Well, if the market is not there for a large company, maybe that market is there for a small company.'"
Thus led to Hall founding in February 2022 Catholic Instrumental Resources, which he believes to the best of his knowledge and research, the first Catholic publishing company in the United States whose emphasis is use of instruments within Catholic liturgies.
CIR offers a range of Catholic liturgically-based compositions for handbells, brass, classical guitar, various solo instruments with piano or organ accompaniment, as well as chorale music and Mass settings.
Developing the team
Hall, who serves as president and chief executive officer of CIR, launched the company with the help of Nolan Roth, CIR chief financial officer and vice president, and Freddy Maresca, CIR chief operating officer and secretary.
Roth and Maresca are both instrumentalists at St. Joseph Church and 2020 graduates of Belmont University, the former obtaining a bachelor's degree in classical composition and the latter obtaining a bachelor's degree in music education.
"Nolan and Freddy started playing in church" at St. Joseph, Hall said. "Nolan owns two internet companies, and he has a strong sense of business. I'm weak in that area."
"There is a lot of great music out there already, but a lot of the major publishing companies are lacking instrumental music that's accessible and usable in the Mass setting," Roth said as he reflected on those first conversations with Hall, which began in September 2021.
As discussions developed, they soon realized that they needed someone with great organizational skills, had an eye for graphics and was a skilled musician to help, which is where Maresca came in, Hall explained.
The team now established, the three of them began to gather all types of arrangements ranging from hymn concertos, brass ensemble series, classical guitar series, advanced handbell material and more, from their own composition repertoires. Additionally, they gathered works from several well-established composers including Dr. Michael Kurek, Julie Turner and Rolin Mains, as well as newer composers including Soren Allen, Kristi Seehafer and Ryan McAvoy.
And all the compositions were ready and available for purchase when the website, cirmusic.com, officially launched on June 1.
"In the very short time that we've been around, we've seen great market response," Roth said. "They say that it's not there, but we found the contrary."
Sharing with churches everywhere
With the promising start to the company, all three composers have high hopes for how it will serve music programs in Catholic churches all around the world.
"I'm just hoping that I'm helping other music directors with their frustrations that I've had in not finding the instrumental music, especially in the handbell world, but instruments in general, of not finding Catholic titles," Hall said. "We have a lot of titles that we share with the Protestants and that's what we rely on right now, so I just started writing our own material at St. Joseph.
"I'm hoping that what we do is we reach out to people who are in the same situation that I'm in and help them out by providing music which is accessible but is also very Catholic," he added. "I just want to share with everybody what St. Joseph has had for many, many years. … St. Joseph has had a strong music ministry since the 50s, so I didn't do it. I inherited it."
Roth agreed.
"My hope for this company is to provide accessible music to more churches," he said. "We all love making music, we all love playing music, and we are all very devout in our faith, and we want to basically spread the love."
Maresca said his hopes for the success of the company are two-fold. First, in relation to his experience as a trumpet player.
"I don't know how many times I've gone on a church gig and been handed an organ score and they just say, 'Figure it out.' So, my hope is that there is more music for instrumentalists so that you don't just have to 'figure it out' at the gig," Maresca said. "That's what I would like to see as a performer, and now I'm working with this company that can make it happen.
"The other side is I really want to get more voices and more composers who have really, really neat pieces and really cool ideas to get them published," he said, noting upcoming compositions for a brass quintet and a new Mass setting from two new composers. "Getting some more young blood in the game, some younger composers would be awesome."
'Sharing the moment'
Now that the resource is available to churches around the world, they also said they hope more people experience the joy that music brings to each of them.
"At this point, with grad school, I'm playing trumpet four hours a day. It can get extremely tiresome and frustrating and there are times I ask myself, 'Why am I even doing this?'" Maresca explained, referring to his current studies for a master's degree in trumpet pedagogy at Belmont. "It's usually on a Sunday or a Saturday vigil Mass when someone comes up to me and says, 'You just made my day.'
"You realize that it's not about you alone in a practice room, it's about sharing that moment and that musical event," he said. "It's getting out of that practice room and knowing you have something worth saying and then sharing it with the audience. … Every Sunday it's about playing together in church and honoring God through our music."
"I love seeing people being moved," Hall added. "After every Easter and after every Christmas, I always pray to God that I want to hear from somebody, and somebody from each congregation … they come up and give me a very, very heartfelt comment about how much they needed to hear that today and how it moved them, or they give me a personal situation which they're in and how music helped heal their soul.
"As Father Joe McMahon, (pastor of Holy Family Church in Brentwood and former pastor of St. Joseph), says, 'Music can touch a person's heart in a way that words cannot.'"
CIR works range in price based on the extent of the work, minimum number of copies required for purchase, and more.
For more information, visit cirmusic.com/shop.
Composers are welcome to submit pieces for publication consideration by visiting cirmusic.com/contact or e-mailing Roth at nroth@cirmusic.com.