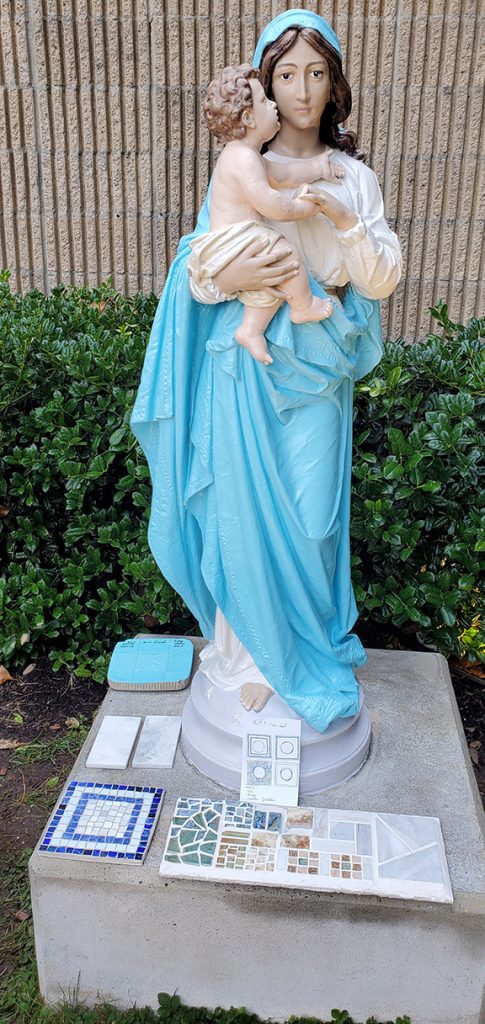 For nearly five decades, the statue of the Mother Mary with the child Jesus greeted visitors of the former St. Mary Villa on White Bridge Road.
But it was clear when the statue was relocated for safety to Villa Maria Manor in August 2019 when St. Mary Villa was being demolished that the statue needed a makeover, said Lynn Rochon, Mary, Queen of Angels bookkeeper and statue restoration project manager.
"Once (the statue) was moved to Villa Maria Manor in 2019, it became evident that we needed to do something about the chipped paint and mildew," Rochon said. "We discussed some in-house cleaning and did some research on appropriate cleaners and brushes to use, but it became clear that we needed an expert."
In mid-July of this year, after a two-year hold because of the COVID-19 pandemic, with funds budgeted through Villa Maria Manor, Tony Novak Studios was hired to complete the work.
"Assessing a statue comes with experience and research, and I have been preserving statuary for about 20 years," said Tony Novak. "I have a background as a commercial artist, with an art degree.
"I approach statuary preservation as a craftsman, conservator and artist," he said. "I try to bring all of my talent and experience to the table and see how the priorities fall into place for each project.
"Every project is different, but preservation involves using research, sound technique and reliable materials to keep artwork weatherproof and beautiful for the public to enjoy for as long as possible."
Restorations for the Mother Mary statue included a thorough cleaning to remove mildew growth, loose paint and dirt, recoloring the eyes and hair, adding a fresh coat of paint, sealing cracks and adding a sealer to protect the statue from sun damage.
Novak also assessed the statue for damage and created a treatment plan.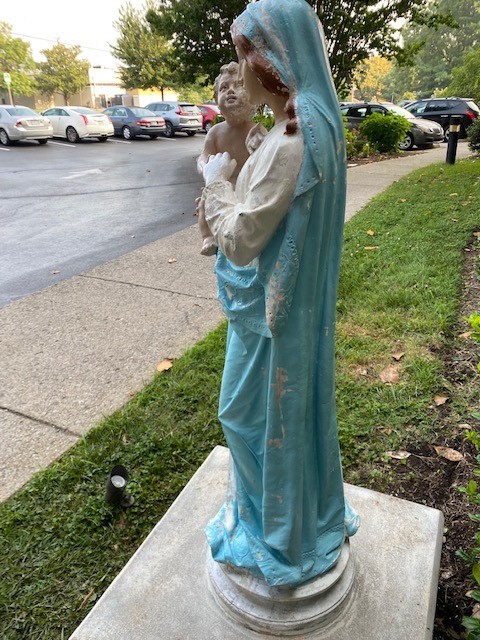 "Using a combination of color analysis, historical knowledge and artistry, Tony decided on the new paint colors to restore the statue and bring out the details such as those found on Mary's cloak and the stars on the base of the pedestal," Rochon said. "He used an enamel paint to bond to the concrete and applied a matte polyurethane clear coat to knock down the shine of the enamel and to provide lasting protection. We wanted the beautiful restoration work done on our beloved statue to last for decades to come.
"Mary had been gifted to us, and we wanted to honor her by completely restoring her," she added.
In spring 2022, the statue will also receive custom mosaic tiling around the base and improvements to the surrounding landscape.
Richard Borofski, chief executive officer of Villa Maria Manor and Mary, Queen of Angels, said the restoration of the statue is just the beginning.
"We are faith based, we welcome all, and the statue has significant historical importance to Catholics and is a central theme to our campus," Borofski said. "Villa Maria Manor is 41 years old, and I'm looking at a fresh new exterior and interior look for the building.
"The Mother Mary and Jesus statue restoration is the beginning of my vision to continue to provide affordable quality housing for our community and its residents."