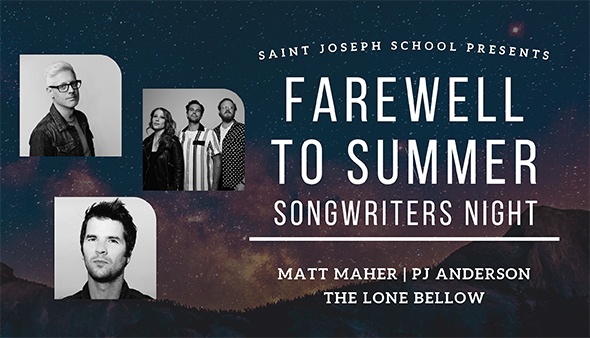 To highlight the school community and raise money for facility upgrades and technology, St. Joseph School is hosting a Farewell to Summer Songwriters Night at 7 p.m. Saturday, Aug. 28, at the school in Madison.
"We were looking at ways that we could really highlight St. Joseph and our community with it being right on the edge of East Nashville," said Meridith Stephens, director of advancement for St. Joseph Church and School. "We have in these families that go to our school very talented musicians, and we thought, 'Wouldn't it be great if we could have something in our own backyard?'
"We want to bring together our church and school communities in a fundraiser that is more relaxed and more 'East Nashville,'" she said. "We decided to invite the community so everybody could see what a great place it is and who these musicians are."
PJ Anderson, the group The Lone Bellow and Matt Maher are the featured musicians for the event.
Tickets are $25 for students, $50 for general admission for adults and includes one drink ticket, or $85 for VIP access, which includes parking, the Meet and Greet event, and two drink tickets.
The doors open at 5:30 p.m. for VIP ticket holders and 6 p.m. for general admission ticket holders.
Proceeds from ticket sales and free-will donation opportunities throughout the night will go toward facility and technology upgrades at the schools, Stephens said.
"We're looking at building an all-weather sport court on the existing blacktop … for multi-purpose uses," Stephens said. "It would allow us to potentially have an extra place for our teams to practice because with one gym that's a very limited amount of people that can practice at one time between basketball and volleyball and all the different teams.
"It would also be there for P.E. classes to use it for racket sports in addition to basketball and volleyball," she said. "It would also provide the potential for an outdoor classroom in any weather."
In relation to technology, Stephens said, it would help in replacing the current student Chromebooks that are close to five years old.
"Technology is always something in the forefront and constantly changing," Stephens said. "I think that St. Joseph has a really good balance of staying on top of technological trends while also promoting age-appropriate usage of that technology.
"In order for us to stay competitive with other private schools in the area, we need to be able to have devices that work consistently well," she said. "We need our infrastructure to be sound and able to handle the increased numbers (of students) as they come."
Proceeds will also contribute to purchasing supplies for the new electives program at the school for fourth through eighth grade students, Stephens said.
While outside food and drink items will not be allowed, Andre's BBQ Food Truck, Gypsy Crepe Food Truck and Hamilton Bar Tending Services will be available for food and drink purchase. Additionally, St. Joseph eighth grade students of the Ascent program will be selling charcuterie cups to help fund their September wilderness retreat, Stephens said.
"A success for this event would be to raise a significant amount of money that would help our school to really have some … much needed improvements," Stephens said. "But (a success) would also be for our school to get highlighted to the larger East Nashville and surrounding area communities so that they actually know what a great place they have right in their own backyard."
For more information or to purchase tickets, visit www.saintjosephschoolnashville.org/farewell-to-summer. Sponsorship and volunteer opportunities are also available.