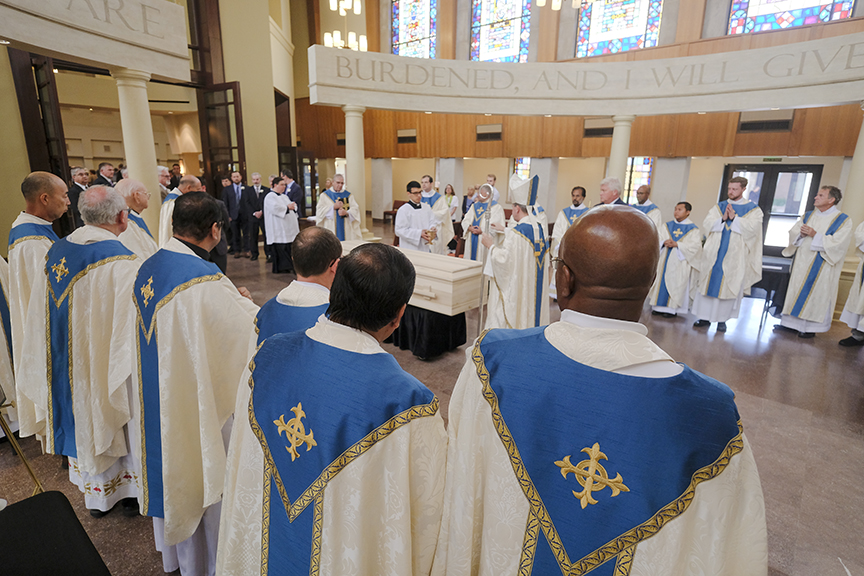 Msgr. Patrick Connor, who was a leader both in education and administration throughout his more than 60 years as a priest for the Diocese of Nashville, was recalled as a "true Christian gentleman" during his funeral Mass on Monday, June 19.
Msgr. Connor died on Tuesday, June 13. He was 88.
"It is with great sadness that I announce the passing from this world of Msgr. John Patrick Connor," said Bishop J. Mark Spalding in an official statement. "While our hearts ache at Msgr. Connor's passing from this world, we entrust this kind and faithful priest to the loving arms of the Almighty."
Bishop Spalding, along with several priests and deacons of the diocese, celebrated a Mass of Christian Burial on Monday, June 19, at St. Henry Church. Father Mark Beckman, pastor of St. Henry served as the homilist.
Shortly before Msgr. Connor's passing, "I had the opportunity to stop by and to spend some moments with our brother, and in that moment, I was awestruck as I always was of his gentlemanly spirit," Father Beckman began. "As we spoke, I knew that he was ready to be with the Lord. One of the things he said is that, 'We're in this world for as long as God wants us to be here to do what God wants us to do and that is to love each other, and I feel like I'm at the point now where it's time for my worldly mission to be finished.' And then he went on to say a few words of what he thought might come.
"As I left that day, the blessing … was the opportunity to reflect, to think, to pray, and there was a phrase that just happened to come back to me – true Christian gentleman," continued Father Beckman, who noted how he's seen this in Msgr. Connor ever since the former was a seminarian at St. Ambrose University in Davenport, Iowa. Father Ed Dunn, a contemporary of Msgr. Connor's at the time, told Father Beckman and his fellow seminarians that his goal was not that they all become priests by the end, but that they all become true Christian gentlemen, as was lived out by Msgr. Connor.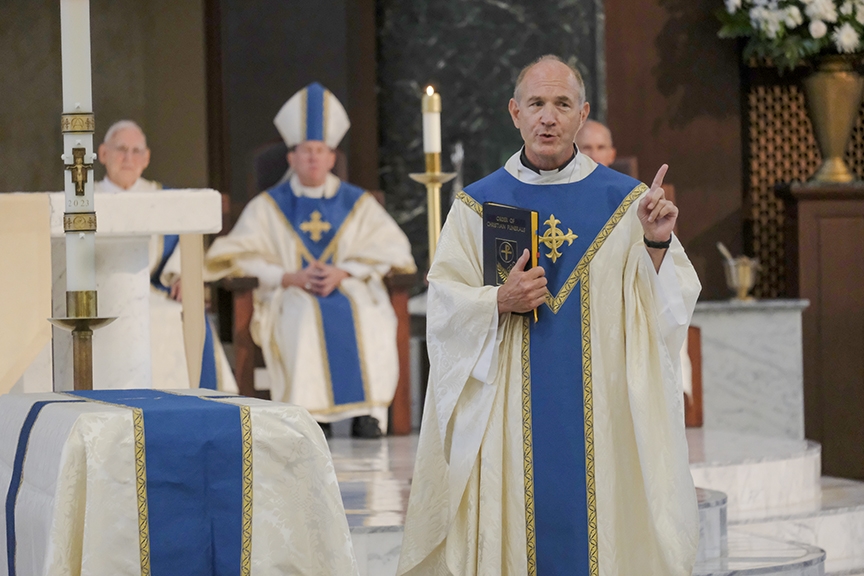 After noting key moments throughout Msgr. Connor's 62 years of priestly ministry and how he always said 'yes' to whatever was asked of him, Father Beckman continued.
"Long before Father Connor entered the seminary, he was already being shaped and formed as a true Christian gentleman who lived the beatitudes because he experienced them as a young person in a family of profound faith," Father Beckman said. "He was first son and brother, uncle, great uncle, great-great uncle, and I can tell that his mission for the Lord began" from the moment of his baptism.
Msgr. Connor "is going to be missed. The imprint of his love has shaped so many people and the beatitudes proclaimed here today (in the Gospel reading) were evident in his life and in his priesthood," he concluded. "His greatest joy was inspiring others to live those beatitudes, so if there is one thing we can do today as we send monsignor home to the Lord in trusting faith, is that we still have our work to do on earth while we're still here. Our mission is not finished yet. We're entrusted with the Gospel to live and to embody it in word and in deed.
"So, I think we should not only pray for Pat, but let's also ask his intercession on our behalf, that we would be true Christian women and gentlemen," Father Beckman said. "This we ask through Christ, our Lord."
Msgr. Connor was a native of Nashville who grew up in Holy Name Church in East Nashville. He is a graduate of Holy Name School and was named the salutatorian for his graduating class at Father Ryan High School in 1953.
It was during his time at Father Ryan that he first started contemplating a vocation to the priesthood after seeing so many positive examples of the priests he grew up around. "Happy priests are the best salesmen," Msgr. Connor told the Tennessee Register during an interview in honor of the 50th anniversary of his ordination as a priest in May 2011.
After approaching his Latin teacher, Father James Niedergeses – later Bishop Niedergeses – about his thoughts, he started the process of applying for seminary. He studied at St. Ambrose College in Davenport, Iowa, St. Mary's Seminary in Baltimore, and Memphis State University in Memphis, Tennessee.
Msgr. Connor was ordained a priest by Bishop William Adrian on May 27, 1961. From there, he went to St. Michael Church in Memphis as well as the all-boys Catholic High School. He returned to Nashville in 1964, where he was appointed assistant pastor of the Cathedral of the Incarnation as well as master of ceremonies for the bishop. He continued to hold various positions across the state both in churches and schools until 1970 when he was appointed principal of Notre Dame High School in Chattanooga, where he served for four years. It was during that time that Msgr. Michael Johnston, who shared reflections at the end of the funeral Mass on behalf of himself and Father Joe McMahon, pastor of Holy Family Church in Brentwood, began his first teaching assignment.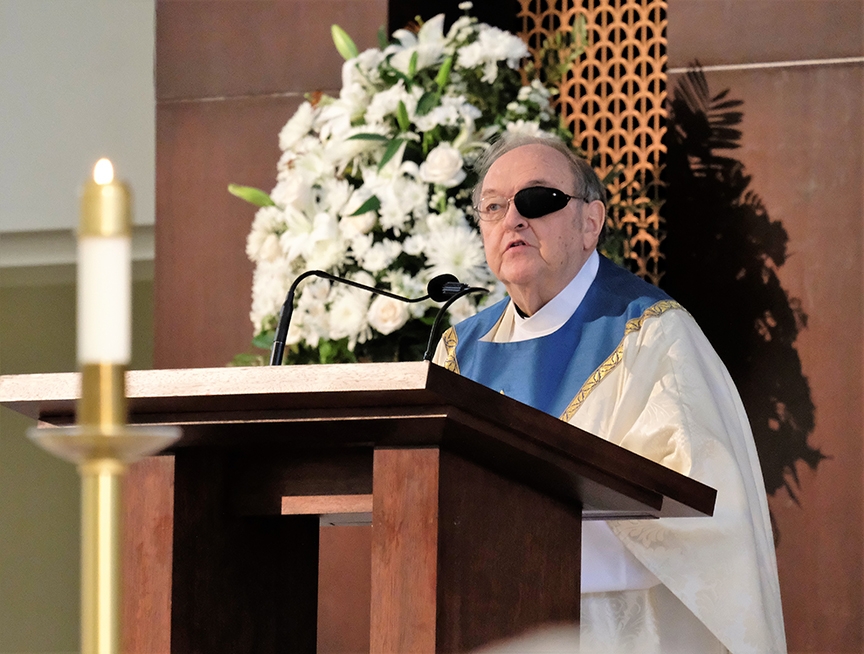 "I was delighted because I already knew him," said Msgr. Johnston, who noted that the two had known each other for years.
"I've known him from the beginning. He is exactly 10 years older than I am, and he was a good friend of my older brother, so as a kid, I knew him," he said. "I knew him when he was one of our seminarians, and I knew him when he was a counselor at Camp Marymount" in Fairview.
"He was a mentor to me," Msgr. Johnston added. "He gave me terrific advice, he was kind, he was a good administrator, a good principal, and was just wonderful to be with."
In 1974, Msgr. Connor returned to his alma mater, Father Ryan, to serve as its principal.
"I really loved working with the young people in high school," Msgr. Connor told the Register.
During his time as principal of Father Ryan, Msgr. Connor also assisted at several parishes in the diocese, including St. Mary of the Seven Sorrows, St. Ann Church, and later as pastor of St. Edward Church in Nashville.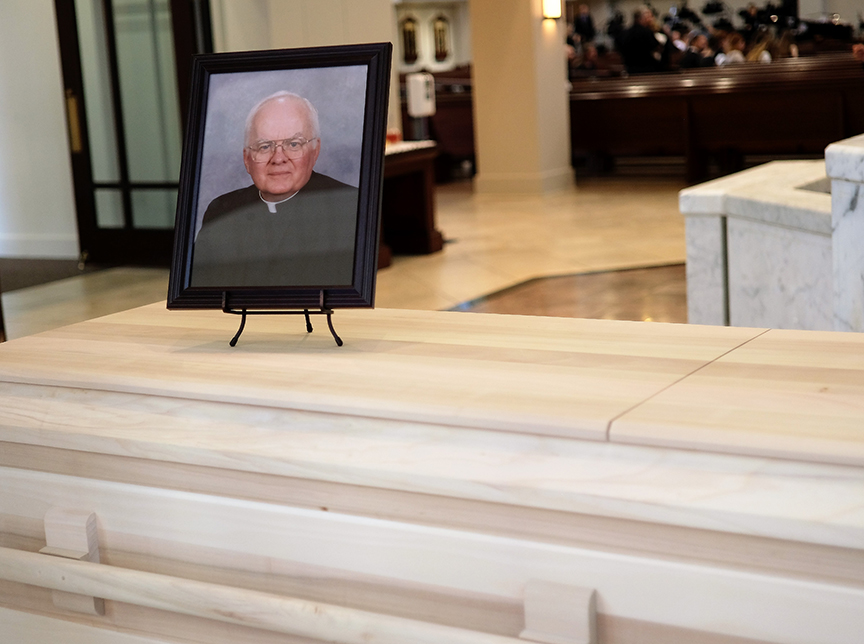 Msgr. Connor also served in several capacities in the diocesan offices over the years, including as vice-chancellor, episcopal vicar for the Nashville deanery, vicar general, and chancellor. One of those appointments led to his biggest accomplishment over the years when he became the administrator for the relocation of Father Ryan High School from its former home on Elliston Place to its current location on Norwood Drive in 1987.
"He was the mover and the shaker. I can guarantee it," said Gino Marchetti Jr. of Taylor, Pigue, Marchetti & Blair, PLLC, who has served as the Diocese of Nashville's attorney since 1977. "Father Ryan was over on five acres on Elliston Place, but our practice field was just to the left of the school and was maybe an acre."
Wanting to be able to expand, Marchetti, who is a parishioner of Christ the King Church, said, Msgr. Connor along with Terry Hunter, a real estate developer, went scouting for a new location, which they found in the Oak Hill neighborhood.
"Oak Hill is zoned only for residential properties, but they allow conditional use for churches or schools, and so we made our application to build our school, but neighbors didn't want us there for a variety of reasons," Marchetti explained. This led to the Diocese of Nashville filing a lawsuit that was eventually won. When it was appealed, the diocese won again, and eventually were able to reach an agreement with officials before it was moved up to the Tennessee Supreme Court.
"If it weren't for Father Connor leading the effort, I don't think it would've happened," said Marchetti, who has known Msgr. Connor since 1965, when he was assistant pastor of the Cathedral.
Along with being instrumental in administering the move of the school, Marchetti also noted that Msgr. Connor was integral in finding the current property for Pope John Paul II Preparatory School in Hendersonville, building the Fleming Center at the Cathedral, addressing clergy sexual abuse allegations, as well as creating the first set of high school rules and assets, which are still in affect today.
"Any time there was a decision to be made, a hard decision, a tough decision and one that required foresight, he was at the head of it," Marchetti said.
Msgr. Connor told the Register that those accomplishments came from being surrounded by the right people. "Your success depends on getting people around you who you can trust and call on," he said.
Through it all, Marchetti said, Msgr. Connor was both "competent and caring."
"He was one of these priests that wanted to do what was best, but also understood that, at times, you had to make hard decisions, which would not please everyone, but it was for the greater good of the diocese," he said. "He was just great, and I'm really going to miss him."
Paul Davis, current president of Father Ryan, said Msgr. Connor's impact on the school is still felt today.
"Through his calm presence, his clear vision for his alma mater, his sound management style, and his concern for the students, alumni, and our faculty and staff, he made Catholic education accessible to more in our community," Davis said. "Father Ryan grew in numbers, but as it did so, Father Connor remained focused on the quality of the education and the distinctive value of Catholic education."
In honor of Msgr. Connor's role in the relocation of Father Ryan, the campus' Cloister Building was dedicated in his honor in December 2006.
Following several more years in administrative work, Father Connor's last assignment came in 1995 as pastor of St. Catherine Church in Columbia, where he remained until his retirement in July of 2005.
"Father Connor was the epitome of what it means to be a pastor. He was a phenomenal pastor and a great administrator, and it's not always a given that you're going to get both," said Clare Keller, who has been a parishioner of St. Catherine since 1985. It was under Msgr. Connor's leadership as pastor that Keller's husband, Deacon Price Keller, served as a deacon, following his ordination in 1999.
"Father Connor was just a kind and understanding man. You could talk to him, and you never felt that he was looking down upon you or that you were not worthy," Keller said. "But the thing that stands out the most to me is he supported ministry very strongly and encouraged ministry. He encouraged us to take our ministry off campus and spread it to the community and those who needed it."
That led to many admirers, both young and old, throughout the community for the monsignor, too, she said, noting how during the community Lenten service each year, Msgr. Connor would go to the various churches to participate.
"He was a very special part of our lives, and I'm really devastated by his passing," she said.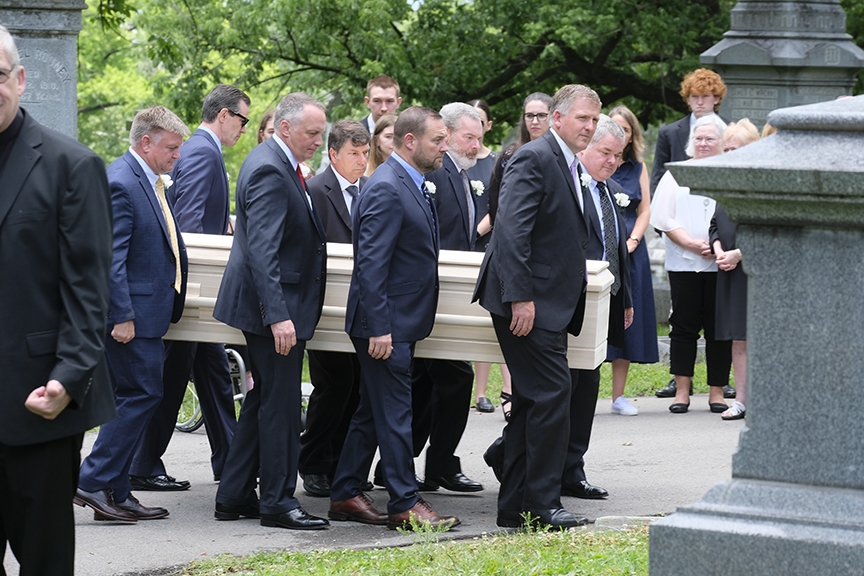 After his retirement in 2005, Msgr. Johnston said, Msgr. Connor moved to a condo in the River Plantation development near St. Henry, where the former was serving as pastor. "That threw us together again" after years of staying in touch, he said.
"Then, when I retired, we kept in closer touch," he said. "When I was administrator for eight months back when Bishop (David) Choby died and before Bishop Spalding came, he was terrific to me."
"He was very kind, he gave me good advice, he would challenge me, and he was also just very comforting," Msgr. Johnston noted. "He would support me, and it was just a good relationship that continued on."
And the bond continued as each were given the title of monsignor by the Holy Father, Msgr. Connor in 2018, and Msgr. Johnston in 2021.
"For me, he was just a wonderful priest and a wonderful friend," he said. "He never seemed to be a person who was concerned about his power or his status. He was extremely humble and would just do his work and serve, and he took it very seriously.
"He would be very attentive to his responsibilities, but it was never about him," he said. "He never drew attention to himself in that sense. He didn't have a bragging bone in his body. It was just in observing him that he showed what it means to serve."
One of those moments came during their shared time at Notre Dame High School.
"He genuinely cared about people," Msgr. Johnston said. "He would stand in the foyer and greet every kid that came by, and he knew so many of them by name.
"He would reach out to them and say 'Hello' and encourage them and tease them a little sometimes, and he gave me a great example of how to be a good educator and a good priest, and I'm just very grateful for that."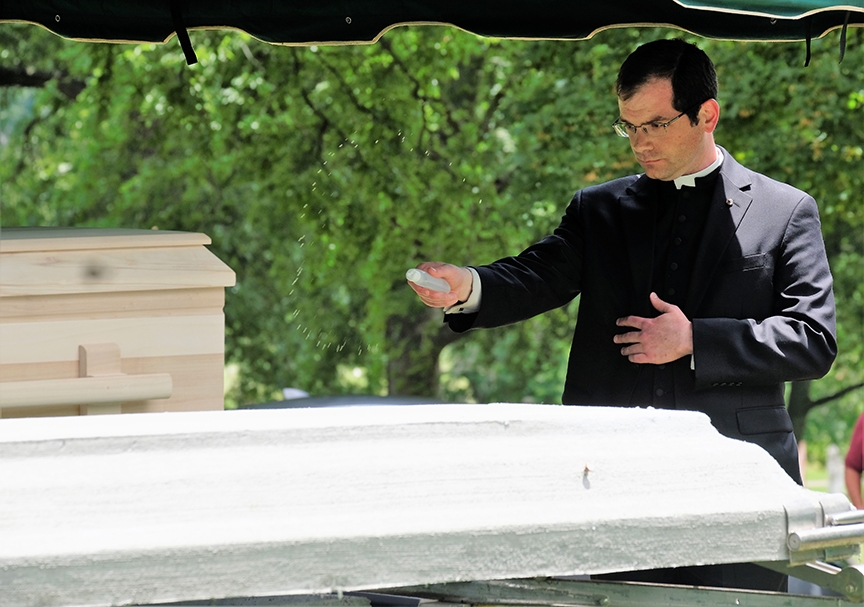 After the funeral Mass, Msgr. Connor was buried at the Priests Circle in Calvary Cemetery. His nephews and nephews-in-law served as pallbearers.
Msgr. Connor is survived by his sister, Mary Jane Connor, and his brothers Frank (Nancy) Connor, Rick (Brenda) Connor, Tom (Judy) Connor, and Hank (Terry) Connor. He is also survived by 13 nieces and nephews, 31 great-nieces and great-nephews, and three great-great nephews.
Memorial contributions can be made to the Msgr. Pat Connor '53 Scholarship at Father Ryan High School. The scholarship was established in 2011, in honor of the 50th anniversary of Msgr. Connor's ordination to the priesthood. The award is given each year to a sophomore, chosen by the freshman and sophomore Theology teachers, who exemplifies great character and displays a love of and appreciation for Father Ryan. The award provides $1,000 for both the student's junior and senior years at the school.
"Msgr. Connor's legacy is evidenced in generations of students and families who benefited from his leadership, and those who continue to benefit today and into the future," Davis said. "Thanks to his generosity and the support of so many in Monsignor's family and circle of friends, the Msgr. Pat Connor '53 Scholarship provides for students who have a deep appreciation for Father Ryan. That is the great example of his enduring impact on Father Ryan."
Marshall Donnelly Combs Funeral Home was in charge of arrangements.