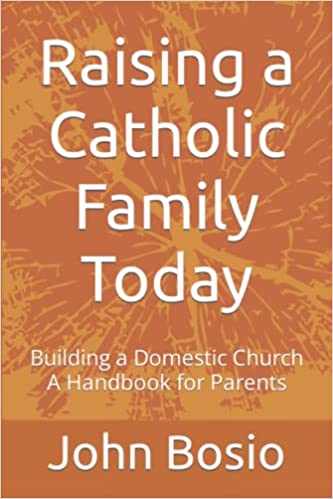 This Lent, young couples and parents across Middle Tennessee are invited to participate in the "Raising a Catholic Family Today: Building a Domestic Church" radio show that will air throughout the season on Nashville Catholic Radio.
The six-week radio program will "celebrate the goodness of the Catholic home life, the life of the domestic church," according to program materials. "It is about the Catholic family and how to raise one in today's cultural environment."
"I have worked many years in family life in parishes and dioceses, and, from my experience, you have to find those key moments in the life of the Church where people say, 'OK, I want to do something special.' Lent is one of those times," said John Bosio, former chairman of Catholic Media Productions and a parishioner of St. Stephen Catholic Community in Old Hickory. Bosio will host the program along with Ron Fleitz, Nashville Catholic Radio volunteer host of "Around the Diocese" and "Faith in Business."
The radio show is a companion program to Bosio's book, Raising a Catholic Family Today, which he published in October 2022. Bosio first got the idea for the book when he was asked to give a talk during the Together in Holiness Conference a few years back.
"Nashville is a very transient community with young families who are disconnected from their spiritual roots, their families, and they're left on their own to practice the faith. And many times you just drift without the support and accountability that parents, grandparents, aunts, and uncles put on you to continue to practice," Bosio said. "Without that, it's easy to drift, and the problem is that leaves a whole generation of children without any formation in the faith.
"I think it's important to catch the families as they're forming and try to give them some support," he said. "This book and radio program are intended to do that, and they encourage families to turn to their parishes to find the extended family they have left behind.
"In the parish community is where we find the spiritual and social support that we need," Bosio concluded. "The purpose of the book is to basically invite the people to reflect on how the faith was passed on to them and what they are doing today to pass it on to their children."
That's the purpose of the radio program as well. Each week, listeners of Nashville Catholic Radio will hear a 27-minute broadcast featuring conversations between Fleitz and Bosio as well as pre-recorded interviews with 12 families representing seven churches across the Diocese of Nashville. The topics of the six episodes will follow the chapters of the book.
"I wish I had the book when my wife and I were raising our kids because it's so fundamentally simple," Fleitz said. "It brings in the basics of the Catholic Church along with the basics of raising children in your home the way you should, which is making sure that Christ is centered in their life."
Fleitz said working with Bosio on the project was a pleasure.
"I think it's going to be very exciting for the people who want to tune in and listen. Anybody who listens to it can start to pick up on the comments made by the 12 couples that John interviewed, and it will be very interesting," Fleitz added. "If I were a young parent today, and I got to hear what other people were saying, I'd say, 'Wow.' It's not often that we get a barometer of where we're at and what a better way to find out than to compare with what other couples have done with their children to create the home as a sanctuary."
Air dates for "Raising a Catholic Family Today" are as follows:
• Our home is a sanctuary will air at 11:30 a.m. and 5:30 p.m. Monday, Feb. 20.
• Our home is the place where love resides will air at 11:30 a.m. and 5:30 p.m. Monday, Feb. 27.
• Our home is a school of prayer will air at 11:30 a.m. and 5:30 p.m. Monday, March 6.
• Our home is an apprenticeship to loving will air at 11:30 a.m. and 5:30 p.m. Monday, March 13.
• Our home is where we learn to live in God's time will air at 11:30 a.m. and 5:30 p.m. Monday, March 20. 
• Our home is a training camp for discipleship will air at 11:30 a.m. and 5:30 p.m. Monday, March 27.
Each week during Lent the broadcasts will air again at 8:30 a.m. on Saturdays and 5:30 p.m. on Sundays.
Listen live at NashvilleCR.com, on the Nashville Catholic Radio App, or tune into WBOU 100.5 FM.
Couples interested in following along with the book can order one for free while supplies last at nashvillecr.com. The opportunity is thanks to St. Christopher Church in Dickson parishioner Daniel Schachle of Schachle Insurance, the official insurance company of the Knights of Columbus, who ordered 500 copies to be distributed among listeners of the program. Schachle Insurance are also underwriters of the program.
"The family in America is under attack and it's something that we can't just passively ignore any more and just hope it'll go away. I think we all need to become more proactive about strengthening the family … beginning in the home," Schachle said. "A lot of our kids now, once they make their Confirmation, they never come back to CCD, they're not coming back to Mass, and we have to wonder what's the reason for that.
"I think a lot of it is just not living the faith at home, not that parents want to neglect it, but they don't know what to do," he said. "So hopefully John's book will help people find some path that they can embrace to help pull their families onto some type of rhythm of life that'll help carry their kids through life."
Ahead of the start of the program, Bosio and Schachle will be featured on "Around the Diocese" with Fleitz at 11 a.m. Monday, Feb. 13.
"John's book is a terrific 'how-to' for Catholic parents. The companion series on Nashville Catholic Radio is a terrific supplement for parents because you hear from parents just like you," said Jim Crowe, Nashville Catholic Radio president, chairman of programming, and host of "The Mountaintop."
"You hear what they're struggling with and realize you aren't alone in raising a Catholic family," Crowe said. "You also benefit from the great ideas other parents devised to bring their kids up properly in the faith.
"In Nashville, where Catholicism is not a dominant faith, many parents and kids are surrounded by other faiths, so we don't have an automatic culture of Catholicism," he said. "That's why John Bosio's book and the companion series on Nashville Catholic Radio will be so helpful."
Bosio said he hopes listeners will learn two things that will help them in bringing the faith in their home.
"One, ask, 'How can I be more intentional about passing on the faith to my children?' For example, making sure they know their prayers or making sure they go to church on Sunday. Just simple, basic things, and the book has many good suggestions," Bosio said. "Secondly, make sure that we make room for God in our home, and that we teach our children to relate to him as a member of our family."
For more information or to order a free copy of Bosio's book, visit nashvillecr.com.