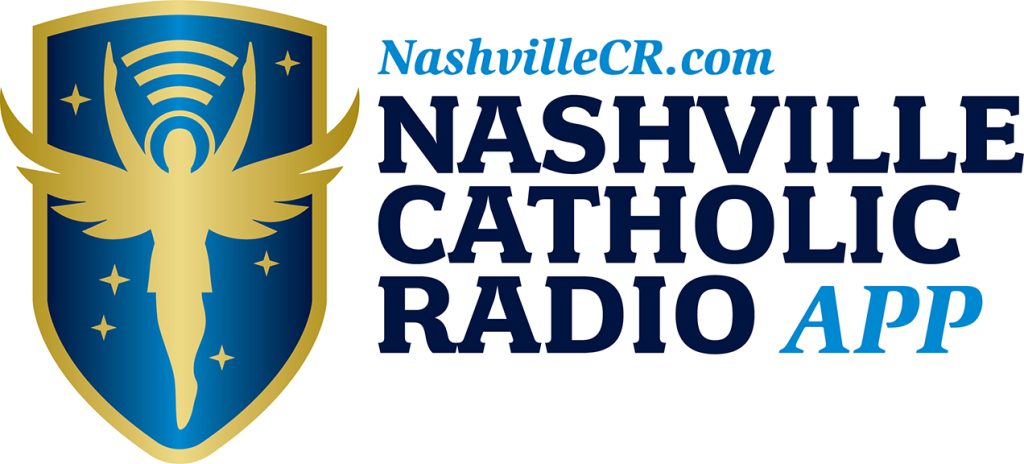 To continue creating quality Catholic programming and better serve the Catholic communities of Middle Tennessee, Nashville Catholic Radio is sponsoring its first Nashville Catholic Radio Lenten Pledge Drive March 28 through April 3, in hopes of raising $15,000.
"Nashville Catholic Radio is an evangelization tool of the Diocese of Nashville that Bishop (J. Mark) Spalding utilizes to care for the spiritual needs of our Catholic community throughout Middle Tennessee," said Jovita Hernandez, assistant director of Catholic Media Productions. "Our $15,000 goal will help us create quality Catholic content that supports our mission to shine the light of our Catholic faith on everyday life.
"Our goal is to produce content that speaks to the hearts of our Catholic community and inspires them to deeper relationship with Christ," she added. "We do this while also providing an opportunity to connect the community to the ministries within the diocese."
The money will also allow the radio to establish a 24-hour, seven-day-a-week streaming channel dedicated to Spanish content, Hernandez said. Currently, the radio station broadcasts in English from 5 a.m. to 8 p.m. and in Spanish from 8 p.m. to 5 a.m. Adding the streaming channel will allow both English and Spanish content to be available 24-7.
"We want to serve both communities in the best way possible," Hernandez said.
How to participate
During the pledge week, listeners will hear from program hosts and Bishop Spalding, inspiring them to donate to the drive, but people are encouraged to send their gift now, Hernandez said. "The first three donations will receive one of our beautiful Nashville Catholic Radio polo shirts.
"This is a wonderful Lenten opportunity to give to this mission and partner with us in welcoming all," Hernandez added.
To donate, visit nashvillecr.com/donate, download the NCR App from the Apple or Google Play Store, or mail a check to the Catholic Pastoral Center, 2800 McGavock Pike, Nashville, TN 37214. Checks should be payable to Nashville Catholic Radio.
To learn about more opportunities to get involved, reach out to NCR online or through the app.
Continuing growth
Donating to the pledge drive is how Nashville Catholic Radio will continue its development into the future, Hernandez said.
Nashville Catholic Radio began as a project of Catholic Media Productions and was launched by Bishop David Choby in November 2016 as an affiliate of Relevant Radio. At the time, it only featured one local program, "We Believe Show," which still airs at 11 a.m. every Tuesday.
But it didn't take long for the station to grow as seven more local programs were added over the next several years. And its growth is thanks in large part to the volunteers who serve as leaders and program hosts.
"During the years of operations many volunteers have contributed thousands of hours to keep the station operational and to create new programs," said John Bosio, former chairman of Catholic Media Productions. "This evangelization tool has been made possible because of the generous volunteers who have taken on the responsibilities to learn about the business of radio and spent many hours producing new materials.
"I have had the privilege of taking a leadership position from the start of the station until the time the diocese absorbed the station under its tutelage as a tool for evangelization. This was something we are very proud of," he added. "My work with the station has been very rewarding and demanding, and I volunteered to do it as my way of contributing to the evangelization mission of the Church. This station is a tool for making our Catholic presence known in the Nashville community, and it offers the light of our Catholic faith and tradition to our listeners."
Jim Crowe, Nashville Catholic Radio president and chairman of programming, and host of "The Mountaintop," said he enjoys volunteering for a myriad of reasons.
"(Volunteering) gives me the chance to use the talents God gave me to help tell our Catholic story. I love being Catholic, and I cherish the opportunity to tell our story instead of other media defining it for us," Crowe said. "I also love creating programs on Nashville Catholic Radio that enrich our faith and also share who we are to others. I'm excited to learn more about my faith and grow closer in my relationship with God, so those are the kinds of programs I try to create with the amazing people in our diocese."
One such example is the "NashVocations Podcast Show" at 11 a.m. every Wednesday, Crowe said.
"When I discovered that our own seminarians were sharing their personal struggles and achievements, I was gripped," Crowe said. "To my knowledge, we've never had this kind of access to, God willing, our future parish priests. I'm getting to know them before they even take their vow. I had to share this with everyone and get it on Nashville Catholic Radio."
Other such shows include "Around the Diocese" at 11 a.m. every Monday, and "Faith in Business" at 11:30 a.m. every Wednesday, both of which are hosted by volunteer Ron Fleitz, who began with Nashville Catholic Radio in 2021.
"I saw this as a way to give back to the community on one hand, but also to dig into the Catholic faith for me. … And being a convert, I still had a ton of things to learn about our faith," Fleitz said. "The blessings from working at NCR are enormous. I have had the opportunity to interview many great people of faith from around the area.
"Each story that is shared on 'Faith in Business' warms my heart. To speak with ordinary people who attend Mass every week and then hear all about their faith journey, which goes far beyond weekly Mass, how cool is that," he added. "On 'Around the Diocese,' I get to learn from our diocese on what makes the entire faith community tick in central Tennessee.
"We have a wonderful, gifted and blessed team here at Nashville Catholic Radio," he concluded. "Thank God I have the opportunity to work with them."
By supporting the pledge drive, all the volunteers will be able to continue their work for the diocese.
"This radio station would not exist without the dedication from volunteers like Jim Crowe, Ron Fleitz, John Bosio and all the hosts of our shows," Hernandez said, "and we want to do everything in our power to continue to support the radio station and our multiple media platforms with the app and with streaming to allow them the space to do God's work through evangelization."
For a full schedule of programs, visit https://nashvillecr.com/program-schedule.
Listen live daily at NashvilleCR.com, on the NCR App, or tune into WBOU 100.5 FM.