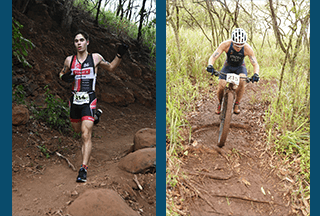 Brothers Will and A.J. Stacey and their dad Pat love to run together, and swim together, and mountain bike together. And they love combining them in the single sport of off-road triathlons.
All three Staceys recently competed in their respective age groups at the XTERRA World Championships in Hawaii, with Will finishing second and A.J. fourth in the male 15-19 age group, and Pat finishing 12th in the male 50-54 age group. 
"It makes it so much more motivating for me to be out there competing with my family and having the whole support of my family," said Will, a 2021 graduate of Father Ryan High School and a freshman at Sewanee: The University of the South.
It was Will's third trip to the XTERRA World Championship and his brother's and father's first.
"Stepping up on the podium … it felt like a reward for a lot of hard work," said Will, a member of the cross country team at Sewanee. "Ever since I raced in 2017, it was in the back of my mind to be able to get on the podium by the time I was 19. …
"I don't race only for the podium spot," he added. "My main motivation for racing is to glorify God by using the talents he has given me in biking, swimming and running."
"I was glad to be out there with my family," echoed A.J., a sophomore at Father Ryan. "It's a really special thing to do something you've trained for for several years … and to race with your family."
Pat Stacey, also a Father Ryan graduate like his father and grandfather, started the family competing in off-road triathlon races, which include a one-mile swim in open water, riding a mountain bike on a trail for 20-22 miles, and a 10-K run on a trail.
He competed in triathlons in his 20s, and when his sons got old enough, he and his wife Heather, also an avid mountain biker and coach, got them involved in youth triathlons.
"They were avid mountain bikers, they were avid runners on their school team, and they were avid swimmers," Pat said of his sons, who are both graduates of St. Matthew School in Franklin. "We put it all together."
"One reason we really like it is it's great cross training," Pat said. "And it's a life-long sport. It's something they can do the rest of their lives. My boys have got full buy-in on that."
"I want to lead an active lifestyle and stay active and stay healthy," Will said. "Racing triathlon is an incredible way to do that."
"The biggest pull for me with triathlon is I'm able to use my strengths and my abilities that God has given me to their fullest," said A.J. "I really enjoy endurance sports as a whole. … I enjoy taking my body to the limit in that way."
Faith finds a place in the Staceys' races. "My faith has been strengthened by doing what I do because I've been able to see all of God's blessings in what I do," said A.J., who is a parishioner at St. Matthew Church in Franklin with the rest of his family.
"Xterra allows me to rely on God for help," he added. "In a race like that you definitely find a point where you're completely empty and you need some help from the Lord. … Without the Lord's help, I wouldn't be doing anything that I'm doing right now."
"My brother, sometimes he amazes me with some of the things he thinks about. And sometimes it leads to a deep conversation about why we want to compete," Will said. "It always goes back to competing for the Lord and using the talents we've been given."
Those talents were tested by the conditions for the XTERRA World Championships. A storm caused waves so high, organizers decided to replace the swim portion with a second run. And rain made the course muddy and slippery.
"It was a stormy, rainy race. It was muddy and sloppy. You just have to deal with the conditions," Pat said. "It's a mental challenge as much as it is a physical challenge for sure."
"A lot of strategy was dealing with the mud," Will said. "What I was keeping in my mind was to always move forward."
By continuing to push through the challenges, Will was able to land on the podium for the first time. "All the glory to God," he said. "There's so, so many people who helped me get there," including his family, his triathlon coach David Carpenter, and his cross country teammates at Sewanee and at Father Ryan, where he ran for four years.
"It's been a huge blessing to be able to run cross country at Father Ryan for four years. I love that team," Will said. "It's a very close-knit group of guys. There's definitely a culture of everybody pushing each other to go one level deeper than you thought you were able to."
The Staceys will return to the XTERRA triathlon circuit in April with a race in Austin, Texas. Heather, a physical therapist, will be there supporting her husband and sons, Pat said. "She's not just a fan, she's part of the team."