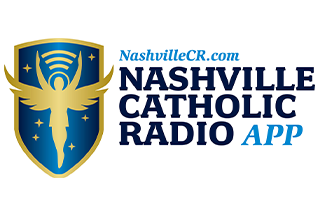 For one week, listeners tuning into Nashville Catholic Radio got to hear a special message from Bishop J. Mark Spalding, their favorite radio show hosts interacting together and inspirational stories of faith as part of the Nashville Catholic Radio Lenten Pledge Drive March 28 through April 3, as its hosts and volunteers sought to raise $15,000.
While the full goal was not reached, listeners still came through with $7,000 in pledges raised.
"Our goal was a little optimistic," said Jim Crowe, Nashville Catholic Radio president and chairman of programming. "It was encouraging though because that money purely came from listeners, people who listen and support Nashville Catholic Radio.
"It was very gratifying to get that ($7,000) just by asking them on the very thing that we're promoting to support it with a pledge, so we were happy with it," he said. "We are humbled and thankful for all the people that gave their support with the one-time donation, with a regular sustaining donation and for all that prayed on our behalf for the success of this evangelization tool that the diocese has. We appreciate the gift and the prayers."
With the newly raised $7,000, several projects are in the works, but the most important is the establishment of a 24/7 Spanish streaming channel, Crowe said, "to serve our Hispanic community."
"It's really an underserved community in many ways, and we don't want it to be underserved in faith," he said.
While the pledge drive was put together to raise money to support the continuing mission of Nashville Catholic Radio, Crowe said it was also a chance for the staff to have fun.
"It gave us a chance to let our hair down and instead of worrying so much about all the regular things of doing a show, we were able to turn it into a fun get together for all of the staff to just speak from their hearts about what we do and why we love it, as well as the people that we meet that are impacted by it," Crowe said. "It was a much more fun and casual environment on the air and in the studio.
"It was a lot of fun for hosts of different shows to be guests on other people's shows," he said. "For all of our hosts to be together on the air, created a camaraderie and a fun atmosphere. It gave us a chance to be ourselves, and I think people connect with that."
And while it gave hosts the chance to tell their own stories of why Nashville Catholic Radio is important to them, it also gave them a chance to share how Nashville Catholic Radio has affected its listeners.
"A lot of people have told us how they use Nashville Catholic Radio as a way to reconnect with their faith," Crowe recalled. "Then, we had some stories of people coming back that were disengaged Catholics that after hearing and listening to programming, they said they were able to come back to fully practicing the faith, which is a wonderful story."
For a full schedule of programs, visit https://nashvillecr.com/program-schedule.
Listen to Nashville Catholic Radio live daily at NashvilleCR.com, on the Nashville Catholic Radio App, or tune into WBOU 100.5 FM.