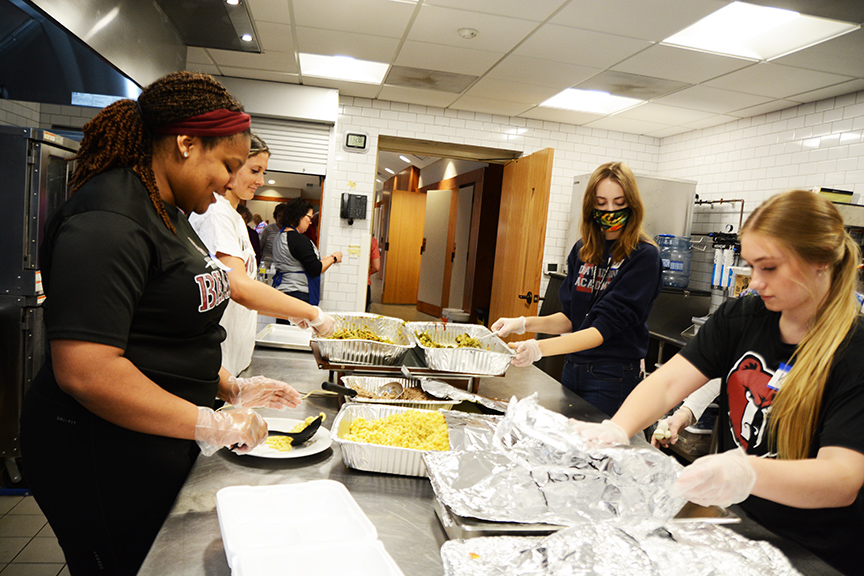 When the Thursday Lunch program at St. Stephen Catholic Community in Old Hickory began in 2019, only a couple of people showed up to enjoy the free hot meal.
"We had more volunteers than we had guests," said Sue Cartier, who is a co-coordinator of the program with fellow parishioners Anita Monohan and Chip Harris.
Slowly the program, a partnership between St. Stephen and Catholic Charities, Diocese of Nashville, began to grow. Its growth accelerated along with the need for it when the COVID pandemic forced more people into an economically vulnerable situation.
"We had an awful lot of people during COVID who were out of work, and they just needed a meal," Harris said.
Today, the volunteers serve more than 100 meals a week. "We're getting new faces basically every week," Harris said.
And the ministry has become about more than serving a hot meal.
As the guests have gotten to know the volunteers, "they feel willing to share their needs," Cartier said.
So when some of the guests mentioned their need for winter coats and clothing, the volunteers collected coats from parishioners of St. Stephen and handed them out with the hot lunches, Harris said.
In the summer, they handed out shorts, T-shirts and jeans, and they also offer dog and cat food for guests with pets, he added.
The program's volunteers have begun collecting gas cards to hand out with the lunches to help people pay for gasoline that has become so much more expensive in recent months, Cartier said. They also have set up a Little Free Library offering free books for the guests to take and read.
Wendy Overlock, the retired coordinator of Catholic Charities' Hunger Relief Program who first approached St. Stephen about starting the program to help homeless people living in an encampment nearby, helped one homeless guest find an apartment in Lebanon, Harris said.
Parishioners at St. Stephen donated furniture and the Knights of Columbus Council 9282 at the church helped the person move in, Harris said.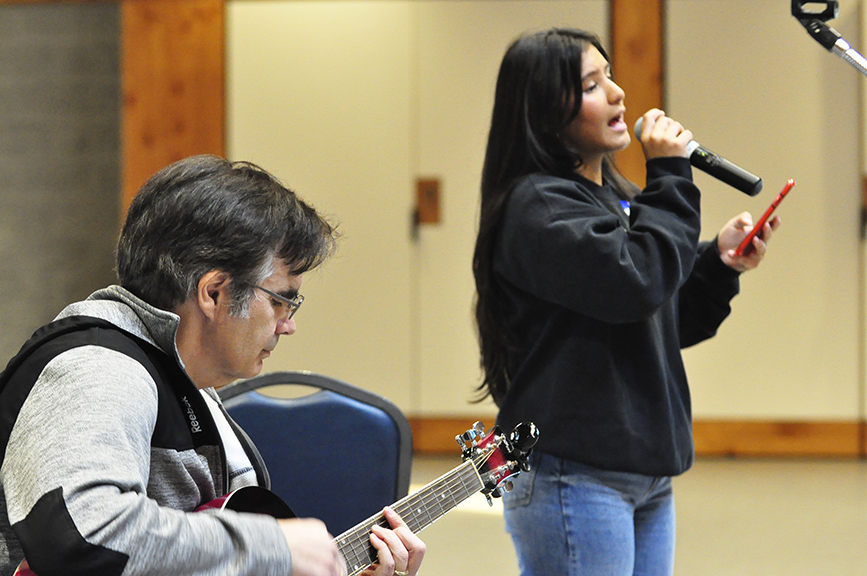 Overlock was able to help another family who lost their home to the tornadoes that struck the area in March 2020. And because that family are vegetarians, the program now serves 14 vegetarian meals a week, Harris said.
"We've gotten to know the folks," Harris said. "We know a lot of their stories."
The lunch program was suspended for four months in 2020 because of the pandemic. When it resumed, there were still restrictions on gathering people inside, Harris said. So, the organizers decided to set up a drive-through system where guests could pull up outside the church to pick up a meal.
They put up fliers at area laundromats and grocery store bulletin boards, he said. "Putting out signs in front of the church really helped," Harris added.
The number of people picking up meals quickly increased, Harris said. "That's how we have grown this thing. Because there's a lot of folks who will drive through who don't want to come inside." 
Although the program might have started to serve the homeless population, it has evolved to meet the needs of low-income families and seniors, said Heather Hefner, coordinator of Catholic Charities' Hunger Relief Program.
Just because someone has a job and a car doesn't mean they are not struggling, Hefner said. "More people are living paycheck to paycheck than we realize," she said.
Catholic Charities provides all the food for the lunches. "We provide the space and the labor," Harris said.
The coordinators invited parishioners to come to the lunch to eat and socialize with the guests who come inside for a meal, Monohan said. "It helps them feel welcomed and they want to come back."
The program is open to everyone, Monohan said.
Nearly 25 parishioners volunteer with the program, preparing and serving the meals, Harris said. "What excites me, with the exception of about three, everybody who works is a Knight or a wife of a Knight," said Harris, who for 15 years ran the kitchen for the Knights Council 9282's events.
As much as the guests are helped, so too are the program's volunteers.
"It's a gift to help others," Monohan said. "I enjoy it."
"This is just a feel-good ministry," said Cartier.