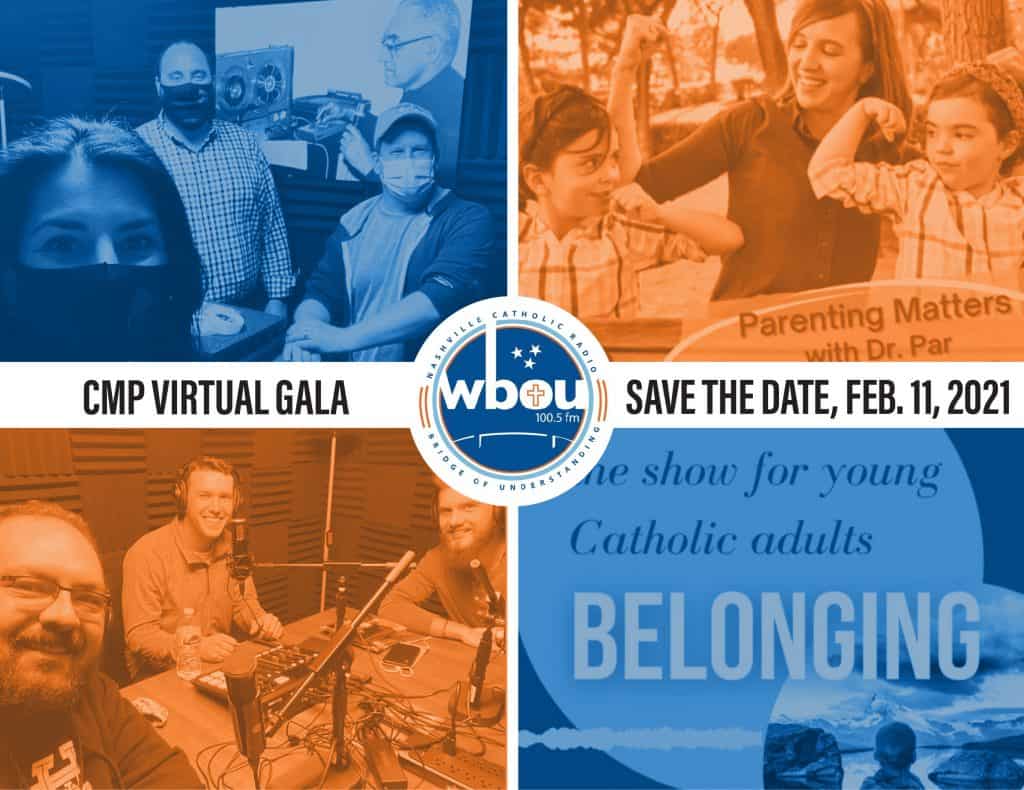 Catholic Media Productions and Nashville Catholic Radio are "integral ministries" of the Diocese of Nashville, Bishop J. Mark Spalding said during a virtual gala to raise funds for the diocese's radio station.
"Today through the broadcast of 100.5 FM and streaming through the internet of Nashville Catholic Radio, we proclaim the Gospel 24 hours a day to all those who live in our diocese and beyond," Bishop Spalding said during the gala, held Thursday, Feb. 11. "I encourage all of you to listen to WBOU.org and to tell your friends to listen.
"I want to close with a special blessing on Nashville Catholic Radio and all of you who support it," the bishop added. "Your prayers and donations help us proclaim the Gospel, the ministry that Jesus has commanded us to do. I encourage all of you to get involved, pray, listen and give."
People can still watch the virtual gala and make a donation by visiting NashvilleCR.com, said Jovita Hernandez, assistant director of Catholic Media Productions.
"I thought it was awesome," Hernandez said of the gala. "This ministry is about sharing the good news of Jesus Christ. We're all called to do that."
Hernandez and Jim Crowe, the morning show co-host on 107.5 FM, a parishioner at St Stephen Catholic Community in Old Hickory, and the Catholic Media Productions program director, were the co-hosts for the virtual gala.
The program began with a trip down memory lane, starting with the origins of Catholic Media Productions 35 years ago with the "We Believe" radio show, and honored past and present board members of Catholic Media Productions.
Besides hearing from the people providing some of the local programming, viewers also had the chance to see what's coming in 2021. There were segments from several people who will produce new shows for the station.
The goal for the evening was to raise $21,000. Diocesan staff members are still tabulating the donations, Hernandez said.
Planned uses for the money include: improving the structure of the station's transmitter site for maintenance and safety; expanding English-language and Spanish-language programming; adding a 24-hour a day, seven day a week Spanish language online channel; and creating a Nashville Catholic Radio app.
In the summer of 2020, the diocese acquired Catholic Media Productions, which operates Nashville Catholic Radio. "It's now another arm of evangelization for our Nashville Catholic community," Hernandez said.
People in Nashville can listen to Catholic programming by tuning to WBOU 100.5 FM, and people anywhere in the world can listen online at wbou.org. The station broadcasts in English during the day and in Spanish from 8 p.m. to 5 a.m.
"The spiritual services we're providing are really important now in the times we're living in," Hernandez said. Through the radio programming, including daily broadcasts of Mass at noon, the Divine Mercy chaplet at 3 p.m. and the Family Rosary at 7 p.m., people who can't participate in the life of their parish because of the coronavirus pandemic can still participate in faith practices, she added.
"We're there for everyone as a spiritual service to our community," Hernandez said.
Catholic Media Productions is also hoping to strengthen its relationship with parishes in the diocese.
"We work with all the parishes," Hernandez said. "We're there to support them. That's our role."
Hernandez is working to recruit and organize parish ambassadors for Catholic Media Productions "to involve parishes in our programming, and to promote the station at the parish level," she said.
"I'd like all the parishes to know they have an awesome opportunity to let everyone know about their parish events by advertising with a 30 second spot that will run for a week," Hernandez said.
For more information about advertising on WBOU and the cost, contact Hernandez at jovita.hernandez@dioceseofnashville.com.