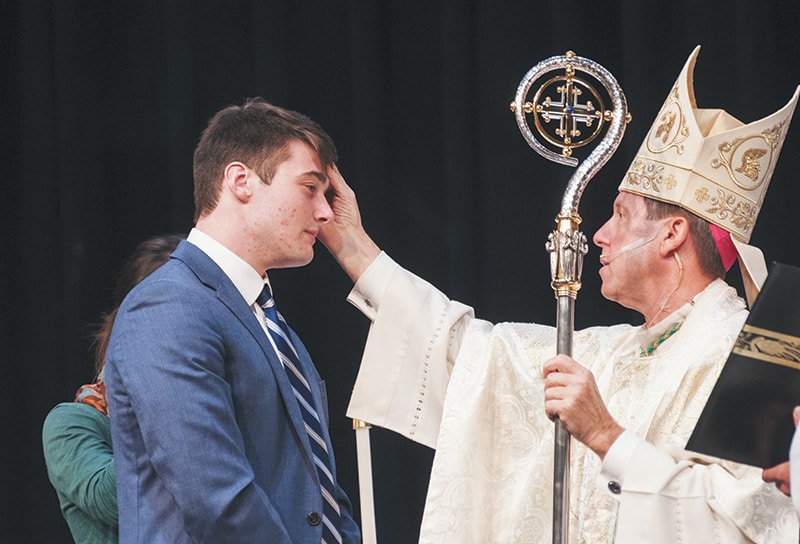 Lent and spring are also known in the Diocese of Nashville as confirmation season. This year, many of the churches in the diocese will be moving their confirmations to the Sagrado Corazon Church in the Catholic Pastoral Center where the sacrament can be celebrated in a safe environment for more people.
Even in the diocese's largest parishes, there isn't enough room for everyone because of requirements on social distancing and limiting the size of congregations, said Father Gervan Menezes, the episcopal master of ceremonies for Bishop J. Mark Spalding. "That's where Sagrado Corazon helps us."
Sagrado Corazon has seating for more than 3,000 people in normal times. That's more than any other church in the diocese. For the confirmations, the attendance will be capped at 1,400. Each candidate for confirmation will be accompanied by their sponsor and up to six family members.
"We can bring more people together and still be safe and have the proper reverence," Father Menezes said.
Even at Sagrado Corazon, all the COVID-19 safety protocols, such as mask wearing and social distancing, will be in effect, Father Menezes said. "We want to make sure everyone is safe."
Confirmations in the Diocese of Nashville will begin on Sunday, Feb. 28, and will continue into June.
The diocese is working on installing equipment in Sagrado Corazon to make it possible to livestream the confirmations and other large diocesan gatherings, such as the Chrism Mass and ordinations. The livestreaming capability should be ready by April.
Moving confirmations to Sagrado Corazon and the Catholic Pastoral Center provides the opportunity to bring people together as a diocese, Bishop Spalding said.
"It's a great diocesan asset," he said. "I will always be thankful to Bishop David Choby and those around him who made the decision to purchase this complex. … We're going to optimize its potential."
Even before the COVID-19 pandemic, Bishop Spalding and the Priests Council were discussing opportunities to use Sagrado Corazon to bring together people from different parishes for large events "so we could appreciate our identity as a diocese," Bishop Spalding said.
"It's a great thing to see that each parish is connected to others," the bishop said. Sagrado Corazon's capacity to host larger gatherings makes that possible, he added.
"Once COVID broke out," Bishop Spalding said, "it made Sagrado Corazon even more of an option for gathering in larger groups and still maintaining social distancing."
"It's always a unique challenge to do these sorts of things," Bishop Spalding said. "It does push us out of our comfort zones to a certain degree. But I feel it's worth the effort to connect parishes to one another and see the variety and diversity of the diocese."
"When the church is full of the people from their different backgrounds, it a wonderful sight to see," he said.
During the pandemic, people in the diocese have not been able to come together as a parish family, Father Menezes said. Moving the confirmations to the Catholic Pastoral Center "is an opportunity to congregate as a bigger family, a diocesan family," he said.
"A lot of times, especially being Catholic in the South, we see our parish, we see our community," Father Menezes said. "But then when we go to diocesan events, we see the diocese is bigger than our parish. Sometimes we see people of different colors, different languages, different cultures. We see them united in what we believe."
The confirmations are also a personal moment for those being confirmed. "For most of the kids, it's their opportunity to meet the bishop," Father Menezes said. "It's a great opportunity to get to know the bishop, to hear from the bishop."
Bishop Spalding does a great job making those moments special, said Father Menezes. "He's great with the kids," he said. "He can speak their language. He takes each confirmandi, that's their special moment with him. Just like there's nobody else in the room, the bishop is there."
"The bishop is representative of the whole diocese," Bishop Spalding explained. "Through my person, I am able to voice to them and physically be present to them in a way that shows the whole diocese is concerned about them, about their future, about their future in the faith."
Hosting the confirmations at the Catholic Pastoral Center could be a first step toward returning to normal, Father Menezes said.
While accompanying the bishop on his visits to churches around the diocese, Father Menezes has heard Bishop Spalding talk about bringing people back to the pews when the pandemic is over.
"He says, 'I see those pews empty right now. But sure enough, we have to go out and get them back. We are not complete without them,'" Father Menezes said. "The confirmations could be another way to do that. In a sense, it's a way to go back to normal."
"It's been a crazy year. We're doing what we can," Father Menezes said. "Right now, we're starting to see the light at the end of the tunnel."
The schedule for Confirmations at Sagrado Corazon Church is:
Sunday, Feb. 28, 3:30 p.m., Immaculate Conception Church in Clarksville, St. Martha Church in Ashland City. 
Saturday, March 6, 10 a.m., Holy Family Church in Brentwood. 
Sunday, March 7, 3:30 p.m., St. Pius X Church in Nashville, Holy Rosary Church in Donelson, St. Rose of Lima Church in Murfreesboro, and St. Lawrence Church in Joelton. 
Sunday, April 11, 3:30 p.m., Christ the King Church in Nashville, St. Mary's of the Seven Sorrows Church in Nashville, St. Henry Church in Nashville, St. John Vianney Church in Gallatin, and St. Paul the Apostle Church in Tullahoma. 
Sunday, April 18, 3:30 p.m., St. Stephen Catholic Community in Old Hickory, Our Lady of the Lake Church in Hendersonville, Our Lady of Lourdes Church in Springfield, and St. Elizabeth Ann Seton Church in Tennessee Ridge. 
Sunday, May 9, 3:30 p.m., St. Joseph Church in Madison, St. Edward Church in Nashville, St. Thomas Aquinas Church in Cookeville, St. Christopher Church in Dickson, and St. Matthew Church in Franklin. 
Saturday, May 22, 10 a.m., Sagrado Corazon Church in Nashville. 
Sunday, May 23, 3:30 p.m., Church of the Nativity in Thompson's Station, St. Andrew Church in Sparta, St. Philip Church in Franklin, St. Mark Church in Manchester. 
Sunday, June 6, 3:30 p.m., St. Frances Cabrini Church in Lebanon, St. John the Evangelist Church in Lewisburg, St. Ann Church in Nashville, St. Francis of Assisi Church in Dover, Holy Family Church in Lafayette, and St. Anthony Church in Fayetteville. 
Confirmations at other locations will include:
St. Catherine Church in Columbia, Thursday, March 11, 6:30 p.m. 
Overbrook School and St. Bernard Academy at the Cathedral of the Incarnation in Nashville, Friday, April 23, 6:30 p.m. 
Cathedral of the Incarnation in Nashville, Saturday, April 24, 5 p.m. 
Church of the Assumption in Nashville, Thursday, May 6, 6 p.m. 
St. Luke Church in Smyrna, Sunday, Oct. 31, 3 p.m. 
Confirmation for St. William of Montevergine Church in Shelbyville will be scheduled at a later date.