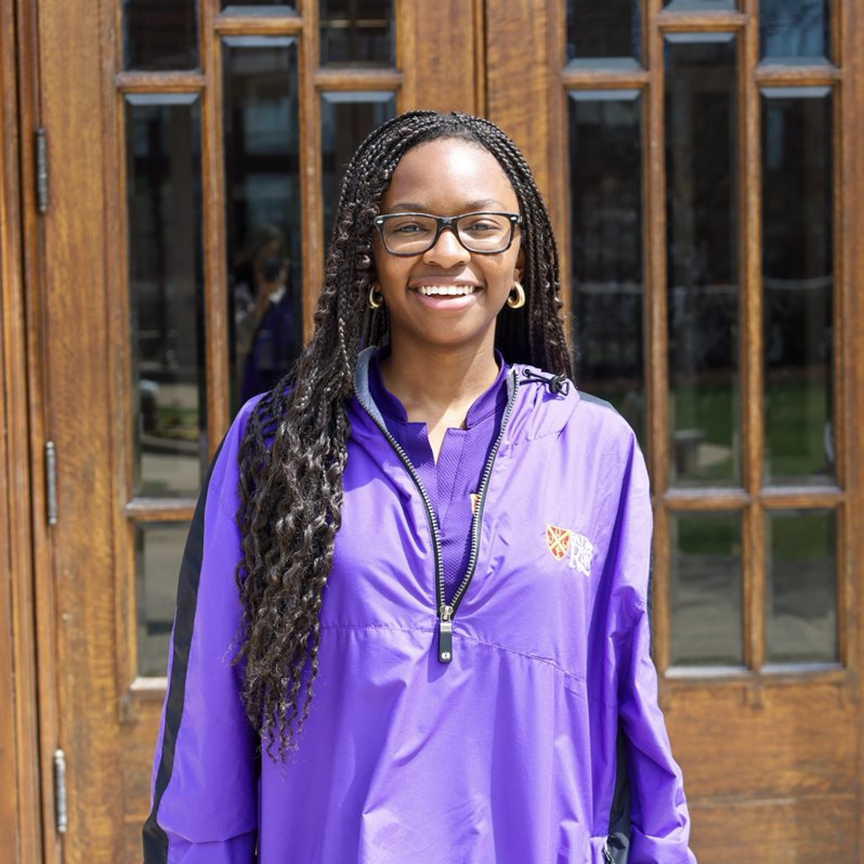 The Princeton University Alumni Club of Nashville has awarded the 2023 Princeton Prize in Race Relations to Kemi Tela, who graduated from Father Ryan High School on Saturday, May 13.
Tela was honored for her work in fostering positive race relations throughout her community. She is one of the leaders of the school's Multi-Cultural Student Union. Tela received a $1,000 award and participated in a Princeton Prize national symposium at the university with the other 27 Prize winners from across the country.
The award was presented April 20 in the Civil Rights Room of the Downtown Public Library with more than 50 area Princeton alumni, parents, and friends assembled. In addition to Tela, two USN seniors, Ximena Segoviano and Gabby White, were honored as Certificate winners for their work at USN. All three students then participated in a panel discussion, covering their work, their influences, and their college plans.
"Once again, the work of high school students in Nashville is having an impact on our community, and Kemi, Ximena, and Gabby are outstanding examples of that work," said Paige Bernick Watkins, chair of the Nashville Prize Committee. "We are proud to be part of the national Princeton Prize in Race Relations program and congratulate these students for what they are doing to enhance this city."
In accepting the award, Tela said, "I am honored to receive this award. The Multi-Cultural Student Union has served as a safe haven for minority students to share their experiences on campus and relish in the support of a welcoming community. It provided me with the vital support to rediscover my voice in an advocacy context," Tela concluded.
In addition to the race relations work in Nashville, Tela is working closely with her grandmother in the Democratic Republic of the Congo, her family's home, to raise funds to build wells in the country's villages to ensure the residents have access to safe drinking water.
According to Tela's sponsor, Scott Shaver, a Father Ryan faculty member and co-moderator of the school's Multi-Cultural Student Union, "Kemi has cemented herself as an extraordinary leader for racial equality at Father Ryan and has been paramount in creating ideas to help our organization improve our school climate surrounding racial equality. We are very proud of her and particularly excited about what her project is going to create within Father Ryan."
While a student at Father Ryan, Tela, a St. Edward School alumna and a Christ the King Church parishioner, was a member of the National Honor Society, the Purple Masque Players, Mock Trial, and Model UN, and served as the manager of the girls basketball team and as a Student Ambassador. She is also a fencer.
The Princeton Prize honors high school students who have demonstrated notable work in race relations. The program is sponsored by Princeton University and principally undertaken by its alumni and is awarded in 28 regions around the country.
The mission of the Princeton Prize is: "To identify and recognize high-school-age students who significantly engage and challenge their schools or communities to advance racial equity in order to promote respect and understanding among all people." More information is available at https://pprize.princeton.edu/