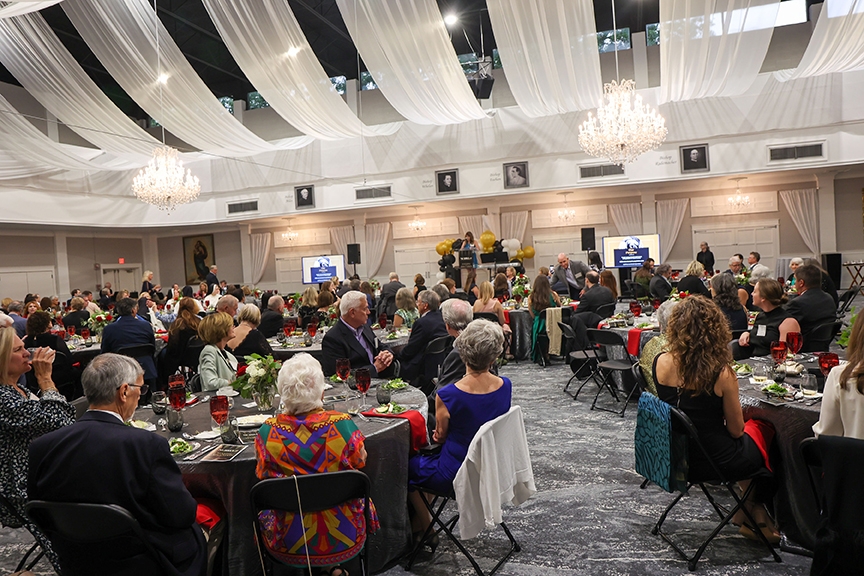 The Nashville Catholic Business Women's League turned its annual Pearls of Wisdom fundraiser into an evening event for the first time this year and set a new record in proceeds that will be used to fund scholarships for girls attending Nashville's three Catholic high schools.
The goal for the Evening for Education event was to raise $60,000 for the Aurelia Varallo Mariani Scholarship Fund, and the event exceeded the goal, raising $63,065.33.
The Aurelia Varallo Mariani Scholarship is awarded to a young woman at Father Ryan High School, Pope John Paul II Preparatory School, and St. Cecilia Academy for all four years of her high school career. The first scholarship in 1998 was for one student for $1000 and since then, the League has raised more than $485,000 for the scholarships.
This year's event was held in Bishop's Hall in the Catholic Pastoral Center. The 140 attendees enjoyed appetizers and dinner provided by The Clean Plate Club with an open bar with spirits, wine, beer, and non-alcoholic beverages donated by Ajax Turner, Athens, and Best Brands.
Some guests were able to attend Mass in a chapel at the Catholic Pastoral Center before the event.
Auction items included: a grotto Mass and tour with an Italian dinner for 10; a Destin beach condo vacation; tea with the Dominican Sisters of St. Cecilia; a fur coat and pearls; a gourmet dinner for eight with a tour of Harrison House; and the opportunity to sign up for whiskey tastings from the Whiskey House.
Professional Golf Events offered one-of-a-kind signed guitars, sports memorabilia, and photographs along with jewelry, and sunglasses. There were also Preds and Nashville Soccer tickets, golf outings, accessories, home decor, salon, attraction, and restaurant gift certificates, and more.
The live auction at the event raised more than $14,000.
Lynne Warne, NCBWL president, praised event Co-Chairs Lisa Link and Nikki Moreland and their committee for planning and executing "an amazing event. The highlight was hearing from the scholarship recipients in their video presentations about the impact attending Catholic schools has made in their lives."
Among the sponsors were the Presenting Sponsor, Patricia Bumpus Vance, Broker, REALTOR® of Berkshire Hathaway Home Services Woodmont Realty, and the Platinum Sponsors, the William T. Coakley Foundation and Kent and Donna Adams.
The Nashville Catholic Business Women's League is more than 70 years old and is the oldest Catholic business organization in the Diocese of Nashville. It is open to all Catholic women in the diocese.
For more information about NCBWL or to see photos from the Evening for Education dinner, visit www.ncbwl.org.