Father Anthony Stewart stood on the stage of the gymnasium of Nolensville Elementary School, which had been converted to a Catholic church sanctuary, and welcomed people "on this historic day" to the first Mass for the newly established Mother Teresa Church on Sunday, Sept. 5.
"I woke up a little anxious," Father Stewart said. "I wanted it to go well and for it to be a spiritual experience for people. I didn't want it to feel like it was Mass in a gym."
"I thought it was wonderful," said Jen Maass, who attended the first Mass with her husband Russ and their children, Dylan, 4, and Sophia, 3.
Father Stewart celebrated two Masses on Sept. 5, which was the feast day of the parish's patron, St. Teresa of Kolkata, at 8 a.m. and 10 a.m. Combined, about 600 people attended.
Mother Teresa Parish was formally established on June 28, the same day Father Stewart became its first pastor. It is the Diocese of Nashville's 59th church, the first new parish established since Our Lady of Guadalupe Church in Nashville in 2009.
The proclamation establishing the parish was issued by Bishop J. Mark Spalding on June 11, the Feast of the Sacred Heart. The proclamation outlined the boundaries of the new parish. "It's more or less the Nolensville, Arrington and College Grove communities" and is all contained within Williamson County, said Father John Hammond, Vicar General and Judicial Vicar for the diocese.
Mother Teresa's boundaries were carved out of the eastern wings of Holy Family Church in Brentwood, St. Philip Church in Franklin, and the Church of the Nativity.
The diocese purchased property at 7668 Nolensville Road that will eventually be the site of the church and a new diocesan school, St. Michael Academy.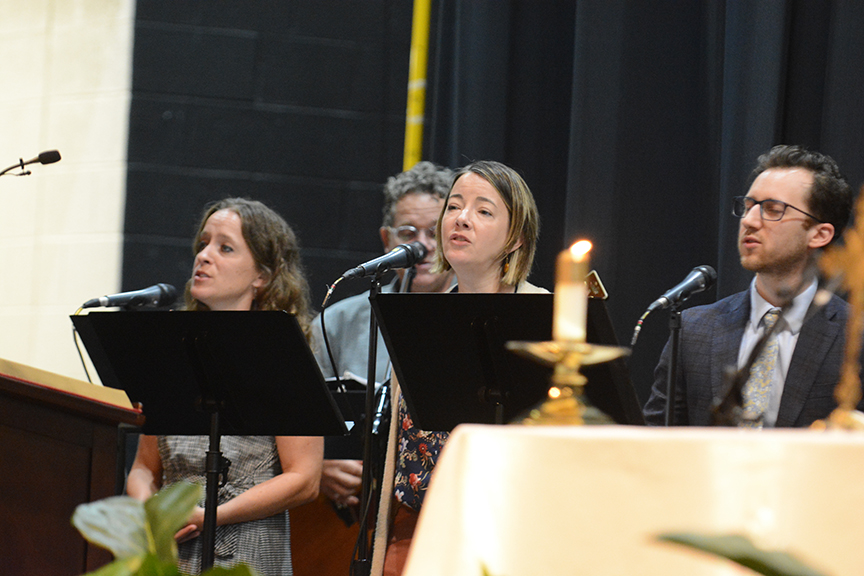 Until facilities can be built on that site, the parish will have two Masses on Sunday mornings, 8 and 10 a.m., at Nolensville Elementary School.
The school's principal, Amanda Fuller, and Denise Conti, who works in student support services for the school, have worked with the parish to arrange to hold Masses there. "They've been unbelievably helpful," said Dan Bednarzyk, a parish volunteer who helped organize the set-up process for Mass at the school and who Father Stewart called his "right-hand man."
Bednarzyk and his wife, Tammy, are among the more than 200 parishioners who have volunteered to help get the new parish up and running.
The Bednarzyks live in a Nolensville subdivision across the street from the school. When they heard a new parish was being established nearby, they decided to get involved, Mr. Bednarzyk said. "With the start of a new church, it's easy to get involved. You get to meet all the people who are volunteers," he said.
"We've made more friends in the last month and a half being involved with the church than we've made in years," Mrs. Bednarzyk said. "I think there's a need in the area for a parish. I think it's going to grow."
'Asking people for help'
As Associate Pastor at Holy Family Church in Brentwood, Father Stewart had assisted Holy Family's pastor, Father Joe McMahon, with laying the groundwork for the new parish.
Before the parish was established, there were 333 families registered at Holy Family living in the Nolensville area, Father Stewart noted. "I got to know a lot of them."
After Bishop Spalding announced at last spring's Chrism Mass that Father Stewart would be Mother Teresa's pastor, "I started … asking people for help," he said.
The parish already has 197 registered families, for a total of 522 people.
When Jen and Russ Maass heard about the new parish in Nolensville, "We were super excited," Mrs. Maass said.
Their family moved to the area five years ago from the Houston, Texas, area where they also were part of a new parish.
"There's an excitement among all the volunteers. Everyone wants to help out," Russ Maass said. "Everyone is excited to try something new, and this is a new, growing community."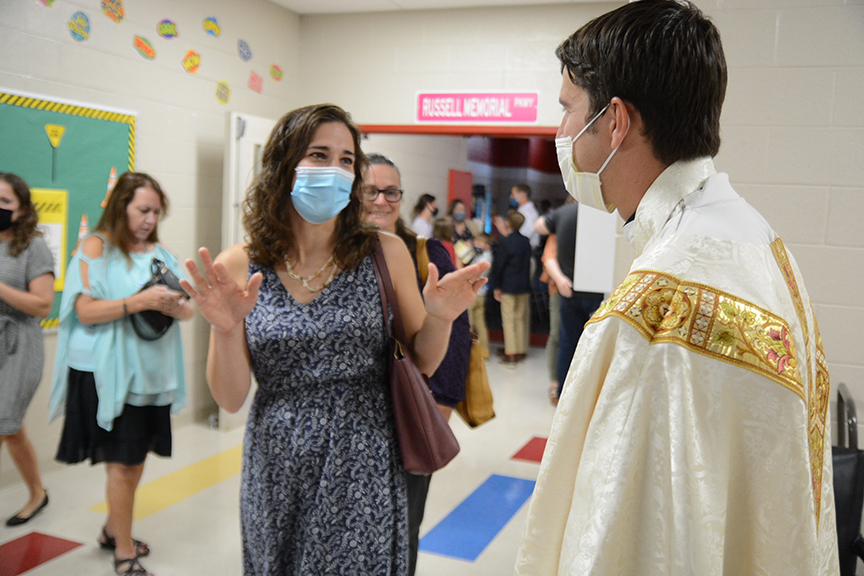 Hannah Dwyer, who was part of the choir at the first Mass with Jodi Seyfried, Christopher Bontempi and Music Minister Heather Tabor, moved to the Nolensville area with her family just as plans for the new parish were announced.
"It was a sign it was a good decision for our family," Dwyer said. "Families are so grateful to know there's a church close by."
For Laura and Jimmy Owens, it is the prospect of a Catholic school being so close for their three daughters, Lucy, 7, Mary, 5, and Olivia 4.
The Owens family, who are parishioners at Holy Family where they met Father Stewart, brought up the gifts during the first Mass. Jimmy Owens is on the committee helping to plan the school.
"There are no Catholic schools in this area," said Laura Owens, a graduate of Father Ryan High School. "We're looking forward to the opening of St. Michael Academy."
"It's exciting to be part of the beginning," said Sean Fagin, who is leading the parish's lector ministry and read one of the readings for the first Mass.
'Willingness to work'
Fagin's wife, Laura, is Father Stewart's administrative assistant and the parish's first employee.
"I've been working on the start-up," she said. "We made a lot of lists of items to be purchased."
The parish held a ministry fair, and 12 parishioners have been named ministry heads, with a list of volunteers for each. "There's an incredible amount of enthusiasm and willingness to work," Mrs. Fagin said. "It's contagious."
The parish has a website, motherteresacc.com, and has implemented new church management software. "The parishioner registration form and online giving is up and running," she said.
A house on the Nolensville property has been converted to a rectory for Father Stewart and a church office. Office hours will be 9 a.m. to 2 p.m. Monday through Thursday. Daily Mass will be held at 8 a.m. Monday through Thursday, and Confession will be available 5-5:30 p.m. on Mondays and Wednesdays.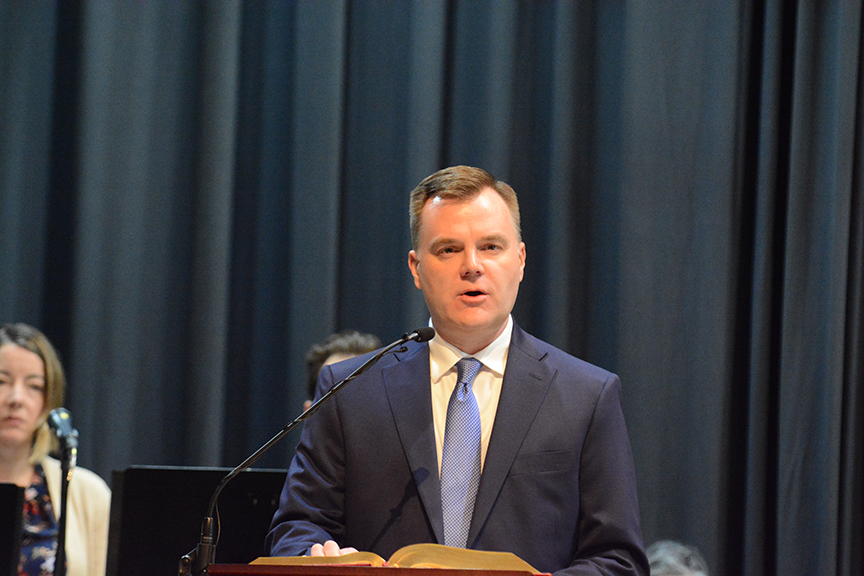 The parish's first baptism is already scheduled for October, Mrs. Fagin said.
Mother Teresa is using the religious education program at Holy Family for its children. It's one of many ways Holy Family has helped with the start of the new parish.
"Holy Family has been so helpful with anything we need," Mr. Bednarzyk said.
"I can't imagine trying to do this without Holy Family's support," Mrs. Fagin added.
Next, the parish wants to start small faith groups, Father Stewart said. "Eventually, we want to have our own religious education program.
"Our goal is a permanent location," he said.
The plan is for the diocese to build a school, which eventually will be kindergarten through 12th grade, that the parish can also use for Mass and other activities, Father Stewart said.
At the same time, the parish will begin planning to build a church on the property. "There is no official timeline for that," he added.
'Off to a good start'
Mrs. Fagin and her husband come to Mother Teresa Church with experience in a variety of roles at other parishes where they've belonged, including serving on a parish finance council, a capital campaign to build a Catholic school in Union, Kentucky, working with engaged couples, teaching confirmation classes, and leading small faith groups.
"We feel like we've seen most aspects of church life," Mrs. Fagin said. "My husband and I have a lot of energy to serve the Church.
"I am honored to do this," Mrs. Fagin said of her role with the new parish. "It does not feel like work."
Mrs. Fagin and Mr. Bednarzyk praised Father Stewart's leadership in getting the parish started. "It helps to have somebody like Father Anthony," Mr. Bednarzyk said. "People just love him."
"Father Anthony is an awesome leader," Mrs. Fagin said. "He's wise beyond his years."
"It's really neat to see a church come together with all the volunteers and start building the community without the building being there," said Tom Widmyer, who is a lector and read the first reading at the first Mass. "It's off to a good start."
For more information about Mother Teresa Church at 7668 Nolensville Road, visit the website at motherteresacc.com, call 615-283-3119, or email info@motherteresacc.com.