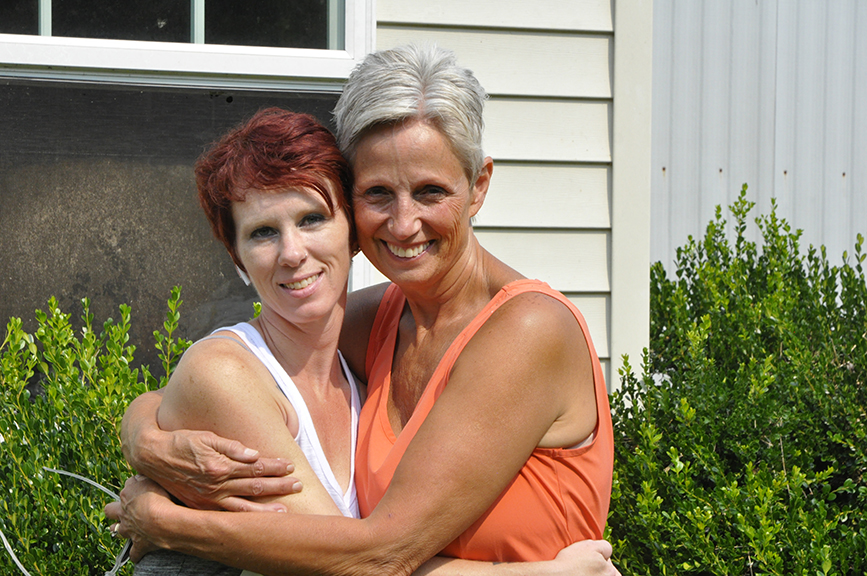 Jessica Autenried had no idea what to do following the flash flood that hit the Waverly and McEwen communities Aug. 21. The flood destroyed her mobile home off Trace Creek Road in McEwen, and as a single mom of 13-year-old and 9-year-old daughters with no insurance, she didn't have a whole lot of options.
"I don't even know the emotions that were going through me. I was freaking out," Autenried said. "All I knew was to get the flooring up as soon as possible."
But then, about a week later, someone knocked on the front door and changed everything. It was her neighbor, Kathy Rice.
"After the flood, the next day my husband Dennie and I teamed up with his sister and her husband Deb and Wayne Hooper and got the cooker fired up and cooked about 120 pounds of chicken. Then, we just started delivering up and down the road to those affected and inviting anyone to come and eat," Rice said. "I'd been by Jessica's several times, and there was never anyone home.
"Then, about a week after (the flood) happened, I came by checking on neighbors and this time somebody was here, and it was Jessica," she said. "By the time I got to her, she was experiencing the trauma that everybody else had experienced already. The question of 'what am I going to do, where do I start, how do I do this?'"
Rice immediately called her friend Barbara Hooper, flood relief coordinator and conference vice president for the St. Vincent de Paul Society at St. Patrick Church in McEwen, and, as Rice said, "the rest is history."
'Always on board to help'
"I know Barbara very well, and she's always on board to help anybody, and, especially in difficult situations, she will go above and beyond," Rice said. "She came out instantly that day and met with Jessica. She brought her financial support in checks and gift cards.
"Then she hugged her up in love and reassured Jessica that she was going to be OK," she said. "Barbara has said she felt we were called to Jessica, and I believe that."
The financial support is not all the St. Vincent de Paul Society provided Autenried. Hers is the first home the conference will completely clean out and renovate following the flood.
Through donations, Hooper said the St. Vincent de Paul Society has been able to provide new insulation for the home, flooring, sheetrock, a new bathroom vanity, paint and more.
"St. Vincent de Paul, by the grace of God, in the donations we're getting, we're able to get all these supplies," Hooper said.
Not a penny has come out of Autenried's pocket, Hooper said.
Following about a week of pulling up flooring and salvaging whatever belongings they could, on Saturday, Sept. 11, Hooper and a slew of helpers, began cleaning out debris under the mobile home, put fresh insulation in the walls throughout the home, worked with the plumbing, put in new flooring, and painted the walls and ceiling.
Helpers included members of the St. Vincent de Paul Society, community members and members of the Chattanooga Knights of Columbus Father Patrick J. Ryan Council 610.
"With being in the Knights of Columbus, we want to make sure that we're able to be impactful," said Peter Zaleski, a member of Council 610 and a Knights of Columbus insurance agent. "I heard there was a lot of devastation out here, and people passing away, and we just wanted to make sure we were doing our part.
"We don't live near Florida, we don't live near Louisiana, so there's usually never anything like (the recent flood to help with)," he added. "It was an opportunity that presented itself to come and offer our blood, sweat and tears."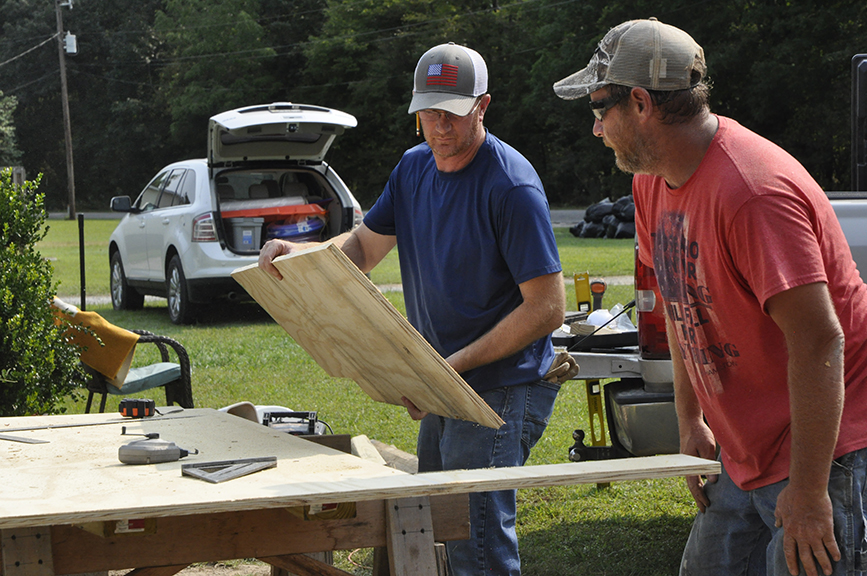 Council 610 has also been helping with monetary donations with other councils in the Chattanooga area, Zaleski said.
Eight Days of Hope out of Mississippi also came and helped on a separate occasion when the house was being cleaned out, Hooper said.
"Even more meaningful, they provided emotional and spiritual support to Jessica as the demolition was taking place," Rice added.
Hooper said the goal is to have renovations complete by November.
"We're all working together," Hooper said, "and I think it's going to be better than what she really had before.
"When we finish, we want her to be proud of it and us, too."
Autenried agreed.
"Luckily, these great people have stepped in and helped me and have guided me and helped me see that everything is going to be OK and probably even better," Autenried said. "It's going to be great, and we're all going to be a family.
"I'm just very, very appreciative, and it has been such a blessing," she said. "Miss Kathy, I love her so much, and I love Miss Barb so much.
"It's all still super overwhelming, but I've started to accept it now. Miss Kathy keeps me strong."
Rice said Autenried's life isn't the only one that has changed since that fateful day.
"Good things come from bad situations. I had never met Jessica. I never knew who lived here. I never really knew any of my neighbors," Rice said. "Now, I know my neighbors. My neighbors know me, and we're friends now."
It's all a ripple effect, she said.
"I couldn't do what I'm doing without Barbara, Barbara can't do what she does without St. Vincent de Paul and the Knights of Columbus. … Nobody can do it alone," she said. "Jessica's home is going to be better, her life is going to be better, her circle of friends and support is going to be better.
"It's a life changing event to go through the devastation of a flood, but it's going to be a life changing event for Jessica in a positive way because of the loving support and kindness of strangers."