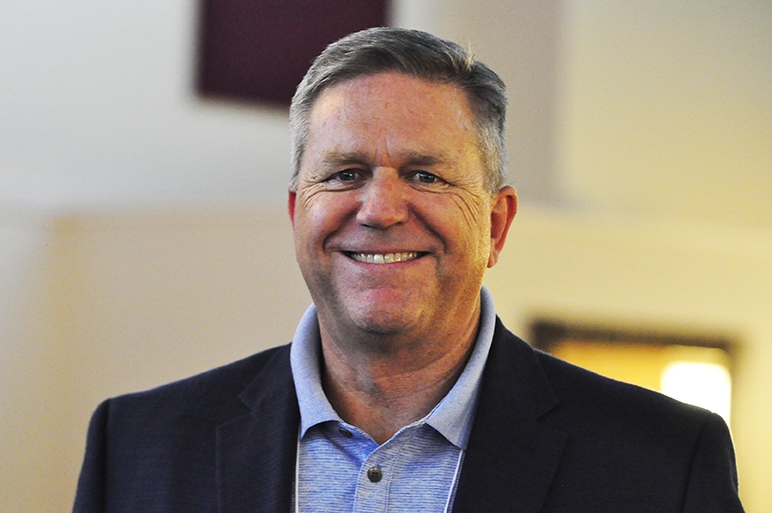 David Siler, the new executive director of the Parish Twinning Program of the Americas, has big shoes to fill in succeeding Theresa Patterson, who founded the organization 44 years ago and has led it ever since.
"It's a little intimidating following someone they call the Mother Teresa of Haiti," said Siler, who started his new job in mid_August with the Parish Twinning Program, which partners congregations in North America with parishes in impoverished areas of Haiti and Latin America to provide a wide variety of support.
But just to let Siler know he's up to the task, Patterson, while she was being honored at the Parish Twinning Program's national conference, handed him a pair of her shoes, which he accepted with a big laugh.
"I just feel like he has the compassion and the commitment to undertake this role," Patterson said of Siler. "I'm also very positive about the fact that he's been to Haiti before. I find he has a pretty good understanding of the culture and the people."
It was Siler's experience as an executive director of three non-profit organizations and his leadership in establishing the twinned relationship between his parish at St. Matthew the Apostle Church in Indianapolis with a parish in Bois de Lance, Haiti, that made him such an attractive candidate to succeed Patterson, said Diane Huggins, president of the Parish Twinning Program board.
"He brings a passion for twinning and our mission work, and an understanding of our mission and vision," Huggins said. "He respects what we've done, what we've experienced, and he wants to take us to the next level."
Siler, who previously served as executive director of Catholic Charities in the Archdiocese of Indianapolis, helped organize the twinning relationship at St. Matthew the Apostle in 2012.
"That's been an amazing experience," said Siler, who has made seven trips to Haiti. "My favorite thing is to take young people. … If they've only seen the United States, it's the most eye-opening thing."
In Haiti, he has found the people to be "so grateful for us to be there," Siler said.
"It was for me a very spiritual experience," he said. "You get the opportunity to look straight in the eyes of God."
During one of his trips, he was told, "When we just see your faces here, we have hope. Keep coming here so we have hope."
Siler noted that his parish provides the funds to pay the teachers at its twinned parish's school and for nutritious meals to feed the 480 students. "The impact that you can have is profound," Siler said. "We literally change the course of people's lives."
The Parish Twinning Program has established twinned relationships with about 300 parishes in Haiti and Latin America.
Siler's first priority will be to enhance the current parish twinning relationships by giving them technical expertise for their projects and helping them find other resources they can use.
"After we really solidify our current relationships, then we can grow," Siler said. About 100 parishes in Haiti and a similar number in Latin America are looking for a parish in North America to twin with, he said. "So the need is enormous."
"We need to do some substantial fundraising," Siler said. "My hope is that people will realize if they support PTPA they can make these relationships work."
After graduating with a business degree, Siler started pursuing a career in business. But he realized, "It wasn't feeding me."
It was his Catholic faith that drew him to social services. "I've always had a heart for the less fortunate," he said.
He started out as a counselor working with children and later as a family and marriage counselor. Siler realized his calling was to help people through their challenges. "One of my great privileges in life is being able to sit with people in the dark passages of their life," he said.
Siler earned a master's degree in social work to go with his undergraduate degree in business. That provided a good background to lead a non-profit, he said.
Besides leading Catholic Charities in Indianapolis, Siler has served as executive director of the National Youth Advocate Program for Indiana, a foster care provider, and as president and chief executive officer of Families First Indiana, a Central Indiana human services agency.
While Patterson ran the Parish Twinning Program from Nashville, where she lives, Siler plans to work out of Indianapolis.
"We all learned in COVID, it doesn't matter where you are," Huggins said.