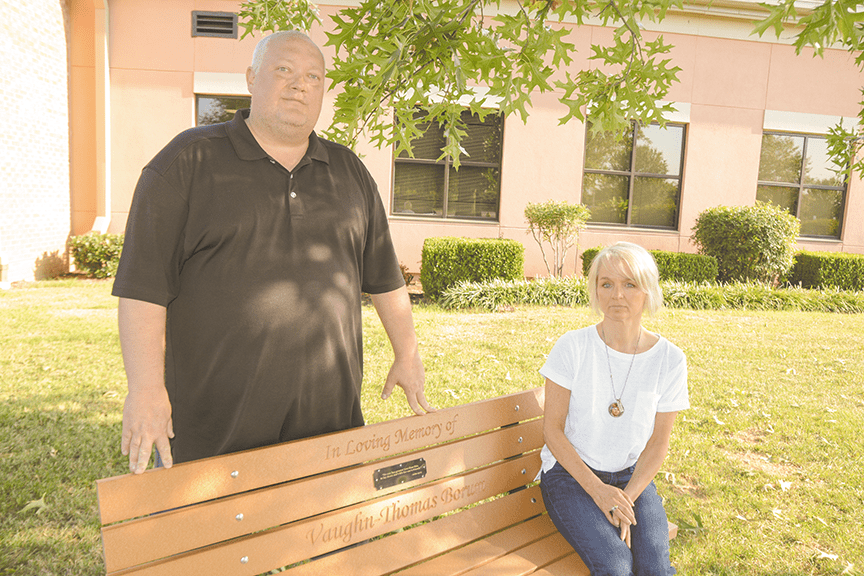 After Kathy Borum lost her son Vaughn-Thomas to fentanyl poisoning last December, she committed herself to finding a way to salvage some good from the tragedy.
Working with Catholic Charities, Diocese of Nashville, Borum has established the Vaughn-Thomas Borum Teen Counseling Fund to help families access much needed counseling for their teen children regardless of their ability to pay so they don't become another casualty in the ever-growing fentanyl crisis.
"What was so discouraging was it seemed so difficult to get any help" for Vaughn-Thomas, Borum said. "I'm hoping this fund will eliminate some roadblocks for people."
"Catholic Charities is grateful to the Borum family for what is the first named fund at Catholic Charities," said Brannan Atkinson, spokesperson for Catholic Charities. "Catholic Charities is also grateful that the Borum family picked counseling as the beneficiary of this fund."
Catholic Charities offers individual and family counseling, in English and Spanish, to explore issues such as: decision making and family communication; crisis and disruptions in daily life; depression and anxiety; grief; isolation; personal history of abuse; changes in family structure; and the dynamics and effect of chemical dependency.
Fees for the counseling are determined on a sliding scale based on a family's ability to pay.
Catholic Charities also provides counselors at seven schools in the Diocese of Nashville: St. Edward, St. Joseph, St. Ann, St. Pius X and Holy Rosary Academy, all in Nashville, St. Patrick in McEwen, St. John Vianney in Gallatin, and Immaculate Conception in Clarksville.
"It's wonderful that through the fund, Catholic Charities will be able to expand its services to teens," Atkinson said.
"Counseling is one of the most important services that Catholic Charities provides," he added. "Emotional wounds happen throughout life, not just in crisis situations."
For more information about Catholic Charities' counseling program, visit cctenn.org/causes/emotional-support/.
'Have things crossed a line'
The Borum family, parishioners at Our Lady of the Lake Church in Hendersonville, found itself in its crisis last summer.
"Vaughn-Thomas was in Catholic schools since pre-kindergarten," first at St. Joseph School in Madison and then at Pope John Paul II Preparatory School in Hendersonville, Kathy Borum said.
He played golf at Pope Prep and basketball as a freshman. Vaughn-Thomas was a good student and worked as a lifeguard at the Hendersonville YMCA, she said.
"He was very active, and he loved weight lifting," Borum said. "He was very into wellness and nutrition."
But beginning last summer, as Vaughn-Thomas was preparing for his junior year of high school, there were indications he was drinking and experimenting with drugs.
"It was hard to determine 'was this normal teenage behavior or have things crossed a line,'" Borum said.
"It's really difficult as a parent of a teenager, because you're doing your best not to be overbearing with your kids and getting them to rebel and push you away," she said. "But how do you tell what is normal teen experimentation and what is a bigger problem."
"Eventually we found he was experimenting with pills," Borum said. Vaughn-Thomas told his parents that he had been using Xanax to ease his anxiety.
It was difficult to find suitable counseling that accepted their insurance, Borum said. They found themselves at an emergency room, hoping to find help for their son, but were eventually turned away because it seemed to be a dispute between a teen and his parents, she said.
They were told to follow up with their physician, which they did. "By late November, we found some help," Borum said. Vaughn-Thomas spent a week at a facility working with counselors and determining his next steps.
"He was discharged on Nov. 24 and was scheduled to start an intensive outpatient treatment program on Dec. 7," Borum said.
Vaughn-Thomas and his dad, David, planned to play golf together on Dec. 2. But when David went to check on Vaughn-Thomas, he couldn't wake him. Vaughn-Thomas was a victim of fentanyl poisoning.
His name was added to a growing list.
A deadly crisis
Fentanyl is a powerful, man-made opioid that has been used safely under the care of doctors for more than 50 years, according to a press release issued last May by the Tennessee Department of Mental Health and Substance Abuse Services in observance of National Fentanyl Awareness Day to remember those lost by fentanyl poisoning. But in recent years, illicit fentanyl has flooded the United States, creating an even deadlier phase of the opioid crisis.
According to the Centers for Disease Control and Prevention, in 2021 there were more than 71,000 fentanyl poisoning deaths, an increase of 23 percent from 2020.
"Because fentanyl is so strong and so addictive, it's being added to heroin, fake prescription pills, even stimulants like cocaine and methamphetamine," according to the Department of Mental Health and Substance Abuse Services press release. "The (Drug Enforcement Agncy) estimates that four out of every 10 counterfeit pills bought on the street or over the internet or social media apps contain a lethal dose of fentanyl."
The press release included a quote from Tennessee Mental Health Commissioner Marie Williams: "People might think they're taking one drug but actually getting another. In other cases, people are taking pills that are so convincing, you can't tell them from the real thing."
Borum suspects her son thought he was taking Xanax. "You can not experiment," she said. "Anything you get on the street, you're probably getting fentanyl."
Finding a purpose
Vaughn-Thomas' death deeply wounded the family, Borum said. "It broke us. … It still doesn't feel real that he's gone."
As she was driving through Hendersonville in January, Borum said, "I was asking out loud for a sign."
That's when she passed a billboard outside a church with the words John 15:13. "I thought maybe that's my sign," Borum said.
When she looked up the scripture verse, she found: "No one has greater love than this, to lay down one's life for one's friends."
"That's when I decided that when I got through some of the fog I would do something to let him know he was heard," Borum said.
"That promise drives the mission of the Vaughn-Thomas Borum Teen Counseling Fund: 'Immediate emotional support and counseling services for teens struggling to find healthy ways to cope, regardless of ability to pay,'" Borum said.
"Immediate intervention should be available to any child who struggles regardless of insurance or ability to pay," she said. "With this fund, counseling services can be provided to teens throughout the Middle Tennessee area through Catholic Charities. I can think of no better way for Vaughn-Thomas to live on."
Borum is organizing a fund-raiser for the Teen Counseling Fund. Inspired by Vaughn-Thomas' love of golf, the fund-raiser will be a golf classic from 11 a.m. to 2 p.m. Sunday, Nov. 6 at Top Golf in Nashville. There will be a silent auction and Top Golf offers a variety of entertainment options. "We wanted to open it to everyone, golfers and non golfers," Borum said.
A link to a webpage with more information about the golf classic will soon be available on the Catholic Charities website: cctenn.org.
Borum hopes her son's story will serve as a warning to other teens and their families about the dangers of fentanyl. "I want people to say his name, and know his name and know what happened and find purpose."