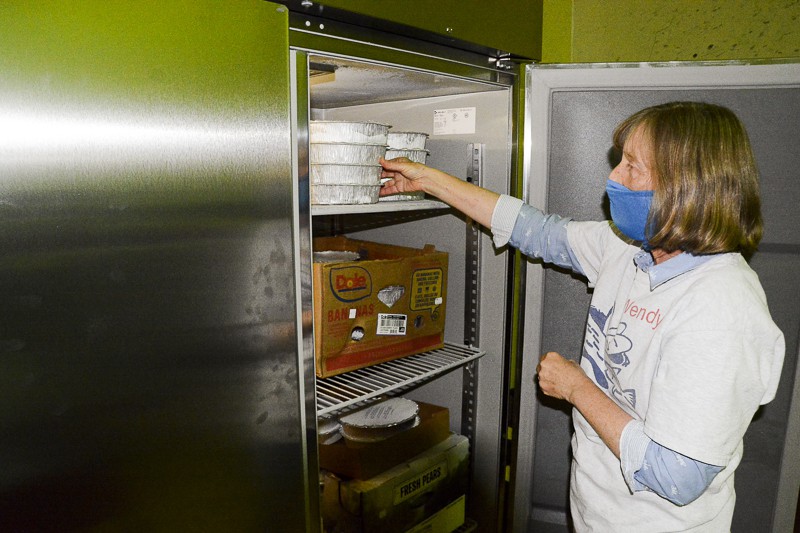 Catholic Charities of the Diocese of Nashville has expanded its programs to feed the hungry in the wake of the coronavirus pandemic and the March tornadoes, and now it has more equipment to broaden the types of food it can distribute.
Second Harvest Food Bank of Middle Tennessee has provided Catholic Charities with several refrigerators and freezers so it can now store more fruits and vegetables and frozen foods that will ultimately end up in the hands of people in need.
"Even before the disasters, we recognized the need to grow our hunger relief efforts beyond our well-known Loaves and Fishes site at Holy Name Church and our food boxes that were distributed at three of our locations," said Judy Orr, executive director of Catholic Charities. "The generosity of donors has allowed us to feed many more people."
A single-door refrigerator and two-door freezer have been installed at several Catholic Charities locations where food is distributed, including the Catholic Pastoral Center on McGavock Pike in Nashville, Loaves and Fishes at Holy Name Church in East Nashville, and the McGruder Family Resource Center in North Nashville. A single refrigerator has been installed at the South Nashville Family Resource Center, located at Casa Azafran on Nolensville Road.
The new appliances will help Catholic Charities broaden the types of food they distribute through their various programs, Overlock said.
"We've rarely done frozen food before," she said, and the programs she oversees now have space to store items like apples and oranges, salads and milk.
Those items can now be included in the food boxes that are distributed to older adults in Davidson County through a federal commodity program and to those who are in need because of the pandemic and the tornado, Overlock said.
Catholic Charities has also received a grant from the Tennessee Commission on Aging and Disabilities to provide individual meals to older adults. "We have delivered 600 meals during the month of October," Overlock said. She can store the meals in the appliances until they can be distributed, she said.
At the Catholic Pastoral Center, Catholic Charities is storing in its new freezer 150 frozen Thanksgiving meals prepared by the Knights of Columbus Council 9282 at St. Stephen Catholic Community in Old Hickory, Overlock said.
The meals include turkey, stuffing, sweet potatoes, broccoli casserole and cranberry sauce. "They're all ready to pop in the oven and warm up," Overlock said.
Catholic Charities has been able to distribute to 150 people a dozen eggs each that the agency was able to store in the new appliances, Overlock said. Catholic Charities bought the eggs from a man the agency helped after the March tornadoes damaged his property, including his chicken coop, she said.
Catholic Charities has increased the number of its hunger relief programs as the pandemic and the tornado increased the number of people in need.
"More calls are coming into Second Harvest's offices," and Nashville Mayor John Cooper's office is keeping an updated list of food distribution sites for people asking for assistance, Overlock said.
"We're seeing people who are accepting help for the first time. This is a whole new thing for them," Overlock said. "It's pretty scary for them. We try to make it as easy and hospitable as we can."