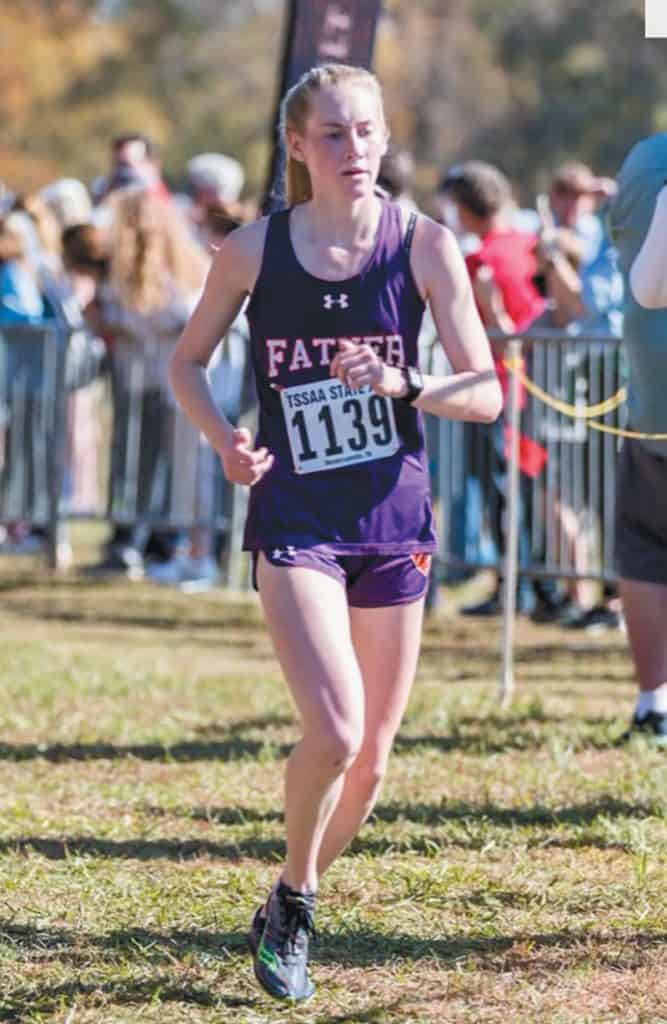 The Father Ryan High School boys and girls cross country teams both finished second at the Division II-AA state meet held Friday, Nov. 6, at Sanders Ferry Park in Hendersonville.
It was the first time in school history that both teams finished as state runners-up in the same season.
"Combined, it's the best day we've ever had," said Robert Kent, coach of the girls team. "We were thrilled about it."
In the boys' race, McCallie of Chattanooga edged the Irish for the team title by 10 points, 58-68. The finishes for a team's top five runners are added together to provide the team total.
The Irish boasted four First Team All State runners: junior Ciro Albamont placed eighth, junior Colin Knapp, 13th, senior David Johnson 14th, and senior Will Stacey 15th.
Second Team All State performances were turned in by junior Ben Emerson in 18th, sophomore Carson Spalding in 24th, and senior Sam Deckbar in 26th.
"I am very proud of our team," said Doug Jones, coach of the boys team, which also placed second at the state meet last year and has been runner-up three of the last five seasons. "Our guys put in an incredible amount of work during the offseason to get ready for this."
The boys team for Pope John Paul II High School finished 10th in the team standings.
The Knights were led by junior Stephen Strickland, who finished 38th. He was followed by junior Matthew Solarz, 61st, sophomore Nathan Gaffney, 62nd, freshman Sean Meffe, 63rd, senior Samuel McGrath 68th, sophomore Gavin Sellers, 72nd, and sophomore Drew Sikes, 76th.
In the girls' race, Father Ryan edged out Baylor of Chattanooga in the team standings by one point.
"If one person on our team had been passed, the result would have been different," Kent said. "It was razor thin."
At the halfway point of the race, the Lady Irish were in fifth place, 34 points out of second and a place on the podium before staging a dramatic comeback.
"All week, I had been telling the girls not to go out too fast the first mile" to save their strength for a strong finish, Kent said. "They stayed under control."
"Racing in competitive meets prior to the state meet tested us and prepared us for state," said senior Stella Harrison. "We were definitely used to battling the whole race because of our previous meets."
Father Ryan was led by freshman Katie Knapp, who earned First Team All State by placing sixth. Sophomore Grace Feltner, who finished 18th, and senior Stella Harrison, 19th, earned Second Team All State. Freshman Samantha Sowa, 35th, senior Jackie Brunet, 45th, freshman Victoria Baltz, 47th, and sophomore Aubrey Holland, 61st, comprised the remainder of the varsity.
All seven Lady Irish runners ran faster in the state meet than they did on the same course in an earlier meet several weeks prior, Kent said.
Their finish in the state meet this year follows fourth place finishes in 2018 and 2019.
St. Cecilia Academy finished seventh in the team standings, and were led by freshman Chloe Crosslin, who finished 24th.
She was followed by junior Cindy Nguyen, 26th, junior Stella Perazini, 40th, junior Jordan Schrage, 59th, sophomore Emery Hart, 65th, and junior Helen Alexander, 76th.
JPII's girls team finished 14th in the team standings. Senior Cordelia Burks finished 46th, followed by junior Clara Earley, 54th, freshman Alexis Simino, 60th, junior Bridget Kniery, 83rd, junior Kate Barber, 97th, and sophomore Sophie Gaffney, 106th.