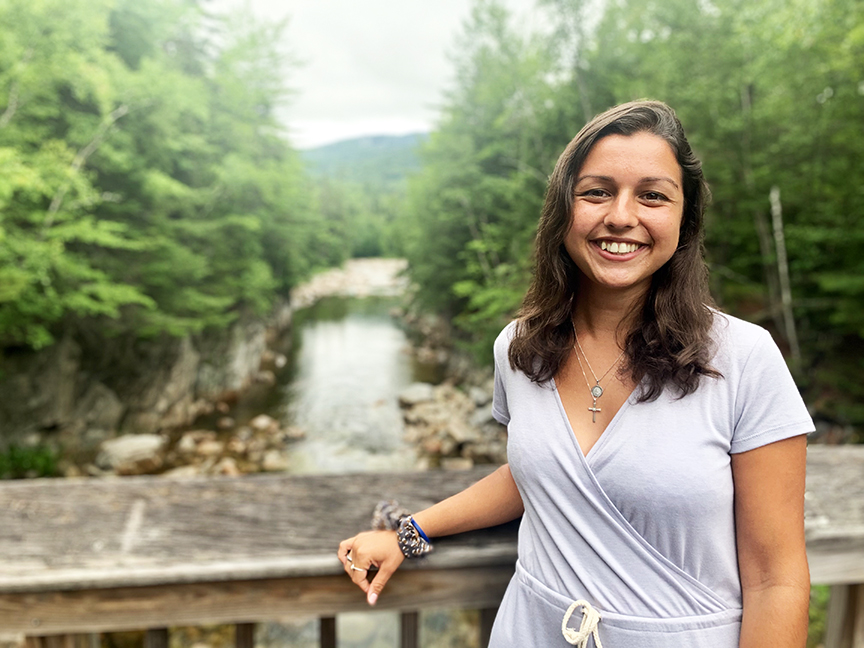 In just three years, Jordan Montenegro's life took a dramatic shift that led to her newest role as Coordinator of Youth and Young Adult Ministry for the Diocese of Nashville's Office of Faith Formation.
"I know God's hand has really been through this whole process," Montenegro said.
Montenegro grew up in Long Island, New York, and while she was baptized Catholic, her family didn't regularly attend church and she didn't receive any of her other sacraments. But things started to change in high school.
"I always wanted to receive my sacraments. … I went through a period of anxiety in 11th grade in high school. That's when my dad started reading the Bible with me a little bit more and praying with me. Thank God, I finally got through it through prayer," Montenegro said. "That's what really brought me into my faith life was getting through that anxiety. Then, shortly after, my family and I started going to a Protestant Church."
And they did for the next several years.
Then, when she began attending the State University of New York at New Paltz, she heard about a club called CCM.
"I thought CCM stood for Christian Campus Ministry, but it was actually Catholic Campus Ministry. I joined the club, and I became friends with a lot of people in the club," she explained. "The only main difference was that they were Catholic, and I was Protestant, so I just didn't understand a lot.
"Then, I went on a Catholic retreat … but I was very closed off to the faith and was not open to being Catholic at that point," Montenegro added. "I ended up leaving the Catholic Campus Ministry, so that I could dive deeper in my Protestant faith."
For the next year, she did, but then, in the fall of her senior year things began to shift.
"I was in my dorm one Sunday morning, and I felt this strong want to go to Mass, but I didn't know why. I remember thinking, 'I don't really know anyone who is going to Mass right now' because everyone that I had been friends with at CCM had graduated, so I didn't know what to do," Montenegro explained, noting that she didn't feel comfortable going alone.
But then, a friend from her Protestant group, who happened to be Catholic offered the solution, inviting her to Mass one Sunday.
"That's when I knew that it was in God's plan for me to become Catholic," Montenegro said.
That feeling only intensified during winter break, when she went to a Catholic chapel, the Shrine of Our Lady of the Island in Manorville, New York. Montenegro said she couldn't just go off a feeling, she needed the facts. So, she prayed asking God questions about Mary, the saints, and the Eucharist.
"I needed these answers," she said.
Then, before leaving, she decided to visit the gift shop where she unexpectedly received her answers. As she looked at books explaining Protestantism versus Catholicism and how Catholicism was the true Church, a priest suddenly came in and introduced himself.
"We were introducing ourselves at first and then he just starts answering all my questions without me even asking him; literally every single question I had in the chapel," Montenegro explained. "My eyes were tearing up so much because that was something I really needed clarity on in order for me to know the way to go in the faith. After that was when I knew this was the true Church and where God wanted me to be."
By January of 2020, Montenegro was in RCIA and entering the Catholic Church that July at St. Joseph Church in New Paltz, New York.
"One thing that really amazes me (about the Catholic faith) is that heaven actually comes to earth in the Mass. It's so beautiful to me how we can be sitting there and all of the angels and the saints, Mary and St. Joseph are present with us while Jesus is fully present in the Eucharist," Montenegro said, as she reflected on why she loved the Catholic Church. "That is my favorite thing."
Montenegro's initiation into the Church came just two months after receiving her Bachelor of Science in Environmental Geochemical Science.
Following her graduation, she began working as a lab technician for the Suffolk County Water Authority in New York, but it was the volunteer work she did in her spare time helping establish and run youth and young adult ministries in the Diocese of Rockville Centre that sparked her true passion. And she had to follow it.
"I had this vision in my mind ever since I was little that I've always wanted to volunteer as my full-time job, but I knew that I couldn't live off no salary," Montenegro said. "I have to find something where I'd be able to 'volunteer,' but still make money."
So, in November of 2021, she prayed a 30-day Holy Cloak Novena to St. Joseph, asking him to help her find a job in ministry. Then, she began the search, and remembering a family trip to Nashville when she was 12 and how much she loved the country music atmosphere, she decided to reach out to the Diocese of Nashville in February of 2022. While there were no positions open at that time, she was encouraged to keep checking. Just a few months later the Youth and Young Adult Coordinator job was posted, and after going through the interview process, she officially started on Monday, June 27.
And St. Joseph seemed to continue to be in the process, as she asked a priest friend whom she worked with at the Diocese of Rockville Centre to be a reference for her.
"He texted me and said, 'Absolutely … Best of luck! Their patron saint is St. Joseph, so I'll be praying to him for you,'" Montenegro recalled. "I just knew that St. Joseph sent those prayers up from the Holy Cloak Novena."
As the coordinator for youth and young adult ministry, Montenegro will work closely with Shelby Conner, Assistant Director of Youth and Young Adult Ministry. She has helped with the youth leadership workshop and will help run SEARCH retreats as well as help with fundraising and preparing for trips such as the National Catholic Youth Conference and World Youth Day, Conner said. Montenegro will also be working closely with parish youth ministers and visiting area schools to get to know teens and invite them to diocesan youth events. Finally, she will oversee the Youth and Young Adult Ministry social media pages.
"Jordan comes to us with experience in young adult ministry through the Diocese of Rockville Centre," Conner said. "We feel that with her experience and love for the Catholic Church she will really play an important role in helping to continue to form our youth ministers and our teens within our diocese."
As she prepared to settle into her new role, Montenegro said she prayed about how she hoped to best serve, and the answer came to her in a dream. In it, she said she climbed on an uneven ladder toward Jesus as others climbed next to her. But, as she got closer to the top, Jesus told her she needed to climb down and help the others up.
"That is definitely what he wants me to do in this job," Montenegro said. "I want to bring myself beneath everyone, beneath the youth and young adults, beneath the ministers and lift them up and bring them closer to heaven."