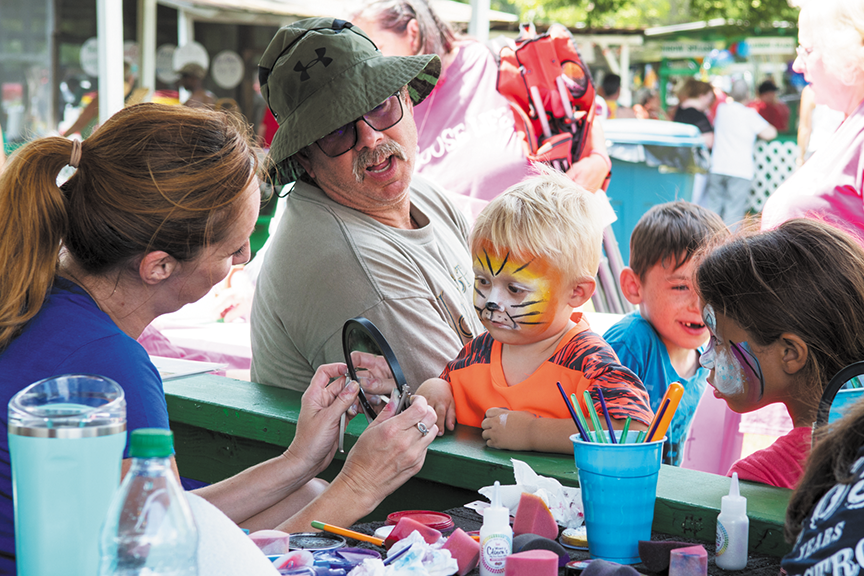 Fellowship and community will be on full display as St. Patrick Church in McEwen and St. Lawrence Church in Joelton celebrate the end of summer with their annual barbecue picnics.
Both events will continue more than a century of celebration as they come back full throttle after two years of COVID.
Continuing the healing
The 168th annual St. Patrick's Irish Picnic and Homecoming is July 29-30.
It marks one of the first celebrations for the Humphreys County community following the catastrophic floods that devastated the area last August.
"Everything we've done in the past year has been about healing and helping, especially our Catholic parish and the St. Vincent de Paul organization and all the surrounding folks who have helped us even outside of the Catholic organization," said Jacob Williams, event chairperson. "I see this picnic as really being another healing process, reinforcing our sense of normalcy and getting back to normal, and not letting the flood affect us and keeping on, persevering."
The event has been one of the largest fundraisers for the community since its inception and has always been done to raise money for the church and then the school when it was built.
"St. Patrick's Irish Picnic began in 1854 when the local McEwen community built a church and decided to create a fundraiser to gather funds for a new church bell. The picnic was such a success in the community that the town decided to make this an annual event to gather the community," according to the event website. "During the 1800s, Irish immigrants working to build the railroad system across Tennessee were encouraged to settle in McEwen, and St. Patrick's church was built for them in 1849.
"In 1856, St. Patrick's School was opened and the school was operated by a lay staff until 1925 when the Sisters of Mercy were asked to help administer and teach," the site continues. "In 1937, the Dominican Sisters of St. Cecilia arrived and have been running the school since."
When the school was built, the fundraiser shifted to help with tuition subsidy for its students. Through the years, the school has only attracted more and more families, which is why the success of the picnic is even more important, Williams said.
"There has been a lot of interest in Catholic education and private school in the past few years, so the fundraiser is more important than ever to help keep tuition low," Williams said. "It's a great school in our community."
After only a drive through event in 2020 and a smaller scale event in 2021 due to COVID, there is no holding back for this year's two-day event, which will include live music, food and games.
On Friday, July 29, barbecue chicken will be available for purchase starting at 11 a.m. until it's gone. There will be a silent auction from 3-8 p.m. and live music will begin at 5:30 p.m. and end at 11 p.m. Friday's entertainment features Crystal Blue IV and Southern Fire.
On Saturday, July 30, barbecue pork will be available for purchase starting at 7 a.m. until it's gone. The dinner stand will open at 10 a.m. Live music will begin at 10 a.m. and end at 11 p.m. and will feature A Step in Time Dance Studio, The Aaron Sizemore Band, Country Mile, The Stable Boys, Kayleigh McGahey, Allie Jordan, and Tim Murrell & Friends.
Both days will include carnival games and an opportunity to purchase T-shirts. All food for sale, which includes 17,000 pounds of pork and 2,800 halves of chicken, is prepared by members of the St. Patrick Church and School.
Admission to the event and parking are free. No alcohol is permitted.
"Every year, I want the event to be fun and successful. We need it to generate money (for the school) … but it also needs to be a fun experience, so people want to come back," Williams said. "People learn and see the community we have at St. Patrick's because it is a parent-fueled event.
"Every parent that sends a child to St. Patrick is required to participate and work in the picnic, so not only are we building those great relationships for St. Patrick in our community, we're also doing that for ourselves," he said. "I organize the work weekends and everything that goes into lead up and preparation, and that needs to be a success, too. That is how we have our fellowship and get to know each other better as part of being a church and school."
For more information about the event, visit irishpicnic.com or call 931-582-3493.
Bringing the community together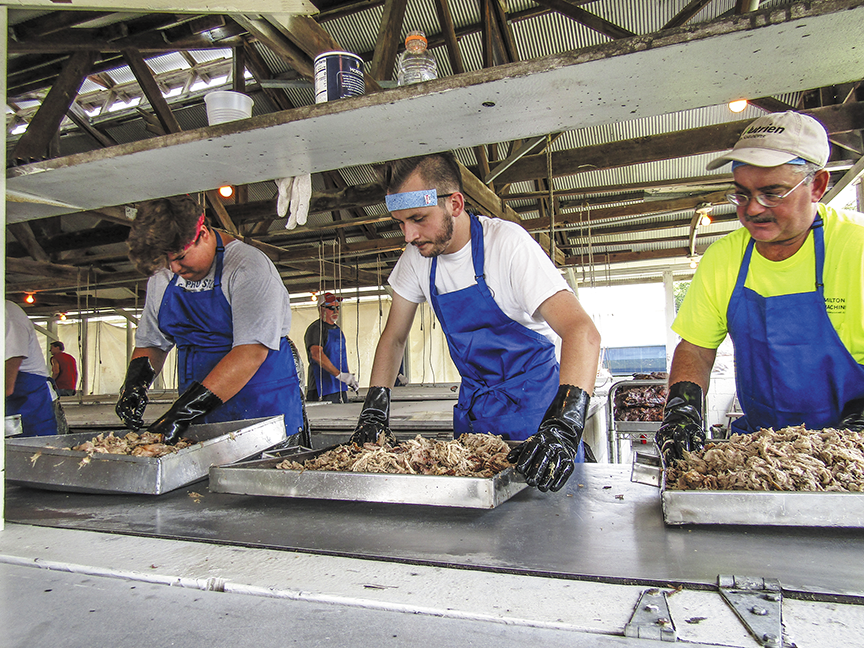 The 140th annual St. Lawrence BBQ Picnic Fundraiser is from 1-8 p.m. Saturday, Aug. 6, across the street from the church, and is about raising money for tuition subsidies for any children at St. Lawrence who attend one of the diocesan Catholic schools and other needs of the parish.
It will be the first full picnic on the ground in two years, after having a drive-through only event because of COVID-19.
"Since we've not been able to have a full picnic on the ground for the last two years, my hope is the community missed us during those two years and will be back even more than before," said Judy Colorigh, co-chairperson of the event along with Steve Horton and Marcia McGinnity. "We're hoping that along with advertising, that the same people will come back; the same people and then more."
The picnic has been a major event since 1882, even before there was a church, according to an article published for the 121st annual event.
"The annual picnic originated in 1882 as a celebration for European immigrants who completed a successful voyage across the Atlantic to the United States," according to the article. "It evolved into a fundraising event" first to build a church and eventually to what it is now, tuition subsidy for Catholic school students.
Judy Spencer, St. Lawrence Church historian, who has lived in Joelton all her life, said she remembers attending the event as a little girl.
"I can remember a time … when my grandmother and her sisters would all stand down there in big open fires frying chicken and shucking corn and cutting it off and frying it," Spencer said. "The kids from the school would clean the tables."
At that time, all the families in the community would contribute the food and vegetables from their own farms and gardens.
"There is a combined effort of friends and neighbors of various religious faiths that help with preparing for the event. The first barbecue was hosted by a small group of people using a primitive barbecue pit and serving from family picnic baskets," the article continues. "Today literally tons of food is prepared for sale to the thousands of people who attend. In spite of the growth of the crowd and the up-to-date styles and customs, the spirit of the picnic always prevails."
And that's still the case another 140 years later, Colorigh said.
"Our barbecue is unique. Our barbecue is different," Colorigh said. "The barbecue is huge. That's our big draw, along with the different activities that we offer that aren't offered throughout the year at any other event in our area.
"Just fun and good food, family and friends," she added.
The event will include a silent auction, carnival games, a country store, a petting zoo, inflatable play areas, and live music from 1-7 p.m. Performers include The Meltones, Stacy Snyder, Donna Gramlich, and Zach and Samantha Janson.
There will also be a drawing for a chance to win $1,000, with $100 giveaways at 6:00, 7:00, and 8:00 p.m.
Dinner plates, which include a choice of barbecue or chicken with sides of green beans, coleslaw, and sliced tomatoes, dinner rolls and a drink, will be available for purchase beginning at 4 p.m. A drive-through option, which includes barbecue, coleslaw, baked beans and green beans, will be available for purchase from noon to 3 p.m.
All the food is prepared by members of the church community with the men working in shifts to cook the barbecue in the pits all throughout the night.
"That in and of itself brings the camaraderie just for the guys overnight," Colorigh said "They'll play cards, share memories … and just have some fun."
All proceeds from the event go to subsidize tuition for Catholic school students whose families attend St. Lawrence. The event also celebrates the feast day of the Church, which is Aug. 10.
For more information about the event, visit https://www.stlawrencejoelton.com/138th-annual-bbq-picnic.