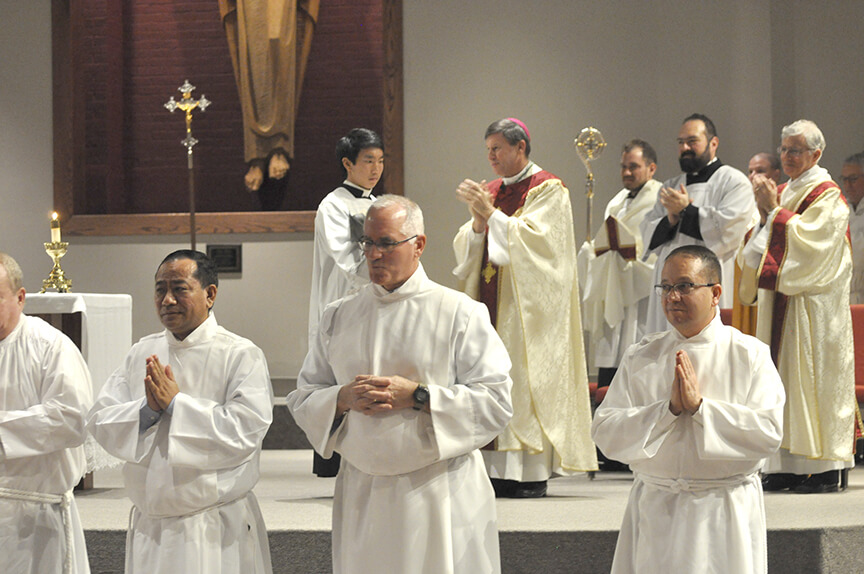 Carlos Salvatierra said if it wasn't for the prayers of those around him, he wouldn't be looking forward to his upcoming ordination as a permanent deacon.
"I've been doing a lot of praying, but there have also been a lot of people who have been praying for me," Salvatierra said. "You know it, you sense it, and, without that support, I don't think it would have been possible."
Bishop J. Mark Spalding will ordain Salvatierra along with 11 other men to the permanent diaconate at 10 a.m. Saturday, April 1, in Sagrado Corazón Church at the Catholic Pastoral Center in Nashville.
It will be the first ordination of permanent deacons for the diocese since 2014.
Additionally, seminarian Seth Reed will be ordained to the transitional diaconate during the Mass.
Father Luke Wilgenbusch, Director of Vocations, said celebrating the ordinations together had a very specific purpose.
No matter if a man is ordained to the permanent diaconate or the transitional diaconate as the next step toward ordination to the priesthood, "there is no difference," Father Wilgenbusch said. "They are ordained to the exact same diaconate, and they have the same roles and responsibilities as a deacon in the Church.
"That's why Bishop Spalding ultimately chose to do the ordination of these men together. It's to show that it is one diaconate," he said. "What the permanent deacon receives at his diaconate ordination is the same as what a priest receives as a transitional deacon, and it is a very important role in the Church."
Ordained deacons can celebrate the sacrament of baptism, witness marriages, read the Gospel and preach at Mass. Men being ordained as permanent or transitional deacons make the same promises, including that of celibacy. While permanent deacons can be married prior to ordination, once they are ordained, if their wife passes away, they are not able to marry again.
Having the combined ordination "is an important way to demonstrate the seriousness with which we approach the diaconate and the level of commitment and formation we're expecting of the men who are being ordained," Father Wilgenbusch continued. "There is a lot more awareness of the formation and training that goes into the priesthood, and we want to make it clear that the permanent diaconate is also something that requires great commitment, responsibility and training."
Pursuing the permanent diaconate
Salvatierra and fellow ordinand Dave Gilles said there were many years of contemplation and consideration before they officially entered the program.
For Salvatierra, it all began with a joke by his boss, who commented on how many funerals he seemed to go to for his fellow Knights of Columbus. Then, while continuing his career in analytics, which involved finding ways to save the lives of those with septic shock, a thought entered his mind.
"The folks that I'm saving their physical lives, they're going back to their normal routine," Salvatierra said. "What about their eternal life, and I couldn't get that out of my head."
"I felt the call," he said.
Gilles said his decision to pursue the diaconate was a gradual process over the past 10 years.
"It was a realization and growing gratitude of having so many holy priests, deacons, sisters, and Christian laypeople touch my life with the presence of God that helped lead to my decision," Gilles said. "I felt called to do more for the Lord who had blessed me and guided me through so many people and moments in my Catholic journey up to the point when I started the formation program.
"I did have a deacon friend ask me if I had ever considered the permanent diaconate about six years ago, which started me thinking, 'Who me?'" he continued. "From there, it was a small, quiet voice, and finally, I just did it."
Studying for the permanent diaconate
The 12 men who will be ordained to the permanent diaconate have been involved in intense study for the past four years, meeting one weekend a month for 10 months out of the year, Father Wilgenbusch explained. Those weekends included 12 hours of theological study and instruction, formation conferences, and prayer. Outside of those weekends, the men also had one-on-one time with deacon mentors and spiritual directors.
Additionally, each of the ordinands will have also either received a master's degree in theology or are fluent in another language of ministry in the diocese.
While this is the first class to be ordained in nine years, Father Wilgenbusch said, it will mark the beginning of a continuous cycle of permanent deacon ordinations every two years.
"This was a vision of Bishop Spalding to have an ongoing program of formation because some of the challenges in the past have been that by waiting 10 years or so, you always have to reinvent the wheel when it came to creating a program, so there was less consistent institutional knowledge about how to run a program of formation," Father Wilgenbusch explained. "By doing it this way, we're always in the formation mode, so we can continue to learn and refine and perfect that formation program over the years. Even in these first four years, we've seen the program really develop and mature, and it would be a shame to let that all go for 10 years rather than building on that success."
Ten men are currently halfway through the process with an anticipated ordination date of spring 2025. Applications for the class of 2027 are currently being accepted, Father Wilgenbusch said.
Gilles said the journey hasn't been easy.
"There were many evenings and weekends spent writing papers and reading. I was working 40-50 hours per week at my job at the start of my journey, and that made everything more challenging for me" and Susie, Gilles said, referring to his wife. "My free time wasn't so 'free' anymore, but I took it month-by-month, semester-by-semester, and year-by-year and trusted in the Lord.
"Now, I'm here at the end and about to be ordained," he said. "What a gift! What a grace!"
Salvatierra said the work was overwhelming at first and he had many conflicting thoughts.
"I thought, 'This is a lot of work,' but then I thought, 'I actually want to learn more about this anyway, so that I can share it with others,'" he explained. "Then, the doubts I had were more or less, I wanted to become a theologian, not a scholar. A theologian in the sense of being one who prays.
"I like the mystic part of the faith, and I thought that being in school doing so much reading, so much studying was going to take me away from the faith," Salvatierra continued. "It takes some of the contemplation out when you're studying so much, but then since the last weekend of formation last Thanksgiving, I hadn't really been in school, yet all that training, all that reading comes out in you. The contemplative heart comes back and there is even more to contemplate now."
As the ordination approaches, both Gilles and Salvatierra expressed anticipation for the day.
"I feel relieved, excited, and grateful," Gilles said. "Our Catholic faith is such an incredible gift. We all need to cherish that gift, share it, and give it back to the Lord multiplied 100-fold. God is great!"
"I'm not looking," Salvatierra said, as he covered his eyes. "I'm just waiting, waiting for that blessed moment."
Celebrating the Ordination
The Mass of ordination to the diaconate has several high points including the making of ordination promises; the Litany of Supplication, for which the ordinands will prostrate themselves; the laying on of hands; and the Prayer of Ordination.
"I look forward to that moment when we're prostrate," Salvatierra said. "You don't get to do that twice. Not me anyways, so that's something that I really just want to be present for."
Following the Prayer of Ordination, the Bishop Spalding will present the ordinands with the Book of the Gospels and proclaim: "Receive the Gospel of Christ, whose herald you have become. Believe what you read, teach what you believe, and practice what you teach."
Finally, the newly ordained deacons will be vested and share the Kiss of Peace with Bishop Spalding, their fellow deacons, and each other.
Afterwards, they will officially prepare to begin their roles at their various assignments in the diocese.
Serving the People
Gilles is looking forward to beginning his new assignment.
"I look forward to serving the people of our diocese, particularly in my assigned parish, and loving the Lord in a new and exciting way," he said. "Also, teaching others about our faith is something I look forward to, too, but that's something we are all called to do with our baptism.
"To the best of my ability, I hope to help the bishop and our priests provide the sacraments to our Catholic community," he added. "Also, my personal ministry over the last 22 years has been with Cursillo. I hope to continue service to that mission in our diocese because Cursillo changed my relationship with the Lord and my family."
Salvatierra said he looks forward to simply being with the people, after so many years of studying that has kept him from participating in ministries as often.
"I want to smell like the sheep," he said. "A deacon is nothing more than a sheepdog who is helping the shepherd, so the dog is going to smell like the sheep. He is going to have to be there with the sheep, helping the shepherd, and that's the part I'm looking forward to the most and just seeing what the needs are in the parish as I put all the training into practice.
"A lot of folks think we want to be deacons because we want to be serving on the altar, and that's a key factor," Salvatierra concluded. "But, to me, it is really about being that presence for others, even for others who are not Catholic. I'm doing this to serve, not to be served."
Along with Salvatierra and Gilles, the ordinands for the permanent diaconate include Salvador Soto, Francis Kham, Christopher Simpson, Craig Thomas, Mike Wiedemer, Christopher Hoover, Shawn Phillips, Joseph Augustine, Martin Torres, and Collen Mayer.
Seminarian Seth Reed, in preparation for his ordination to the transitional diaconate, will continue his studies at St. Meinrad Seminary in St. Meinrad, Indiana. His anticipated ordination to the priesthood is spring of 2024.
The Diocese of Nashville asks that the people of Middle Tennessee continue to keep all these men in their prayers.