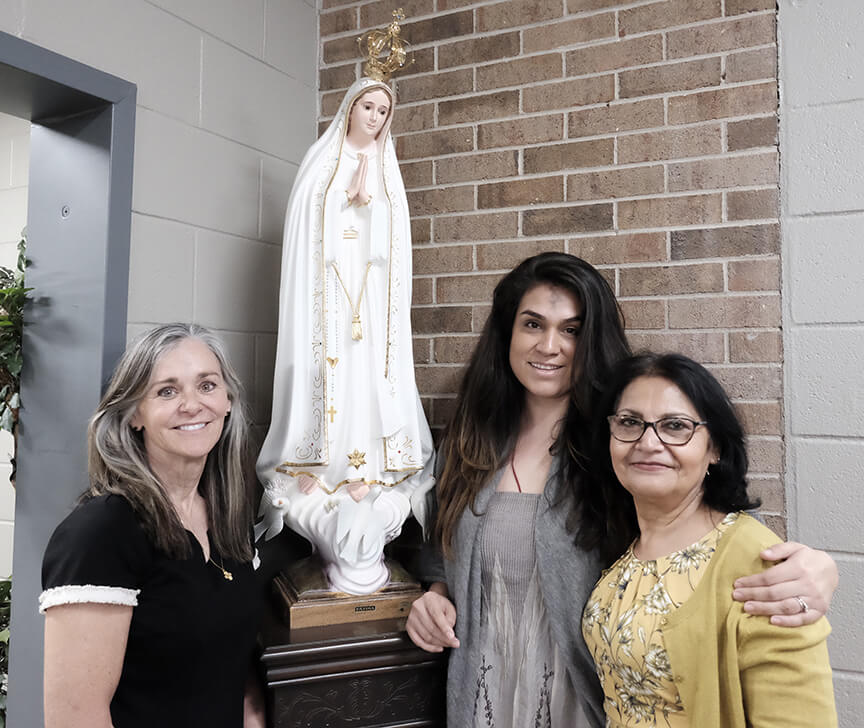 The Nashville Marian Conference is returning to the Our Lady of the Lake Church in Hendersonville for a second year with the addition of new voices.
"We are one Church, but we have many languages in the Diocese of Nashville," said Patti Deffendall, one of the conference's organizers. "We have a large number of Catholics who speak Spanish, so this year Mary is creating that opportunity."
This year's conference will include Spanish language speakers and musicians to broaden its appeal to a wider audience. The lineup of speakers will include Teresita Figueroa Méndez, a Catholic evangelist from Mexico, and Salvadorian musician Nixson Danilo Andres Urías.
Deffendall, who also serves as the Director of Adult Faith Formation at Our Lady of the Lake, says she's excited to accommodate more local Catholics who may not have otherwise attended due to language barriers.
"The Hispanic community has a deep devotion to Mary because of the conversion through the Virgin of Guadalupe experience of Juan Diego in Mexico," she said. "We want to unite our hearts with Mary's immaculate heart, and we want to ask for her intercession in our world, our nation, our homes, and in each of our hearts to lead us more closely to the sacred heart of her son, Jesus Christ."
The two-day Nashville Marian Conference: My Soul Rejoices will be held at Our Lady of the Lake Church 1-9 p.m. Friday, April 28, and 8 a.m.-7:30 p.m. Saturday, April 29.
Mendez formed a prayer group 13 years ago called "El Ejército de María," translated "The Army of Mary" in English, with focuses on bringing Jesus Christ to the center of families worldwide through a devotion to Our Lady of Guadalupe and regular recitation of the Holy Rosary.
Urías, 25, is a guitarist and singer who served as youth group coordinator at Our Lady of Guadalupe Church in Nashville. He's been a parishioner at Our Lady of the Lake for more than a year and enjoys serving God through his gifts and talents.
The conference will feature three other speakers including: Vietnam veteran Bob Gannon, who experienced a miracle while praying a novena to St. Therese; Father Jewel Aytona, CPN, a missionary preacher with the Congregation of the Fathers of Mercy in Auburn, Kentucky; and award-winning actress, speaker, and TV host Joelle Maryn who recently starred in the film "Fully Known" and performs the role of Mary in the upcoming film "The New Manna."
Urías will perform along with Nashville-based Catholic artist Taylor Tripodi, who returns after performing at last year's conference.
Attendees will also have an opportunity to visit the Eucharist Miracles Prayer Room, which will feature the work of Blessed Carlo Acutis, and the Catholic Marketplace where attendees can shop with several vendors for Catholic "swag," They also will be able to learn about Catholic vocations from the Nashville Dominican Sisters of St. Cecilia and the Diocese of Nashville Office of Vocations.
Tickets range from $49 to $69 per person, with the option of either a one-day or two-day ticket, and include all keynote addresses, dinner on Friday, and breakfast and lunch on Saturday. Tickets are available at www.nashvillemarianconference.com. Early ticket purchasing is encouraged.
Hotel reservations are available through Hampton Inn and Suites, 111 Saundersville Road, Hendersonville. A special rate of $159 plus tax is available when you mention the "Nashville Marian Conference."
For more information, visit www.nashvillemarianconference.com, or contact Deffendall at 615-944-8986 or nashvillemarianconference@gmail.com or Elsa Ehinger at elsae@ololcconline.com.