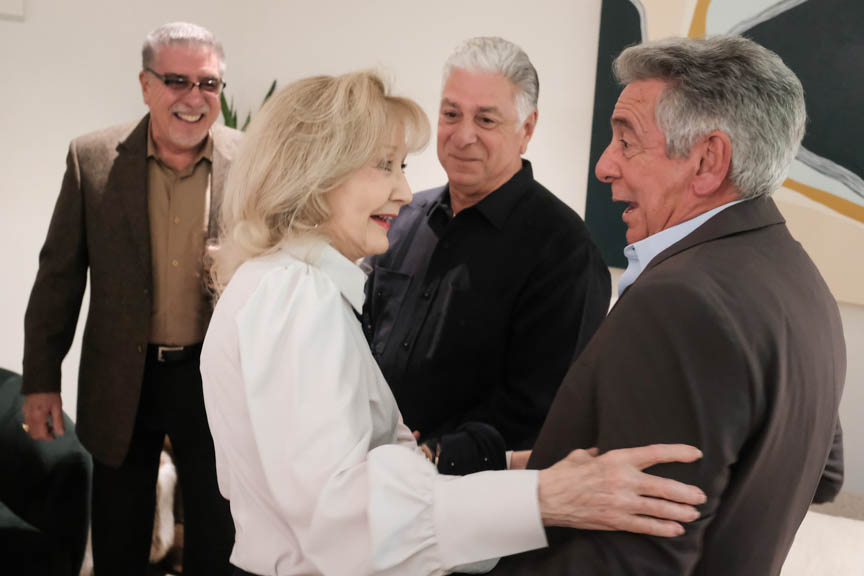 On July 17, Catholic Charities, Diocese of Nashville will mark the 60th anniversary of its founding.
This article is one in a series published by the Tennessee Register exploring Catholic Charities' past, present and future.
View the entire series here.
For 60 years, Catholic Charities, Diocese of Nashville has served tens of thousands of people throughout Middle Tennessee, whether it was through adoption services, counseling, disaster recovery, hunger relief and more.  
But arguably its largest effort over the last six decades has been resettling more than 30,000 refugees as they sought to escape war, conflict and persecution in their countries. That effort all started with 43 Cuban children in 1962 during a nationwide Catholic Charities effort known as Operation Pedro Pan.
It was specifically for this effort, that Catholic Charities, Diocese of Nashville, under the direction of then Executive Director Father Leo Seiner, became incorporated on July 17, 1962, and received its first contract with the State of Tennessee.
"There was a need to be incorporated so that the Church could have legal custody and work with the Cuban foster children and contract through the state," explained Bill Sinclair, former executive director of Catholic Charities from 1986-2017, in a video produced by Catholic Charities for its recent El Festival de Esperanza fundraiser. "Father Seiner is the one that made it happen."
And the need was great for the 14,000 unaccompanied minors needing to flee Cuba in order to escape the threat of parents losing parental rights to their children under the Communist regime led by Fidel Castro.
Need for Operation Pedro Pan
Before Castro began taking over the country, life in Cuba was good for Luisa Vilar Hough and her family.
"It was great. Our town had 40,000 people in it, and it was very safe," said Hough, a native of the Province of Las Villas on the north coast of Cuba. "My favorite part was the summer. We had a house on the beach, and we spent the whole summer there.
"My parents opened the door in the morning, and we were gone all day. It was freedom," she said. "We were happy, normal kids just doing normal things."
"Life was fairly simple," recalled Anna Warner, a native of Havana.
"Our lives were very easy. We got everything we wanted to have," added Carlos Fernandez, a native of Pinar del Rio. "We were very high middle class in Cuba. … All my family, we were very hard-working people, and we had a very nice style of life."
But that all changed in 1959 when Castro and the Communist party began to take over, and oppression soon set in as schools began to close and everything became controlled.
"The oppression, you could feel it. Even at that age," said Carlos Fernandez's younger brother, Luis Fernandez, who was only 8 years old at the time. "You could see it on the TV. You could see the change in the programming, the whole oppression.
"As I recall, they even controlled the food," he added.
"Even toilet paper was rationed," Warner added, who was 11. "It was like slavery because you had to do what they told you. The government had people around the neighborhood that would tell on you if you did anything against the government."
Although Castro didn't truly take over until 1959, Hough said she could still recall the night she knew things were starting to get bad. It was July 26, 1958, when she was only 10 years old.
"Castro was already in the mountains fighting and July 26 was the day they decided to claim it as part of the revolution, so these rebels took over our town," Hough explained. "My father worked in another town about 30 minutes away. … We didn't see him for three days because they wouldn't let anyone in our town. We could hear shooting, and there were people on top of buildings trying to shoot at the police. It was very chaotic.
"That first night, my mom made the beds on the floors so we wouldn't be caught by bullets in the night," she added. "That was my first experience of things getting bad in Cuba."
But worst of all was the threat that parental rights would be taken away and children would be placed in Communist indoctrination centers, which is what led to parents applying for their children to be taken out of the country through Operation Pedro Pan. The effort was led by Father Bryan O. Walsh of the Catholic Welfare Bureau, now Catholic Charities U.S.A.
And the first stop for all 14,000 children were the camps in Miami and Florida City, Florida.
Coming to Florida
The transition from Cuba to Miami was sudden for some of the children, like the Fernandez brothers, Paul, who was 13; Carlos, who was 11; and Luis, who was now 10.
They came to Miami on April 7, 1962, and they knew they were coming only three days before.
On April 4, their father took them to have a photo taken with them wearing suits that he had tailored for them. But they soon learned the photo was taken so that when they prepared to leave Cuba in those same suits, they wouldn't be stopped from getting on the plane, Carlos Fernandez explained.
"In 45 minutes, our lives changed," he said.
Hough and Warner had a little bit more preparation having known that their parents put in the application years prior to their departure for the United States, though they couldn't tell any of their friends.
"We knew we were leaving for two years. My parents made the decision … that the four of us were going to leave," Hough said, referring to her parents and younger sister Lourdes "Lulu" Vilar. "You have to apply for all the paperwork … and then get visas. My mom claims (government officials) lost our initial set of paperwork on purpose, so we had to begin again."
And when approval did finally come in, it was only for the children, and they were very limited on what they could bring. Only three sets of clothes and very little else. And Hough said she remembers the day clearly.
"I remember saying goodbye to my room and all my stuff, and I knew I would probably never see it again," Hough recalled, who was now 14. "Then, when we went out of the house, somehow the word got around that we were leaving, and everybody on the street was waving goodbye at us.
"My grandparents were obviously there with us, too. I'll never forget my grandmother started walking away, and I called out to her, and she couldn't talk because she was crying," she said. "It was a really sad time back then."
Then, the next morning at the airport, "they had guards everywhere, and they wouldn't let my father in. That's always haunted me because that's the first time I ever saw my father cry," she said. "I remember the guns crossed in front of him. They were only allowing one parent per child 8 or under. My mom was allowed for my sister, but not my dad since I was 14."
Warner said she also knew for about a year that she would be leaving and that her mother would not be joining her.
"I don't remember being confused or upset about it. I was ready for a new phase and back in the day you did what your parents tell you," Warner said. "My godfather, my dad's brother, spoke English … so I never understood why they didn't have me learn a little English" before leaving.
Upon arrival at the Florida camps, the length of their stay varied. For some of the children, like Warner, it was a little over a week. For the Fernandez brothers, it was nearly four months. Eventually, all of them arrived in Nashville where Catholic Charities, under the direction of Father Seiner, lined up sponsors for 43 children.
Coming to Nashville
Warner, Vilar and her sister Lulu, and the Fernandez brothers all arrived in Nashville in August 1962, with their sponsoring families waiting for them at the airport. And culture shock started to set in.
Vilar and her sister were separated, the former going to live with Mary and Homer Bullock, and their daughter, Brenda, and the latter going to another family. But they talked regularly and got to see each other once a week.
"When we got to the house, I remember Mr. Bullock answering the door, and it was all carpet on the floor. I had never seen carpet on the floor," Vilar said. "When we went in and sat down to eat … we had pot roast and mashed potatoes and iced tea. … In Cuba, we didn't drink iced tea. You drank tea to settle your stomach if you were sick.
"After dinner, we called my sister, and I said, 'Lulu, did you eat,' and she said, 'Yes, but I didn't drink that dirty water that they gave me,'" referring to the iced tea.
Other things were new, too, Vilar said, including making a bed, washing dishes and ironing, but she soon got the hang of it.
The Fernandez brothers were able to stay together, arriving at the home of James L. and Sara Elizabeth Rowan, which they were grateful for as they had the support of one another as the transition began.
"School was hard in the beginning because we didn't speak any English whatsoever, and so they put us back a couple of grades," Paul Fernandez said. "They put me back a year, Carlos a year and Luis two years.
"While we were at the same time learning the language, we are also learning the culture because we had no idea," he continued. "The food was different, the culture was different, the language was different."
"Of course, the other hard thing was missing our family," added Carlos Fernandez. "It was very, very hard, and it got to a point where we didn't know if we were ever going to see them again.
"But we were very lucky and very grateful that we were able to get with such a wonderful family and keep us three together," he noted.
It didn't take long for any of them to settle in and find the love and support of those who took care of them.
Nashville family
When Warner arrived in Nashville, she was taken in by Mary Ann and Joseph Lynn Webster, and their five children, including Kitty Holmes, who was 12 years old at the time.
"We were all excited," Holmes said. "I already had four other siblings and Anna was like a new toy.
"My father adored her, and we shared our parents with her," she added. "The relationship was a sister-sister relationship, a sister someone chose for us.
"Anna and I became best friends," Holmes said.
"I enjoyed having sisters and a little brother," Warner said. "I was part of the family."
The Fernandez brothers said they felt the same about the Rowans.
"They were such a loving family," Luis Fernandez said. "We can't say enough about the family, the daughters, the sons, the whole family. It was just amazing."
In the video produced by Catholic Charities, Kathy Rowan, daughter of James and Sara Rowan, recalled how happy the whole family was to be able to help the brothers.
"One of the most exciting times I've ever felt was just being able to do something like that for these boys," Rowan said. "They were fun to be with and a joy. … My mother and daddy were thrilled to have them."
Hough recalled becoming very close to the Bullock's daughter, Brenda, as time went on.
"We were in the same grade, Brenda and I, and we did everything together," Hough said. "We walked to the bus together for school" at Cathedral School, "and we spent the summer going to the public library. … I loved biographies and that helped with my English, and then we would go and get milkshakes down the street."
As it turns out, Brenda Bullock, who was 13 at the time, said it was her idea to take in one of the Cuban children.
"I was just feeling very lonesome, and I remember being at Sunday Mass and them talking about needing families to take these children in, so I posed the question to my parents if it would be OK to take in a girl my age," Bullock recalled. "We grew to be just like any sisters. We were complete opposites. She was more outgoing than I was. I'm pretty much an introvert. But it was a good, happy time, and we got along pretty well."
"I was very lucky," Hough said. "I had the best family. … They were truly parents and a sister to me."
And eventually, she got to share even more with her sister, Lulu, after Mary Bullock's brother, Joe Spence and his family decided to take her in, after they realized her unhappiness during one of her weekly visits.
"I saw her every day because they went to school at St. Ann School (in Nashville), and they would walk from school to the Bullock's house until their parents picked them up after they finished working," Hough said.
The Bullocks and the Spences "were very close, and we did a lot of things together," she said. "Joe was over all the time. He was funny."
And Tony Spence, who was just 10 years old at the time, said Lulu blossomed in their home.
"She just became an All-American girl," Spence said. "We all played in the neighborhood. We played baseball, we all did school activities and the usual kind of family stuff that every U.S. Catholic southern family does.
"My mother spent a lot of time with her, too, because she was the only other girl in the house," he added, referring to his two younger brothers.
And the bonds have remained between the families even as the parents of all the Cuban children were able to escape Cuba themselves.
"I kept in contact with (James and Sara Rowan) until they passed away," Carlos Fernandez said. "I felt I had a duty to call them because I felt they needed our love as much as we needed theirs."
And as all of them grew up, started their own families and settled into life in the United States, and even eventually became American citizens, they said they're grateful to Catholic Charities for what it did.
Thanking Catholic Charities
All of them – the Fernandez brothers, who now reside in Miami, Florida, and Warner and Hough, who both still live in Tennessee – said they know just how much they owe to Catholic Charities and the families who took them in.
"We know (what life would've been in Cuba) because we had friends and relatives that stayed behind," Paul Fernandez said. "They have gone through hell over there."
"We wouldn't be here if it hadn't been for Catholic Charities. We're very grateful to them, to the Rowan family, and to our family," added Carlos Fernandez. "My dad and mother had the courage to send us over here, and we're grateful to God for giving them that intuition to do it."
Hough is so grateful that she has been giving back to the organization that helped, volunteering when she can.
"Catholic Charities saved our lives," Hough said. "I have always supported them and always will."
Lessons learned
Life lessons were learned by all from the experience.
"It made us better people," said Carlos Fernandez. "We know what it is to have and not to have."
"For me personally … since we came from that big turmoil of revolutions and all that problem that we had, when you came to the United States, you saw the mental state of the people here, the patriotism, the way they looked up to their own country, it was something to be admired," added Paul Fernandez.
The children who were part of the families that sponsored the Cuban children learned something, too.
"We were so young, so it was just like something we did, and we didn't think deeply about it," Spence said. "But on reflection, seeing how my parents reached out and took care of (Lulu) and treated her just like a member of the family, what a generosity they showed to do that.
"It did inspire me and my brothers to be better Catholics, be better Christians, and to implement Catholic social teaching in our lives in different ways."
And the whole process became a guide and lesson for the future as nearly all refugee resettlement by Catholic Charities grew to be with families and individual adults beginning in the mid-1970s.
Resettlement through the years
After Operation Pedro Pan, resettlement of refugees slowed, with only a few here and there, Sinclair said. That is, until he was hired in August of 1975 originally for refugee resettlement, when thousands of Vietnamese refugees needed to be resettled after the fall of Vietnam.
"My first day on the job involved a secondary resettlement of 38 refugees," Sinclair said. "It was a real awakening."
One-by-one, they resettled 38 refugees over a fourth-month period, providing support, finding jobs, helping them file paperwork, and more, setting the tone for the program, Sinclair said.
Over the years, refugees from more than 30 countries resettled throughout Tennessee, including Laos, Cambodia, Kurdistan, the Sudan, Somalia, and most recently, 332 refugees from Afghanistan.
The resettlement process is why Catholic Charities has been so successful in this effort for the past 60 years and been able to also serve in other capacities, Sinclair said.
The refugees "feel supported and engaged, and we did that well," Sinclair said. "One of the things they seriously look at when they want to fund somebody is what kind of partner is this going to be. Past success is the best indicator of future success, and they want successful partners.
"Because refugee resettlement was so successful, there is no question that there were numerous additional opportunities from funding sources because they saw us as an agency that would be successful with our systems, our reporting, statistics, money management and, most importantly, the quality of services to the people."