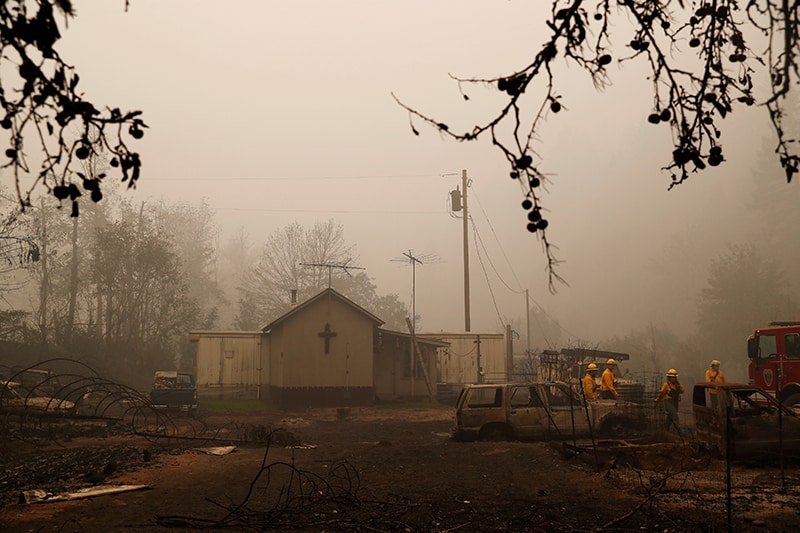 PORTLAND, Ore. Rick and Debra Keating never got the reverse 911 call to evacuate their town of Gates, Oregon, as a wildfire consuming the canyon came closer.
Instead, Madeline Keating, a recent Catholic high school graduate, got the news and awakened her dad and stepmom after midnight.
They scrambled to get out, taking little more than Bailey, their St. Bernard dog, and Marley the cat.
Rick Keating drove the couple's Toyota RAV4. Madeline followed close behind in her Toyota Prius.
They were the last ones left in the neighborhood – and found their way out blocked by a downed tree. Rick detoured through a neighbor's yard.
Thick smoke slowed them as they headed west, out of the Santiam Canyon. The highway was blocked, so they snaked east on back roads, houses burning on either side. Flames edged the shoulders, fingering onto the tarmac.
"The sky kept getting redder and redder," Rick told the Catholic Sentinel, Portland's archdiocesan newspaper. "We stayed on the phone, talking to one another."
Hours later, they made it to Salem – just 35 miles west of their home. They checked into a motel about 5:30 a.m. Sept. 8.
"We had to evacuate at 1 o'clock this morning," Rick posted to his Facebook page. "We're staying in Salem. … The fire was within an eighth of a mile of our house – please pray, pray for us."
Later that morning, they heard the news their new home, which Rick had partly built himself, was gone. It would later prove to be a false report.
The Keatings had gone to bed Labor Day night, Sept. 7, feeling varying degrees of alarm over the windstorm, gusting in hot, dry blasts from the east.
The color of the sky, yellow, orangey and red, depending on how close the fires were, colored the stress. Rick Keating reassured himself that the fires couldn't be that close and that he would get that call if they were in real danger.
Madeline woke up Rick and Debra with the news that they had to flee after getting a call from her mother, who lives about 40 miles northwest, telling her that Gates was in the evacuation zone.
Rick, a photographer, has often shot photos for the Catholic Sentinel and the Archdiocese of Portland. A faith-filled Catholic, he's a member of the Knights of Columbus and St. Joseph
Parish in Salem. Since he and Debra moved into their new home by the Santiam River, they've attended Mass at St. Catherine of Siena Church, in the old lumber town of Mill City, when they attend a live Mass.
The pandemic slowed their getting to know parishioners at St. Catherine and their new neighbors in Gates, a working-class town with a population of about 500 in the Santiam Canyon.
Gates is now mostly gone, as are the Oregon towns of Detroit, Talent and Phoenix.
More than 1 million acres of land in Oregon have been burned and at least 10 percent of the state's population is in evacuation zones. The state has dealt with the worst destruction as blazes have decimated the towns.
The U.S. National Interagency Fire Center said firefighters are battling 106 large wildfires across the western U.S., with higher-than-normal levels of burning in a number of states. Oregon and California have seen some of the worst of the blazes; wildfires have killed at least 35 people from California to Washington. Thousands of structures have been destroyed.
The California Department of Forestry and Fire Protection in a Sept. 21 summary said firefighters continued to battle 27 major wildfires in California, with more than 19,000 firefighters on the front lines. Since the beginning of the year, there have been well over 7,900 wildfires that have burned over 3.6 million acres in California.
Colorado Newsline, an online news site, reported that four major wildfires have burned almost 288,000 acres across the state in recent weeks, causing evacuations, highway closures and potentially hazardous levels of smoke and other forms of air pollution in many parts of the state.
In Oregon, nearest to Gates – but not frighteningly close – the Beachie Creek and Lionshead fires had been burning since Aug. 16. The U.S. Forest Service had closed a handful of campgrounds to keep the public and firefighters safe, but the fires weren't big or widely known.
The Keatings never imagined either fire could reach their home, nestled in the woods close to the Santiam River. "We had no idea there were fires nearby," said Keating.
Then came the winds.
According to the Forest Service's InciWeb, prior to the historic windstorm that arrived in the region Sept. 7, the Beachie Creek Fire was estimated to be 469 acres. The fire grew overnight to more than 131,000 acres, fueled by high winds and extremely dry fuels.
Together with the Lionshead fire, 200,000 acres were burning. The two conflagrations approached each other at Detroit Lake.
By Sept. 9, three brothers, Travis, Jared and Shane Newton, decided they couldn't just sit and do nothing any longer. "It was Shane's idea," said Travis. "He said, 'What are we doing? We need to be helping people.'"
"The people in the Santiam Canyon will always step up and help people in need, no matter which way you lean politically," Travis said, pointing to the mountains of clothing and food that have appeared at the local high school. "It's hard you have to have this type of tragedy to bring us all together."
The three, who just east of Salem and west of Gates, got water and food together and set out to help the people they'd known all their lives.
Travis has coached basketball in the area for 24 years. He's a member of a community of Church of Jesus Christ of Latter-day Saints and his brothers are nondenominational Christians.
Out of 11 houses in the neighborhood, three endured.
The Keatings' home was one of the survivors. The news it was gone had been mistaken – well-meaning people had surveyed nearby addresses.
When the Newton brothers came across the Keating house, however, there was fire within an inch of its concrete foundation. "We got the bark chips away," Travis said. "I think it could have started burning within minutes."
The men also shoveled dirt onto hot spots that kept bursting into flame. They put out a fire in the tree next to the Keatings' propane tank.
"I'm borrowing your shovel," Travis narrated for his video feed. They toted bucket after bucket of water from a neighbor's hot tub to douse hot spots.
Travis, videotaping, showed the graduation lawn sign Rick had erected to congratulate his daughter. "The Keating family is a Blanchet family," he said, referring to Madeline's Catholic high school. "Anyone who knows them, give them my phone number. Your home is safe, Keatings."
He ended the video saying someone had just pulled up. "It might be the Keatings."
It was them. "Everyone was working like it was their house," said Rick. "We're so blessed and thankful."
The family found yet another group of good Samaritans at their home later in the week, again putting out hot spots.
"This is the Blessed Mother, this is a miracle," Rick said of his home's survival.