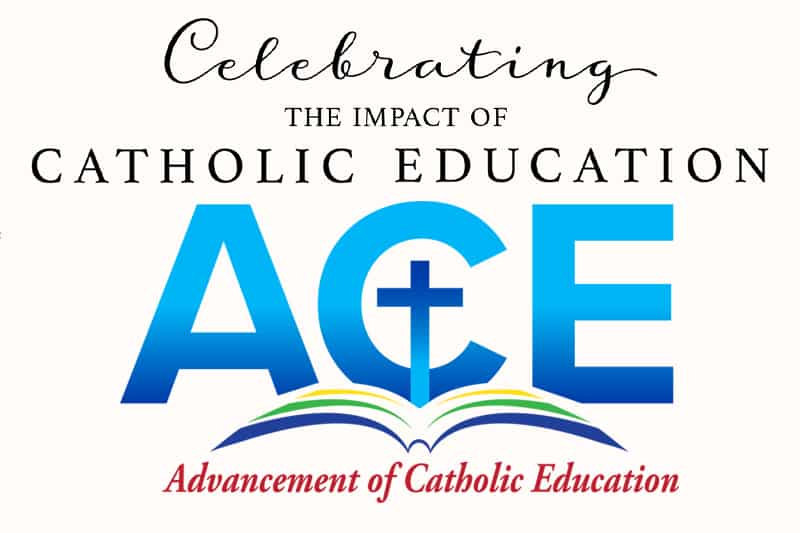 When Jen and Brad Ambarian were looking for a new school for their daughter Emma that would be able to give her the attention she needs in the midst of the COVID-19 pandemic, they found St. Ann School.
"I loved that it was small and she could get that real focused attention that I think she needs," Jen Ambarian said.
The move to St. Ann has been a great fit for her daughter, Ambarian said. "She loves it. … She seems to fit in very well."
The Advancement of Catholic Education will host an online fundraising event on Tuesday, Oct. 27, to build its endowment to fund tuition assistance at the Diocese of Nashville's 16 elementary and high schools so more families can have access to a Catholic school experience like the Ambarian family has had.
"We're really building the endowment … that way it funds education in perpetuity," said Ashley Linville, director of development for the diocese. "The goal is for every child who desires a Catholic education to be able to afford one."
At the start of the school year, the Ambarian family, who are parishioners at Holy Family Church in Brentwood, were given the option by the Williamson County school system of choosing for their two daughters in-person learning or distance learning, Ambarian said. They chose distance learning for their daughters, one in the fourth grade and the other in the seventh.
Their younger daughter participated in her classes taught by her teacher, Ambarian said. But at the middle school level, the school system offered online instruction with only weekly meetings with the teacher, she added.
"It worked for some kids, it just didn't work for her," Ambarian said of her daughter. "It was bad enough we decided to make a change."
Ambarian had attended Catholic schools growing up in the Maryland suburbs of Washington, D.C., so she explored moving her older daughter to a Catholic school, including a visit at St. Ann.
"My daughter loved it," Ambarian said. "From the moment she walked in, she felt that was it. She felt very comfortable at St. Ann.
Commuting from Brentwood, "it's a significant commitment for me to get her there," Ambarian said. "I told her if that's the right place for her then we'll do it."
Her daughter started at St. Ann about halfway through the first quarter, which just ended. "Things are different," Ambarian said. "I think the expectations are higher, and I think that's a good thing."
"Emma has always enjoyed going to religion class," Ambarian said. "She was really excited about going to religion class every day" and attending Mass with the rest of the school.
Proceeds from the ACE endowment are used for tuition assistance and support for the diocesan Catholic schools so they can continue to provide an excellent academic and spiritual education for their students.
The goal of the online fundraising event is to raise $250,000. That amount would be doubled thanks to a gift from an anonymous donor to match the amount the event raises up to $250,000, Linville said.
"We're excited," Linville said. "I know our committee is excited."
The online event, which will begin at 6 p.m. Tuesday, Oct. 27, will be hosted by ACE Board Member Marty Blair. The event will include presentations by Bishop J. Mark Spalding, ACE Board Chair Betty Lou Burnett, current students and Will Donnelly, a St. Henry School and Father Ryan High School graduate, all talking about the importance of supporting ACE and Catholic education.
Father Ryan teacher Randy Lancaster, the winner of this year's Christ the Teacher Award that recognizes an outstanding teacher in a diocesan school, also will be introduced during the event.
For the first time, the event will also include an online auction, which will open at 8 a.m. Thursday, Oct. 22. Some of the auction items include:
A pig roast at Camp Marymount.
Bordeaux and Burgers with Bishop J. Mark Spalding, including a variety of Bordeaux wines.
A virtual fine wine tasting with Father Dexter Brewer, pastor of Christ the King Church in Nashville. The wines will be delivered to the homes of the winning bidders who will join an online call with a wine expert leading the tasting. Special foods also will be delivered for the tasting.
A bourbon tasting with Father Mark Simpson, the chaplain at Father Ryan High School, Father Anthony Stewart, associate pastor of Holy Family Church in Brentwood, and Father Javier Suarez, associate pastor of Immaculate Conception Church in Clarksville.
A round of golf with Father Stewart.
Organizers also are offering virtual table sponsorships starting at $1,000 for 10 people. The people at the sponsored table will be invited to participate in an online happy hour from 5:15 p.m. to 5:45 p.m. the evening of the fundraiser to have a discussion with the principal of one of the diocesan schools.
Table sponsors who raise $2,500 will have the happy hour with diocesan Superintendent of Schools Rebecca Hammel.
Table sponsors also will be invited to participate in a table naming contest. The table that comes up with the most creative name will participate in an online meeting with Pete Weber, the radio voice of the Nashville Predators, and Dave McGinnis, a former Titans assistant coach, NFL head coach, and the color analyst for Titans Radio.
"We've had a lot of sponsorships come in," and organizers are still accepting more sponsorships, Linville said.
The night of the event, several students from the two diocesan high schools, Father Ryan and Pope John Paul II High School, will be available to talk to people who call in to make their donation, Linville said.
People can join the event online, make an online donation, or participate in the online auction through the website www.dioceseofnashville.com/ace.
Those who make an online donation to support ACE will also have the opportunity to honor a teacher who has been special to them, Linville said. "They'll be able to leave a message for that teacher" which will be delivered later, he said.
For more information about the event, the auction, sponsorships or to make a donation, visit www.dioceseofnashville.com/ace. People also can mail a donation to ACE, 2800 McGavock Pike, Nashville, TN, 37214. Others to contact are Linville at 615-645-9769 or Ashley.linville@dioceseofnashville.com, or Assistant Director of Development Anna Beth Godfrey at 615-645-9769 or Annabeth.godfrey@dioceseofnashville.com.