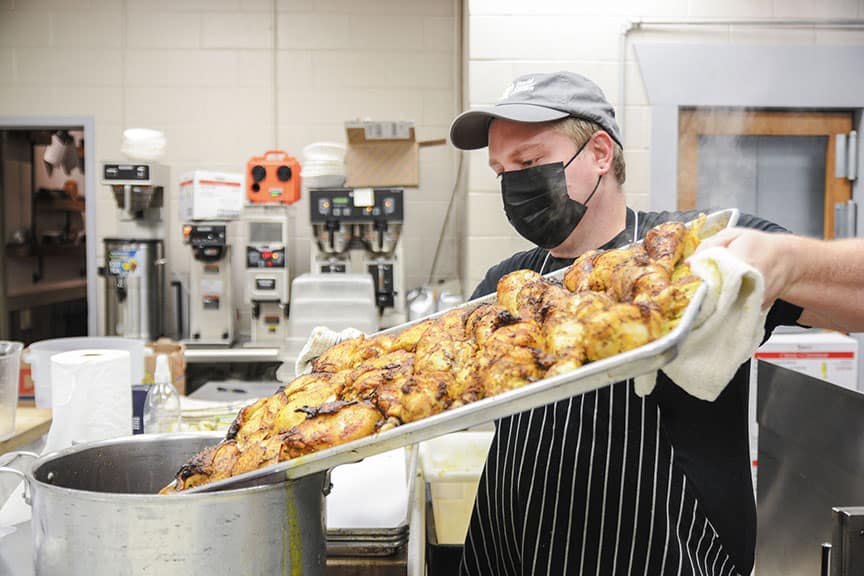 The Diocese of Nashville has offered a helping hand to two organizations feeding the behind-the-scenes workers in the entertainment touring industry who have been out of work because of the COVID-19 pandemic.
Dega Catering will be using the commercial kitchen at the Catholic Pastoral Center on Fridays every other week in October and November and every week in December to prepare 600 individual meals to be distributed to lighting technicians, stage hands, bus drivers and others who support entertainers on tour.
Dega normally provides catering services for entertainers on tour, and like the other touring professionals, has seen its business evaporate because of the coronavirus.
Musically Fed started the effort to feed the out-of-work touring professionals. Maria Brunner, the owner of Insight Mgt, which does marketing in the live entertainment field, started Musically Fed to help feed homeless veterans in the cities where participating entertainers stopped on tour.
Many of the entertainers Brunner's company works with bring caterers along with them on tour to feed their crew. Musically Fed shares the leftover food with the homeless vets.
"Along came the COVID pandemic," said Brunner, and she started getting calls from the backstage workers who knew about Musically Fed, asking for help.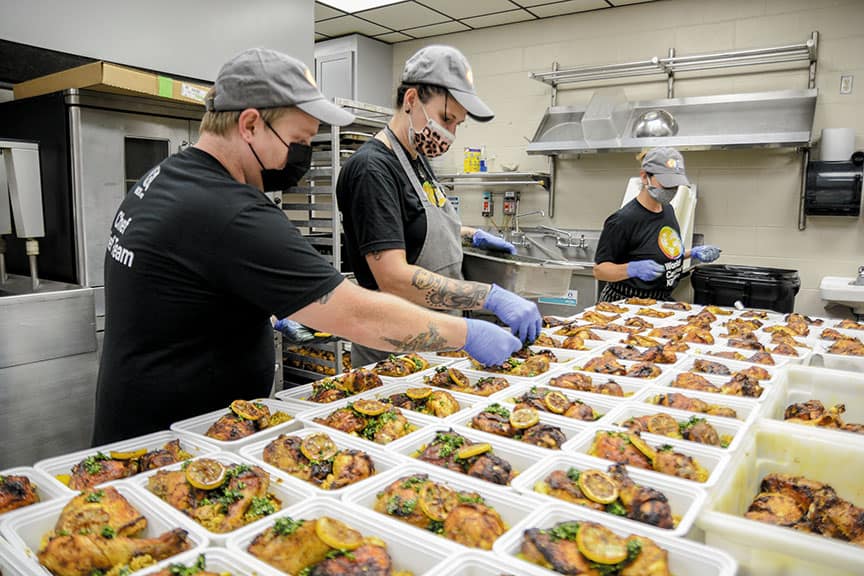 So Musically Fed started organizing food distributions for out-of-work touring professionals. Since April, they've been distributing food every other week in Phoenix, and in Denver the distributions have taken place every week since May. There have also been distributions in San Diego and Minneapolis, and one in Nashville in July, when 22,000 meals were distributed, Brunner said.
Musically Fed and World Central Kitchen have partnered to distribute meals in Nashville on a regular basis through the rest of the year.
World Central Kitchen was established by Washington, D.C., chef José Andrés to organize restaurant chefs to respond to natural disasters by providing restaurant-quality meals to those in need.
With the pandemic, World Central Kitchen has turned its attention to the many restaurants who have struggled to survive, and to their workers who have been laid off, as well as the many people in other industries who have lost their jobs and are struggling to feed their families.
World Central Kitchen raises money to pay restaurants and catering companies to prepare meals that are distributed to those in need, allowing the restaurant and catering employees to stay on the job.
In Nashville, World Central Kitchen and Musically Fed are helping the many entertainment touring professionals based in the area.
"We have so many out of work musicians and touring professionals here in Nashville," said Whitney Pastorek, the Nashville project lead for World Central Kitchen.
Pastorek had worked with Dega Catering before when she worked in the entertainment industry, and invited them to prepare the meals.
"Just like restaurants, we're really struggling as well," said Kris O'Connor, the chef from Dega Catering organizing the preparation of the meals.
Dega Catering needed a kitchen in Nashville large enough to prepare 600 meals at a time, so Pastorek turned to Judy Orr, executive director of Catholic Charities of Tennessee, for help. Catholic Charities had worked with World Central Kitchen before distributing meals prepared by participating restaurants to those in need.
Orr approached diocesan officials about offering the use of the kitchen at the Catholic Pastoral Center, and they quickly agreed.
Dega Catering staff started using the Catholic Pastoral Center kitchen on Friday, Oct. 9. "They've been fantastic helping us with the space," O'Connor said of the diocese and Catholic Charities.
The chefs from Dega will prepare 600 individual meals for each distribution, which is being organized by Rhino Staging, another company in the entertainment touring industry. Musically Fed partnered with Rhino Staging since the beginning of the effort to organize the drive-through pick up of the meals, Brunner said.
"People in the touring industry are some of the best people at logistics," Pastorek said.
Each recipient of the food will receive six individual meals, a box of produce, a box of dry goods, and a case of bottled water, which should be enough food for a family for a week, O'Connor said. Second Harvest Food Bank is providing the produce and dry goods, she added.
"There's 12 million tour professionals out of work right now," said Lindy Howell, a chef for Dega. "These people's jobs aren't coming back for a while."