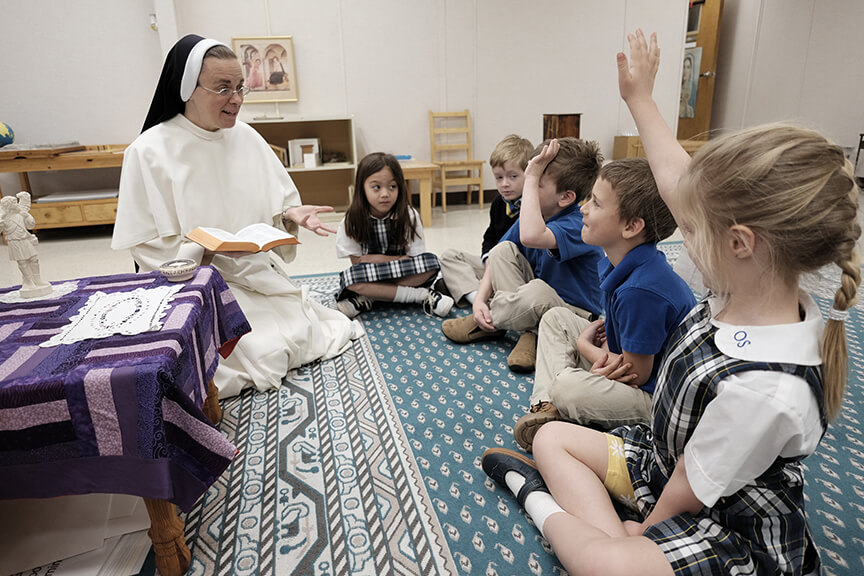 Since the Dominican Sisters of St. Cecilia Congregation opened the doors of Overbrook School in a converted mansion 87 years ago, the school has been thoroughly Catholic. But the name didn't always convey that.
"We're the only Catholic school in this area, possibly in this state, whose name does not reflect our thoroughly Catholic identity," said Sister Marie Blanchette, Overbrook Catholic's principal. "Many Nashville natives do not know there is a Catholic school here, let alone the many people moving to Nashville from out of state."
That won't be a problem anymore. Overbrook Catholic School has received permission from Bishop J. Mark Spalding and Mother Anna Grace, OP, the Prioress General of the St. Cecilia Congregation, and her council to add Catholic to its name. Under canon law, the bishop is the only one in his diocese who can give permission for an organization to use Catholic in its name, explained Sister Dominic, OP, president of Overbrook Catholic and St. Cecilia Academy.
"We have been able to share this exciting news with our staff and with our families, and we're excited about the public roll out," said Sister Dominic.
"We're adding Catholic simply to clarify our Catholic identity," Sister Dominic said, "so people know who we are: a Catholic school infused with the Dominican charism."
"Nothing has changed about Overbrook Catholic's excellent academic and spiritual formation, it's just that we added that one piece that tells outsiders what everyone who is inside already knows, that we are a Catholic school," Sister Marie Blanchette said.
Many of the school's alumni have cheered the change.
"Nashville is going through some seismic changes … especially as we are rapidly growing as a city," said Katherine Higgins DeLay, a 1976 graduate of Overbrook whose family's connection to Overbrook Catholic and St. Cecilia Academy stretches over five generations. "It is good to firmly establish that we are Catholic but also independent, thus the change in name. Adding 'Catholic' clarifies our identity and will help parents of future students clearly understand their choices.
"As a generational Nashvillian, I already knew we were both Catholic and independent," she added, "but this will be particularly beneficial for those who are new to Nashville and the expanding Middle Tennessee area."
"It kind of shocked me at first," said Billy Alexander, a graduate of Overbrook Catholic, as are his mother, Helen Davis Alexander, and his daughters, Katie and Helen. But as Sister Marie Blanchette explained to him the reasoning behind the change, he quickly warmed to the idea. "I said, 'You know Sister, that's a great idea.'
"I do think it's a very positive name change, and one that's very necessary," Alexander said. "With thousands of people moving to Nashville every month … if they saw the name Overbrook they would not know it was a Catholic school. Maybe this will open it up to the influx of Catholics that are streaming here all the time."
The school will start using the name Overbrook Catholic School right away, but the rest of the rebranding process – updating the website, logo, uniforms, stationery, and signage – will unfold in the next year, Sister Dominic said. "We have a whole list of things to do to formalize the change."
In the Dominican tradition
Overbrook Catholic School is located on the 83-acre Dominican Campus on Harding Pike in Nashville along with two other Dominican owned and operated schools, St. Cecilia Academy and Aquinas College. Joseph Warner built a mansion on the site, now called the White House, and named the estate, which overlooks a brook that crosses the property, Overbrook.
The Dominican Sisters, who came to Nashville in 1860 to open St. Cecilia Academy, purchased the property from Warner in 1923, and opened Overbrook Catholic School in the White House in 1936, keeping the name Overbrook. In 1961, the first phase of the current building opened.
Since its founding, Overbrook Catholic School has provided an education based on the tenets of St. Dominic, "offering an intellectual foundation in the liberal arts that encourages students to love knowledge for its own sake and excel in the scholastic and extracurricular pursuits within the context of a joyful, Christ-centered community," Sister Marie Blanchette said.
"I have the most wonderful memories of my childhood growing up at Overbrook," said Elizabeth Carden Phillips, who graduated from Overbrook Catholic and St. Cecilia and sent her daughters, Flanigen and Cecilia, to both schools. "It's a community that feels like family. …
"That small, faith-filled environment really helped to shape me and my daughters," said Phillips, who served on the executive committee of the most recent strategic planning process for the Dominican Campus. The Catholic faith "is the center of everything at Overbrook Catholic. The sisters imbue the faith in every aspect of the Overbrook Catholic School experience.
"Knowledge is the pursuit of the truth, and the truth is Jesus Christ, and everything is pointed towards that," she added.
Although Overbrook Catholic has always been a Catholic school, it's attracted many non-Catholic families over the years as well. Currently, about 20 percent of the school's 280 students are non-Catholic, and the school will continue to welcome non-Catholic families, Sister Marie Blanchette said.
"Anyone who wants what Overbrook Catholic has to offer and is a good fit for us we will definitely accept, which is part of the Catholic message. Jesus loves all people," she said.
"We are blessed to have many families who choose Overbrook Catholic School and St. Cecilia for their children who happen not to be Catholic. Why is that?" DeLay said. "I believe it is the good nurturing education based on faith-filled principles" provided by both schools.
'A lot of momentum'
The name change is among several changes at the Dominican Campus that have followed the development in recent years of a new strategic plan for Overbrook Catholic and St. Cecilia.
The schools adopted a new governance structure, with Sister Dominic serving as president of both schools. And grades seven and eight were moved from Overbrook Catholic to St. Cecilia. Overbrook Catholic continues to be a co-ed school, with students in pre-kindergarten through sixth grade, while St. Cecilia remains an all-girl school but with grades seven through 12.
"This historical change has been a blessing in many ways for both schools, especially as the landscape of private independent school structures is changing in Nashville," DeLay said.
The enrollment for Overbrook Catholic School is expected to grow next year, Sister Dominic said. "In our pre-kindergarten and kindergarten grades, the applicants exceed the number of seats," she said.
"There are a lot of great improvements at Overbrook Catholic, and great forward momentum," Sister Dominic said. "I think adding Catholic to the name is a part of that."