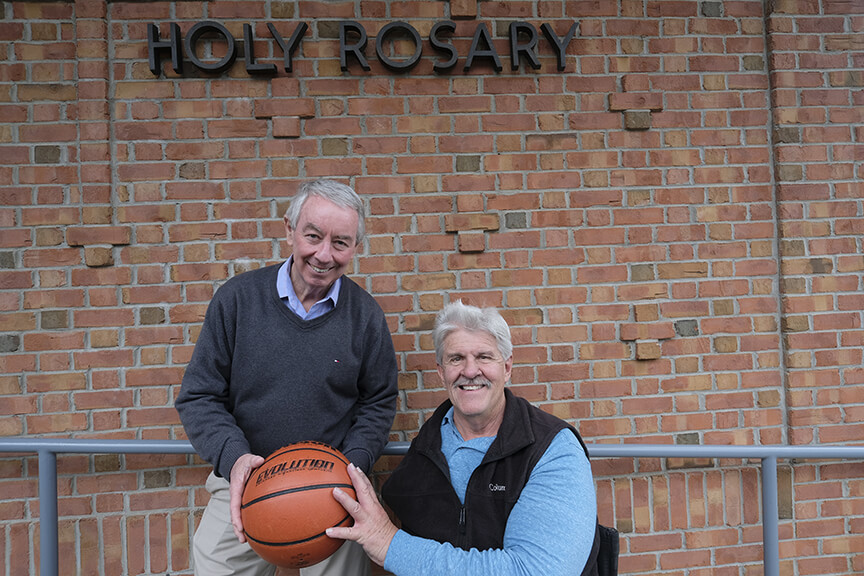 For the last 30 years, Bob Gallagher and Mitch Stephens have been leading the charge as the faces of the Holy Rosary Academy athletic program.
But that long partnership came to an end this season as Gallagher officially said farewell.
"Mitch isn't happy, but it's just time," said Gallagher, who first began coaching at Holy Rosary in 1988.
"I hate that he's retiring," Stephens interjected, "but next year isn't here yet."
Gallagher and Stephens first began coaching at Holy Rosary together in the early 1990s, leading Holy Rosary's seventh and eighth-grade boys' varsity basketball team to two Diocese of Nashville championships.
But their coaching careers started long before that.
51 years of coaching
Gallagher first started coaching at the age of 19 at the YMCA in Oneonta, New York, while in college.
"I was playing basketball" at the State University of New York Oneonta, "but I had some medical issues and couldn't play anymore," Gallagher explained. "The varsity soccer coach then asked me if I'd mind coaching his 9-year-old son's YMCA team, so that's how I started, and I just kept on coaching."
After graduating from the SUNY Oneonta, he coached Catholic Youth Organization sports until he and his family moved to Nashville in 1986. After arriving in Tennessee, he coached at the Donelson YMCA and for the Cobras Travel Soccer team before coming to Holy Rosary in 1988.
Since coming to Holy Rosary, Gallagher has coached boys and girls in third through eighth grade, mostly in basketball, but also in softball, baseball, and soccer.
Coaching and still going strong
Stephens began his coaching career later than Gallagher, starting at the Una Recreation Park and Community Center in Nashville coaching baseball when his children – Kyle, Blake, and Caitlin – were little.
Stephens also coached the Nashville Wheelcats basketball team for several years, leading the team to a national title in 1989.
He started coaching basketball at Holy Rosary not long after his oldest son, Kyle, came to the school in 1989.
Since, Stephens has only coached basketball, and will continue to coach, he said, as his son joins the coaching staff and his granddaughter, third-grader Stella, starts playing.
"I enjoy being around the kids, and I just enjoy coaching," Stephens said. "If they believe in you, you can get anything out of them, and that's the thing I try to impress upon the kids is they can do whatever they want to do."
Starting off as opponents
By 1989, when Gallagher and Stephens were both on the coaching staff at Holy Rosary, they started off as rivals. Because of high enrollment numbers at the time, there were more teams amongst the younger students.
"We were trying to make sure everyone got to play," Gallagher explained. But soon they started to see that their efforts may better be served as a team.
"We played it smart because his son, Kevin, was a guard, and my son, Kyle, was basically a taller shooting guard from the outside, so they worked well together," Stephens added. "Plus, they were friends."
Thus, the partnership began, shifting amongst the different ages and teams for the first 12 years and then officially becoming the head coach and assistant coach of the seventh and eighth-grade boys' varsity team in 2004.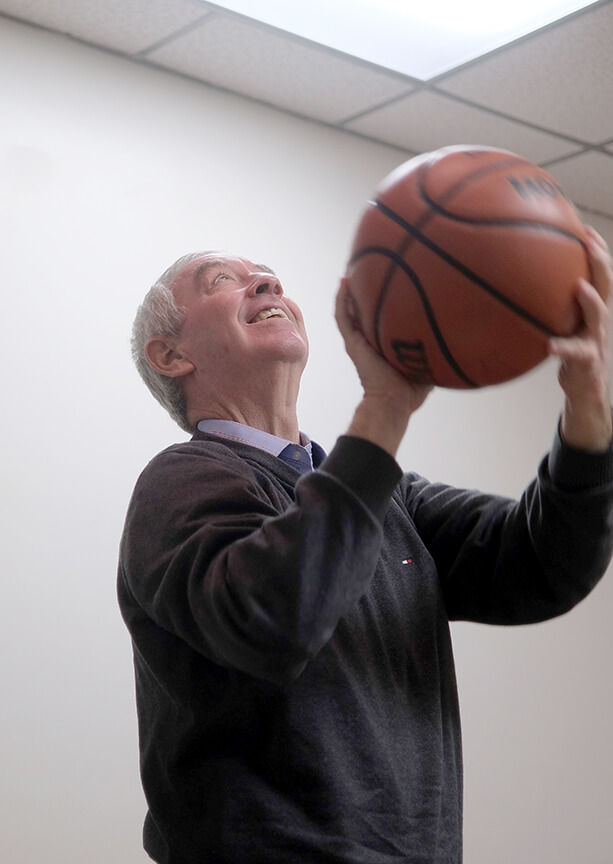 Becoming a team
"I let him be head coach," Stephens said, noting that Gallagher is more poised to handle any confrontations that might arise. "I'm better with the kids."
Their different coaching styles ended up complementing each other through the years, too.
"We're like Laurel and Hardy," Stephens said. "We'd have the good coach-bad coach roles switch some days. One day it'll be Bob as the bad coach, or I'll be the bad coach and vice versa."
But most important to Gallagher and Stephens was to teach the players something.
"I've always wanted them just to learn how to be a good person. At the end of the day, that's, for me, what it was always about," Gallagher said. "Winning championships was great and we had a couple of those teams. But for me, whether you're a good person by the end of the day, that's the goal."
"You want to instill in them the strive to improve, to learn," Stephens added. "We try to tell them, 'Some may want you to score all the points. We don't care. If you make that pretty pass, if you set up that pretty pick, if you make that pretty rebound, if you're helping the team win, that's what we're seeing' … because, as the old saying goes, there's no 'I' in team.
"I always tell them, 'Look, I don't need you to be the best. I just want to get the best out of you,'" he added. "'You're not always going to be the best at what you do, but you've got to strive to be the best that you can be.'"
An unexpected partnership
The 30-year-long partnership wasn't something that first crossed either coach's mind when they met in 1988 after Stephens' oldest son came to the school.
Gallagher, who had just started coaching and whose oldest son, Kevin, was already attending the school, spotted Stephens and didn't know what to think. Stephens sat in a wheelchair with no legs and only one of his arms, which he lost in a train accident at the age of 15.
"I thought, 'Oh, my Lord,' and I found that I couldn't even look at him at first," Gallagher admitted. "I felt bad that I felt that way, that I couldn't engage with him. Now, I think shame on me for having that feeling."
Stephens said he doesn't blame Gallagher for his initial perceptions.
"When you're around someone in a wheelchair, the first thing you look at is often the disability. You're not looking at the ability," Stephens said. "If I saw somebody with only one limb, I'd look, too."
But when their oldest sons became friends, they got to know each other as Gallagher coached them both in a basketball clinic for second graders.
Then, in November of 1988, Gallagher experienced his own accident when he and his wife, Kathy, were struck head on by a drunk driver. The accident left his wife with two broken legs, and Gallagher with 120 stitches in his forehead, 10 stitches in his eye, 10 broken toes, a broken nose, and severed all the tendons in his left hand.
"His was much more life-altering than mine," Gallagher said, "but we both had very life-threatening events happen to us, and I think a bond was formed because of that."
Reflecting on the last 30 years
As both coaches reflected back on the last 30 years and their time coaching together, they describe it in different ways, but with equal amounts of emotion.
"It's been a humbling experience," Gallagher said. "I count my blessings every day, and one of them is Mitch. From my perspective, that's the value of the partnership."
"It's been a pleasure coaching with Bob," Stephens added. "It started out coaching our sons together, but then we just kept going.
"Every year, I waited to see if Bob was going to coach, and I wanted to make sure he was going to have me help him," he said.
"I just feel fortunate that the administration allowed us to coach for so many years," Gallagher said. "We started every season with a parent meeting where I would tell them it is a privilege for us to be able to coach their child. We didn't take it as a birthright."
The love for the coaches, especially Gallagher, as he coached his final games (both home and away) in February was evident. Not only did all three of Gallagher's children surprise him for the games, but former players of the coaching duo and some of the parents also showed up, thanks to the efforts of assistant coach Jake Morgan and his wife, Holy Rosary fourth-grade teacher Hadley Morgan.
"It was heartwarming to see these kids, some of them in their 40s now, and see that they've turned into good citizens, good parents, just plain good people," Gallagher said. "From my perspective, it's a blessing to see that."
Gallagher isn't leaving the Holy Rosary community completely. He will continue to serve as business manager for the Church of the Holy Rosary.