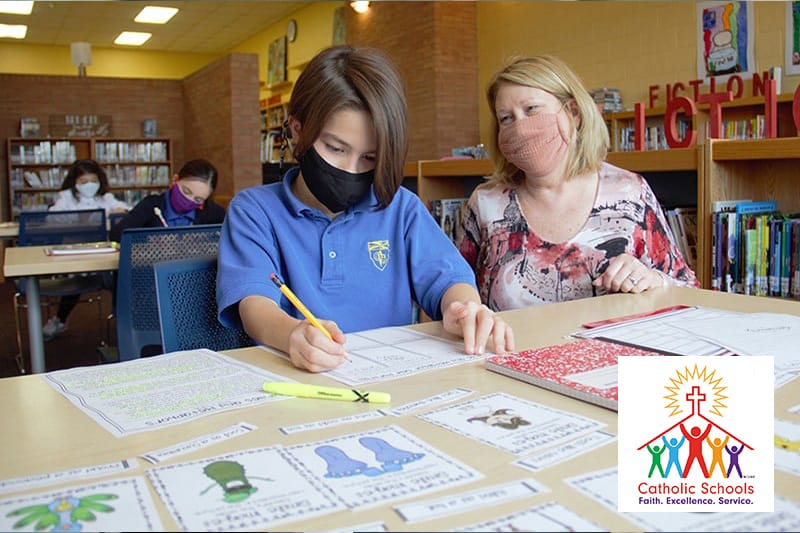 Overbrook School has enhanced its academic program to meet the needs of gifted students by launching the SOAR gifted enrichment program.
The goal of this program is to identify and serve gifted and high ability students in reading and math with lessons and activities that go beyond those routinely taught in the classroom.
"Gifted students have outstanding intellectual abilities and potential for achievement. These students learn very quickly without a lot of repetition, can easily grasp abstract concepts, have unbridled curiosity, and produce original ideas and solutions to problems," said Marion Cianciolo, the SOAR gifted and enrichment teacher at Overbrook.
"We wanted to target the gifted learner and provide them with a program that addresses their unique needs academically, socially and emotionally," said Cianciolo, who has an education specialist degree in gifted education. "Not only do they learn faster, but they also want time to go broader and deeper in subjects."
The gifted students in the SOAR program are pulled out of their regular classes to meet with Cianciolo for enrichment classes in reading and math. In addition to the enrichment classes, the fifth grade SOAR students meet daily to participate in an accelerated math program. She is taking them through the curriculum faster, so that when they are in the sixth grade they will be ready for the seventh-grade math coursework. This places these students on the "geometry track" for the eighth grade.
"In order to engage these gifted students and address the way they learn, I spend a lot of time planning and making sure I have everything I need to make each lesson pop for them," Cianciolo said. "I prepare the units of study in a way that holds their interest and keeps in mind the needs of gifted learners."
The lessons for the gifted students include activities such as brainstorming, creative problem solving, higher order thinking skills, and high interest units in reading and math that are developed and tested by experts in the field.
"I want to make sure it's something different than what they're doing in the classroom," Cianciolo said.
Cianciolo, a former Teacher of the Year at Overbrook, taught at the school from 2009 to 2018, when her family moved to Georgia. She started a similar program at Sacred Heart Catholic School in Warner Robins, Georgia.
When she returned to Nashville last year, she applied to teach again at Overbrook, and administration asked her to use her experience to start a new program for gifted students. Cianciolo enthusiastically agreed, and program development started over the summer.
"It took several months to organize the program, form a school enrichment team, and identify the students based on the Tennessee state guidelines," Cianciolo said.
Assessments in math and reading achievement, measures of creativity/characteristics of gifted, and school ability tests were given in the school wide screening process.
The assessments identified 12 gifted students in the fifth grade, nine in the fourth grade, and six in the third grade. "One third of our fifth grade is gifted, which is an extremely high percentage. We were shocked but very pleased with this number," Cianciolo said.
The enrichment team, which includes administration and classroom teachers, developed an action plan for each student in the program, which then had to be approved by the students' parents, Cianciolo said.
The classes for the gifted students began meeting the week before Christmas.
For the third and fourth grade gifted students, Cianciolo leads them through math enrichment projects, using units of study developed for gifted students.
For the reading classes, the gifted students are analyzing texts and using higher-level thinking.
Cianciolo also leads the school's third through fifth grade elementary math teams, which not only includes the SOAR program students, but also other students "who are extremely bright in math," Cianciolo said.
"We're starting small because of COVID protocols," Cianciolo said. We hope to expand the program next year to include identifying and serving students in the first and second grade."
Even though the program is still new, the students involved "seem to really enjoy it," Cianciolo said. "The feedback has been great."