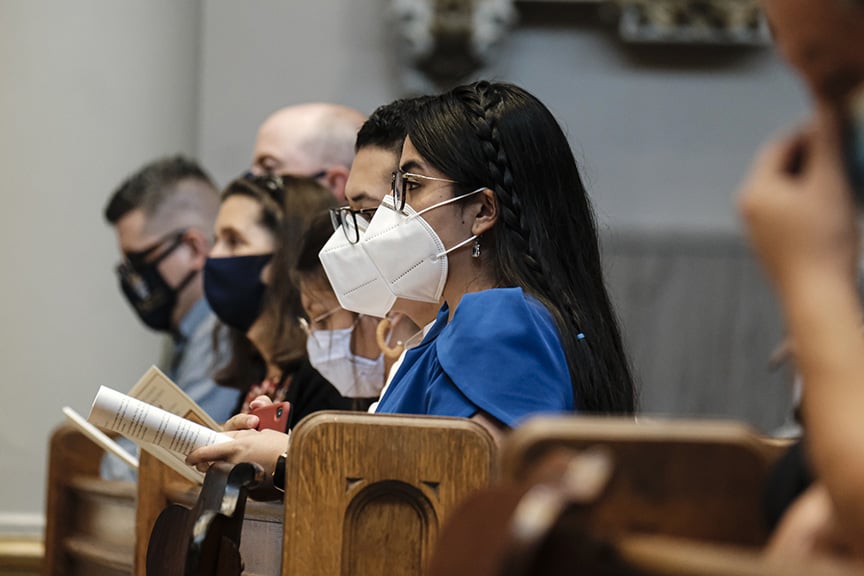 They say necessity is the mother of invention. That's probably never been truer than in 2020.
When the COVID-19 pandemic forced people into their homes to protect themselves and their families, churches were faced with a new challenge: how to keep people connected to their church, each other and the faith.
The Diocese of Nashville, like dioceses and churches around the world, was forced to find new ways to safely proclaim the gospel of Jesus Christ, welcoming all.
Technology and the internet provided some answers. When Bishop J. Mark Spalding, like his brother bishops throughout the nation, issued a dispensation from the obligation to attend Mass on Sunday and Holy Days of Obligation to keep people safe, a few parishes were already livestreaming Masses online. Others quickly made preparations to do the same.
Parishes saw other opportunities to use the internet. Priests recorded videos of themselves discussing the readings for the upcoming weekend Masses. Adult faith formation programs used online formats to bring people together for discussions.
When attendance at Mass was limited to ensure proper social distancing, some parishes moved their Masses outdoors to allow more people to attend and spread out.
Priests had to find new ways to hear confessions while keeping their parishioners and themselves safe.
Schools at first had to figure out distance learning when they closed their buildings early in the pandemic last spring, then had to re-think the way they did everything to safely invite their students and teachers back into the classroom for in-person learning. They wore masks or face shields or both, spread their desks out, limited movement through the halls, and ate lunch at their desks. While many schools have opted for distance learning during the pandemic, which can disrupt family life and student achievement, our diocesan schools have worked hard to stay open using the many safety protocols they have implemented.
Diocesan events and ministries have also been affected, although they've carried on. Bishop Spalding ordained two new priests before a limited, masked and socially distant crowd at the Cathedral of the Incarnation. Diocesan speaker series became online events. Important fundraisers moved online yet still managed to generate enough donations to support the various ministries of the diocese, all thanks to the wonderful generosity of the people of the diocese.
Some of these efforts have opened our eyes to new ways to doing things and reaching people that will continue after the pandemic comes to an end.
Although the work-arounds have been successful, they are not seamless replacements.
Watching Mass on a laptop or a television allows us to participate in the Liturgy of the Word and in an Act of Spiritual Communion, but there are some things it can't allow us to do. It can't allow us that same sense of community that we feel when a group of people worship together in the same place shaking hands or embracing during the Sign of Peace, or holding hands as they pray the Our Father together.
It doesn't allow us the opportunity to catch up with friends over a donut and a cup of coffee after Mass.
It doesn't allow us the opportunity to kneel before the body and blood of Christ, the source and summit of our faith.
We look forward to the day when we can gather together safely once again. It still may be months away, but finally, with the approval of a vaccine for the COVID-19 virus, there is a sense that it is coming.
Until then, we'll keep working around the restrictions the pandemic has forced on us. We'll continue to find new ways to use technology to maintain a connection to our faith community. We'll continue to wear masks and keep socially distanced not only to protect ourselves, but to protect everyone we meet. We'll continue to pray. We'll continue to take joy in the celebrations of the liturgical year, such as Christmas. We'll continue to bring the light of Christ to the world in any way we can. We'll continue to invent new ways to live the faith.