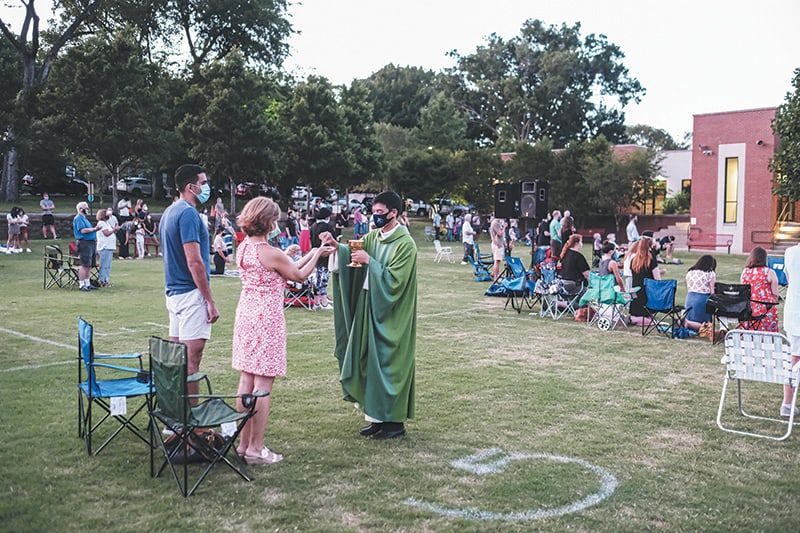 In the nearly six months that the Diocese of Nashville has been taking steps to avoid the spread of the COVID-19 virus, including a dispensation from the obligation to attend Mass on Sunday, pastors and parishes have adapted to the new normal.
"It's definitely a little bit strange and it took some time to get used to," said Father Justin Raines, pastor of St. Christopher Church in Dickson. "I stay focused on the fact that the Mass is the Mass and it's a holy sacrifice that's taking place.
"In some ways it's analogous to a priest saying Mass on the hood of a jeep in battle," Father Raines said. "It's definitely more difficult for us to gather as a community in this time, but the sacraments are being celebrated and we believe God is present in the sacraments."
Parish staffs have had to rethink every detail of their operations from how to keep people socially distant at Mass to how many people can be in the office.
Father Jacob Dio, MSFS, pastor of Immaculate Conception Church in Clarksville, was recently asked by the volunteers who run the parish RCIA program if they can still provide coffee and snacks when classes resume in September.
He told them the parish can't provide that right now, because he does not want multiple people handling the coffee pots and other equipment, but people could bring their own coffee and snacks.
Despite the restrictions and precautions in place, pastors say that people seem to be settling in with all the changes.
"All in all, I've been really pleased with how things have gone," said Father Dexter Brewer, pastor of Christ the King Church in Nashville and Vicar General for the diocese.
Christ the King moved its Sunday Masses outdoors to the large field beside the parish school. The Masses are at 8:30 a.m. and 7 p.m.
There have been several adjustments to the times as the summer weather heated up, Father Brewer said. "It was too warm at 11 we realized," he said, so the morning Mass was moved first to 9 a.m. and then 8:30 a.m. The evening Mass was moved from 6 p.m. to 7 p.m. because by then the sun has gone down and the weather is cooler.
Both Masses are well attended, Father Brewer said. "We get between 170 and 200," and have room for another 100 people.
"They bring blankets, they bring chairs, they bring umbrellas," he said, and spread out in the field to maintain the proper social distancing.
"Everyone wears masks. We insist on that from the moment they enter the space and there are signs everywhere, and they're really good about it," Father Brewer said. "Even outdoors, when we're gathered, we keep our masks on."
"And on a beautiful day … it's just elegant outside," Father Brewer said. "Especially at 7 in the evening."
The parish will continue to celebrate Mass outdoors, Father Brewer said. "Here in Nashville it doesn't get really cold until the end of November, so we'll do that as long as we can."
Not all parishioners want to attend Mass outdoors, Father Brewer acknowledged. "We've had some people go to indoor Masses at other parishes, and that's good," he said.
Bishop J. Mark Spalding issued a dispensation from the obligation to attend Mass during the pandemic, Father Brewer noted. "If you feel uncomfortable in any space, you can stay at home."
At Immaculate Conception, Masses remain in the church with social distancing and other precautions in place, and Father Dio has seen a recent uptick in attendance.
"The last three weekends we have been seeing more people coming to the church," he said. The two Masses on Sundays have had 160-170 people in attendance and the maximum the church can hold with social distancing is 200, he added.
If that trend continues, Father Dio may add another Mass on the weekends, he said.
At St. Christopher, Father Raines moved weekend Masses from the church to the parish Family Life Center where there is more room for people to spread out. Attendance is about a third of what it was before the pandemic struck, he said.
All three parishes have links on their websites where people can watch livestreamed Masses if they choose not to come to the church.
Parish ministries have also been affected by the pandemic.
"Most of our other ministries are kind of on hiatus still," while others are meeting online, Father Raines said. "Our St. Vincent de Paul conference is still going strong and serving the less fortunate in our community."
Early in the pandemic, when utilities were allowing people to put off paying their bills if they lost a job, requests for help from St. Vincent de Paul were slow, Father Raines said. "But now bills are coming due again, and we're seeing calls pick up again."
"It's very important for us to continue to reach out to the less fortunate in our community and our St. Vincent de Paul has found great ways to continue to serve the community," Father Raines said.
"During the shutdown period, I started doing a lot of videos and things," he added. "I plan to use social media as a way to make faith formation available and keep in contact with our people."
The summer is typically a slower time for many of the parish ministries at Immaculate Conception, Father Dio said, but things will begin picking up soon. The parish religious education program and RCIA will both begin on Sept. 13.
Religious education will be a hybrid of in-person classes and distance learning, he said, with the second and eighth grade classes preparing for their First Communion and Confirmation, respectively, having some in-person classes and the other grades working online from home.
Christ the King has moved some of its adult faith formation programs online with video conferencing, Father Brewer said, but home visits to parishioners have been curtailed during the pandemic.
"We stay in touch with parishioners, but we haven't started visitations to people," Father Brewer said. He and Associate Pastor Father Anh Tuan Phan still go out to anoint people when needed. "In every way possible we try to make ourselves available to people who may need us."
But Father Brewer said it doesn't seem safe to send eucharistic ministers and others to parishioners' homes yet.
Father Dio was concerned if people stay away from attending Mass in person too long, they might stay away from the Church. That's why it's heartening to see people starting to come back to Mass, he said.
"Whenever we're in the middle of something like this," Father Brewer said, "you do whatever you can and leave the rest to God."