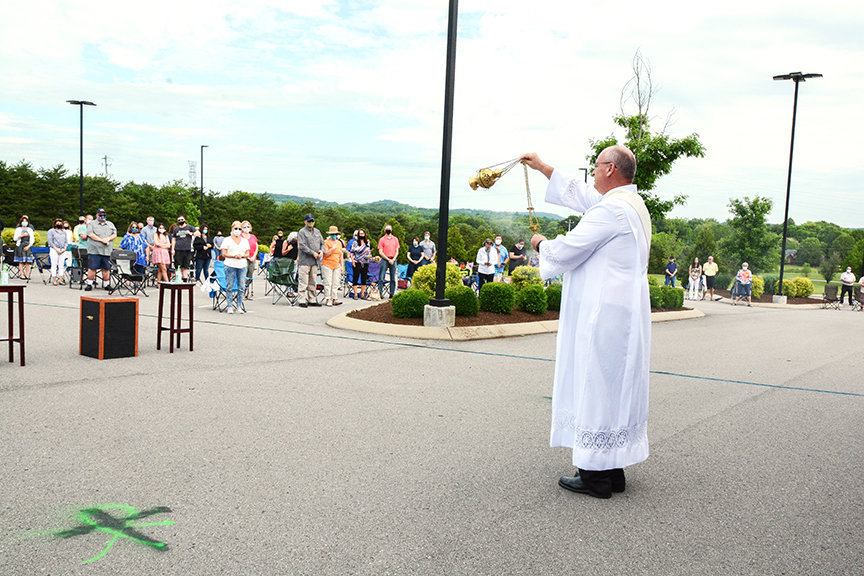 Nashville Mayor John Cooper has issued a directive asking Davidson County residents, as they head into Thanksgiving week, to limit all private gatherings to no more than eight people or one other family group.
But the directive won't prevent churches in the Diocese of Nashville from continuing to celebrate Mass in person with the protective measures against the spread of the COVID-19 virus already in place.
"Our policy concerning church-related gatherings and activities, both liturgical and non-liturgical, remains unchanged," Father John Hammond, Vicar General of the diocese, said in a message to pastors and other diocesan leaders. "Pastors and other leaders should continue to exercise thoughtful care concerning the various health and safety precautions which prudence demands at this time."
Bishop J. Mark Spalding has given pastors the latitude "to personalize the way in which they enact our precautions in light of the particular circumstances of their own communities," Father Hammond said. At the same time, the bishop has consistently encouraged them to continue to have people wear masks, wash or sanitize their hands frequently, and maintain social distancing.
"We have large spaces that are built to hold large numbers of people," noted Father Hammond, who also serves as the Judicial Vicar for the diocese. Churches in the diocese have the room to maintain social distancing and other protective measures, as well as performing regular cleanings of the spaces where people gather, he added.
"We can continue to perform the mission of the Church while providing a safe space," he said.
Churches in the diocese have adopted a variety of measures to continue to serve the spiritual needs of their parishioners while maintaining safe spaces. Most have limited attendance to allow for social distancing, some have moved Masses outdoors to provide room for people to spread out, and many are livestreaming their Masses for people to watch at home. Churches have also added Masses during the week to accommodate people who are in high risk categories or don't feel comfortable in larger gatherings.
"It's worth saying again, the dispensation remains in place from the obligation to attend Mass, which allows people to make an adult and prudent decision based on their own health and comfort level," Father Hammond said. "The bishop has encouraged people to be prudent and careful."
The dispensation from the obligation to attend Mass on Sundays and holy days has been put in place indefinitely.
"We are constantly reviewing and analyzing the situation and praying for the wisdom to maintain a prudent response to this situation," Father Hammond said. "That's always going on."
Providing for the needs of their parishioners in a safe manner during the pandemic has been difficult for pastors, said Father Hammond, who also serves as pastor of St. Patrick Church in Nashville.
"On a fundamental level, we want to do the right thing," Father Hammond said. "It's all unchartered territory. We're doing our best to do what's prudent and also reasonable."
Mayor Cooper's "Rule of 8" directive took effect on Monday, Nov. 23. He issued the directive as a response to rising numbers of coronavirus cases and hospitalizations in Nashville and across the state.
As of Thursday, Nov. 19, the number of new cases reported in Davidson County was more than five times as high as at any point in September, Cooper noted. Nashville hospitals were caring for 362 COVID-19 patients, Cooper said during his announcement. "That's more than a 50 percent increase since Nov. 1," he added.
Hospitalizations are expected to increase by 10 percent in the next week, Cooper said. "Nashville, this is the curve we must flatten."
"With Thanksgiving a week away, we could be on the verge of a super spreader event if we are not careful," Cooper said. "When we're going to be in contact with loved ones, we must do it safely."
"The Rule of 8 should be our guide as we head into the holiday season," he said. "With the virus surging, now is not the time for any large gatherings."
The Rule of 8 is in line with the current requirement that restaurants limit groupings to eight people, Cooper said. The mayor made a distinction between large gatherings of people in close proximity to each other and groupings of people in a venue large enough to provide for appropriate social distancing.
"I think there's a difference between 'groupings' and 'gatherings,'" Cooper said. "Even though the 'gathering; may appear to be larger, you're carefully managing the 'groupings' to limit the risk that already exists between these people."
The directive only applies to Davidson County. Gov. Bill Lee has not issued a similar directive and has resisted issuing a statewide mask mandate. However, he has issued an executive order allowing county mayors in 89 of the state's 95 counties to issue a mask mandate. In Davidson, Hamilton, Knox, Madison, Shelby and Sullivan counties, the local health departments also have the authority to issue mask mandates.