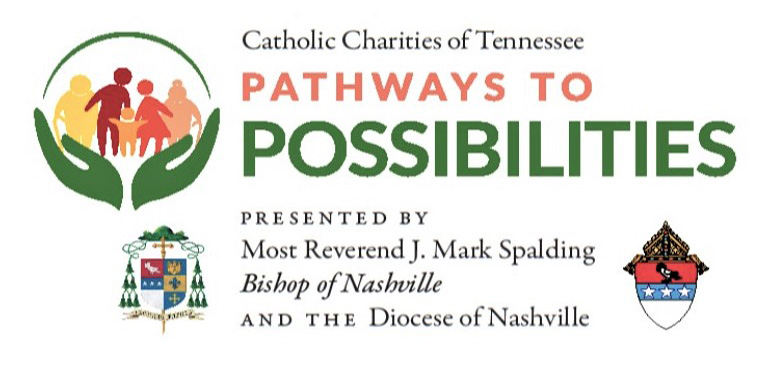 With tornadoes sweeping across Nashville and Middle Tennessee and the COVID-19 pandemic upending people's lives, the need for the help provided by Catholic Charities of Tennessee is great and growing greater.
To raise the funds needed to meet those needs while the coronavirus restrictions have forced people to stay home and away from crowds, Catholic Charities has moved its annual fundraiser, Pathways to Possibilities presented by Bishop J. Mark Spalding and the Diocese of Nashville, to a virtual format.
Pathways to Possibilities was originally scheduled as a breakfast gathering on Tuesday, April 21, at the Music City Center. Now the event, featuring email and social media appeals, will be held April 20-23.
"While most of us are staying at home as directed, we still feel a great impulse to be part of the community and to support important organizations like Catholic Charities, one of the primary essential service providers in our area, which amidst all that is going on, continues to help people of all faiths in need in our community," Catholic Charities stated on its website.
"Catholic Charities of Tennessee's need for funding support from our community was critical when we first started planning this event months ago," it added. "Now, with the March 3 Middle Tennessee tornados and COVID-19's impact, our financial needs have grown exponentially, specifically in providing emergency financial assistance to individuals and families coping with layoffs and reduction in income."
"Our goal is to raise a substantial amount of money that can be used to provide relief to those most in need from hardship caused by the tornado and pandemic disasters and other needs," said Mark Barry, director of the Communications and Fundraising Department of Catholic Charities. "The demand for our services is greater than ever, and we now have a waiting list."
During Pathways to Possibilities' four days of fundraising, through social media posts, Bishop Spalding and Catholic Charities of Tennessee Executive Director Judy K. Orr will talk about the many acts of love, kindness and healing that Catholic Charities is performing in the Nashville community.
"Videos will showcase our services to the community, including the new disaster relief initiatives we've launched," according to Catholic Charities' website. "In addition to providing tornado relief assistance throughout the community – especially in North Nashville where more than 500 residences were severely damaged or destroyed – we are also part of United Way of Greater Nashville's COVID-19 relief assistance team, serving the entire community."
Community support for the Pathways to Possibilities event has always been important, but is now vitally critical, according to the website.
People can follow the Pathways to Possibilities appeal on the Catholic Charities' website, www.cctenn.org, and on its Facebook page, CatholicCharitiesofTN.
To donate to Catholic Charities during the Pathways to Possibilities fundraiser, follow the link on the Catholic Charities website for "Pathways 2020."
Sponsors for Pathways to Possibilities include:
• Presenting Sponsor: Bishop J. Mark Spalding and the Diocese of Nashville.
• Gold Sponsor: Ascension Saint Thomas
• Silver Sponsors: Rebekah and Greg Pope; Bass, Berry and Sims; Bradley, Arant, Boult Cummings; Taylor, Pigue, Marchetti and Blair.
• Bronze Sponsors: Gresham Smith; Dr. Carolyn and Mr. Clark Baker; Varallo Public Relations; Iroquois Capital Group; Banc Card of America; Holladay Properties; Father Ryan High School; Holy Family Church; LBMC; Dr. Michael and Mrs. Liz Schatzlein; Coldwell Banker Barnes; HCA Healthcare/Tri-Star Health; Rochelle and John Redding; Pope John Paul II High School; Sims/Funk; Patty and Bill Farmer; Betsy and John Gromos; Susan and Pat Shepherd; Mr. and Mrs. Steve Hayes; Donnelly Timmons and Associates; Riley Warnock and Jacobson.
• Special Friends: Debbie Lassiter; Catholic Business League; The Bakery Companies; Asurion; Tom Pierce; David Barnes; St. Bernard Academy; Jessica and Doug Anderson; Nancy and Bob Schwartz; Claudia and Pete Weber; Nashville Catholic Business Women's League.