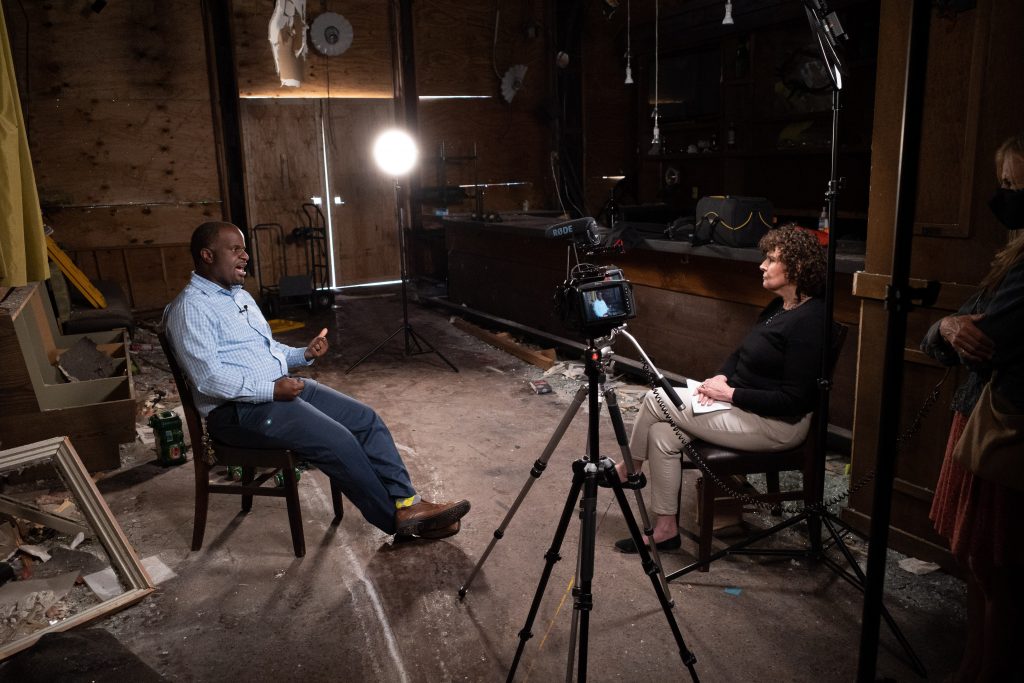 Click here for a full video of the conversation.

In a year when many non-profit organizations were hampered by donor fatigue, Catholic Charities, Diocese of Nashville had its most successful fund-raising effort ever.
Pathways to Possibilities, which was a virtual event this year featuring videos of people talking about the support they received from Catholic Charities, recently closed with a total raised of $214,000. That represented a significant increase from the 2020 total of $135,000.
"We were thrilled with the response to Pathways," said Judy Orr, executive director of Catholic Charities. "Though it was a virtual event, the video presentations really inspired people to support us. We are grateful to those individuals who paid it forward by sharing their personal stories of triumph over crisis."
In Catholic Charities' nearly 60-year history, "it was the largest event we've ever done," said Gene Gillespie, development director for Catholic Charities. "It sets the stage for us going forward."
"You hear this was a year of donor fatigue. We obviously didn't experience that," Gillespie said. "Most of our individual donors gave consistently throughout the year and again at the end of the year with Pathways."
"The money will be utilized across all of our services that Catholic Charities offers," Gillespie said, which includes helping people meet basic needs such as food and housing, job training and workforce development, refugee resettlement, counseling and emotional support, emergency assistance and disaster relief.
The last 18 months, with the challenges of the COVID-19 pandemic, the March 2020 tornadoes that cut across Middle Tennessee, the Christmas day bombing in downtown Nashville that forced people out of their homes and businesses to close, and the spring 2021 floods, highlighted the many ways Catholic Charities helps those in our community in need, Gillespie said. That, in turn, helped make Pathways to Possibilities such a success, Gillespie said.
"It elevated Catholic Charities to a point that we were one of the first responders the city and other organizations were calling, and with that it brought more awareness to the work Catholic Charities does and the community we serve," Gillespie said.
The many challenges Catholic Charities responded to affected people from all parts of the community, said Keith King, Catholic Charities' director of community relations and communications.
"Catholic Charities is uniquely positioned to help people across all sectors," he said, from the homeless living on the street to those who lost their homes to the tornadoes and flooding, as well as businesses shut down by the bombing and those struggling to stay open and pay their employees through the pandemic.
"We're going to help them all," King said.
One of those helped was Demetrius Kelley, the managing partner of Rodizio Grill The Brazilian Steakhouse and the Melting Pot Fondue restaurants that were destroyed in the Christmas bombing. Kelley told his story in a video shown as part of this year's virtual Pathways to Possibilities.
"I had to wake up all 13 managers at 7 o'clock in the morning on Christmas and tell them the building has probably been destroyed, you probably don't have a job," Kelley said.
He was able to land another job, but three days into training, he was diagnosed with COVID, and later so was the rest of his family. "I'm like, you have to be kidding me," Kelley said on the video. "It's like they kept on coming."
On top of those challenges, Kelley and his wife were expecting a baby.
"All of sudden I opened up the mail and it's a check from Catholic Charities. It's a godsend to me … I'm going to be able to be OK for a couple more months. Even missing my training, it's not going to be sending me down some spiral. I'm going to be good," said Kelley, who had never before needed help from a charitable organization.
"Catholic Charities will lift you up when you're at a point when you feel like you're at your lowest," he said.
"When you feel like you don't have any way out, and you're trapped, and you don't know what's going to come, and everything is dark, you get that little ray of sunshine that kind of peaks over that cloud and all of sudden you go whoa there's actually some hope," Kelley said. "And then you feel the love and warmth and support. All you want to do from that point on is to be able to pay it forward to some people because of all the love that I got."
The stories of how Catholic Charities helps people in the community in a wide variety of ways struck a chord with area businesses and their foundations, which decided to be sponsors for this year's event, Gillespie said.
"We went out aggressively to speak to corporate sponsors," Gillespie said. "In sponsors alone we raised $144,000. These are individuals who were giving donations of $2,500 up to $30,000."
The event had 39 sponsors. "We touched everything from banks to law firms to packaged food companies," Gillespie said. "We reached the gamut and we're looking at building on that for the coming year and working with other corporations."
The presenting sponsor for this year's Pathways to Possibilities was the First Horizon Foundation. Other sponsors included:
Platinum: Cushman and Wakefield, a commercial real estate services firm, and the Diocese of Nashville.
Gold: Ascension Saint Thomas and the Bass Berry and Sims law firm.
Silver: HCA Healthcare/TriStar Health; Kroger Company Zero Hunger/Zero Waste Foundation; MCC Nashville; Regions Bank; Taylor, Pigue, Marchetti and Blair, PLLC, law firm; Lloyd and Elizabeth Crockett; Chris and Bubba Donnelly; Mark and Lori Morrison.
Bronze: Centric Architecture; Gresham Smith design firm; Holladay Properties; Iroquois Capital Group; JPMorgan Chase and Co.; LBMC professional service solutions provider; Pinnacle Financial Partners; Sims Funk law firm; Truist Bank financial services company; Vanderbilt University; Adrienne and Steve Hayes.
Supporting: BancCard; Bone McAllester Norton PLLC Attorneys; Bradley law firm; Catholic Business League; Father Ryan High School; Fifth Third Bank; Holy Family Catholic Church, Brentwood; Nashville Catholic Business Women's League; Parris Printing; Pope John Paul II Preparatory School; the Tennessee Register; Farmer, Purcell, White and Lassiter law firm; Mike and Donna Nunan; John and Rochelle Reding.
"They want to be part of helping us providing services for the people in the community," Gillespie said.
"I just want to really thank all of our individual donors and our corporate sponsors," he added. "Considering everything that happened this year, the donors made everything Catholic Charities was able to do this year possible."