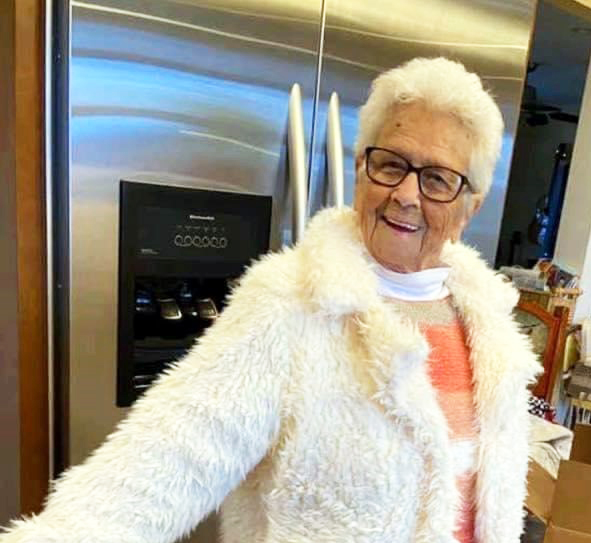 As the cafeteria manager at St. Edward School for 28 years, Pauline "Polly" Derrick Curran looked after the children at the school like they were one of her own 10 children.
"She loved all the kids," said her daughter Helen Akin. "She took care of the kids for sure."
"It's funny how many people who came to check on her who claimed to be the 11th Curran," Akin said. "That shows you how Mama made people feel, that they all thought they were the 11th Curran."
Mrs. Curran, who recently celebrated her 90th birthday, died peacefully at her home surrounded by her family on Friday, July 9, 2021.
A funeral Mass was celebrated on Friday, July 16, at St. Edward Church in Nashville, where Mrs. Curran was a longtime parishioner.
Mrs. Curran was born in Nashville. Her family moved to Lawrenceburg when she was a child and she attended Sacred Heart School there through the third grade. After the family moved back to Nashville, Mrs. Curran attended Christ the King School and St. Bernard Academy, where she graduated in 1950.
She married her high school sweetheart, Paul Curran Sr., the summer after she graduated from high school. They were among the first families at St. Edward, where the Currans raised their 10 children.
"She was so patient. She was never a yeller," recalled Akin. "She was definitely always there for us. … When we were having times of trouble, she always said depend on God.
"She was very faithful to the Catholic Church, and she taught us to be faithful," Akin said. "I feel all the way up to her death, she was guiding us and steering us to God and never to lose faith in God."
Mrs. Curran prayed the Rosary every day, and when she saw someone was struggling, her daughter said, she would send them a copy of one of the "Jesus Always" series of books.
"She loved all her 'Jesus Always' books," Akin said. "She had a whole stack of them by her bed that she would read."
"She also knew how to make us laugh," Akin added. "That's one of the things she said, you have to have laughter. And she gave us that too."
She retired from St. Edward School in 1995 after her husband died, but a year or two later went back to work at DCI Dialysis Clinic. "She only planned to work there for a few years, but end up working there 11 years," Akin said. "They were good to her, and she made a lot of good friends there."
Mrs. Curran celebrated her 90th birthday on June 26, just two days after her doctor suggested she enter hospice care, Akin said. The family went forward with plans for a large birthday party. "She was adamant that yes we were going to have that party. All of the brothers and sisters, all the children and grandchildren were there. It was so beautiful."
Mrs. Curran was preceded in death by her parents Pauline Morgan and Howard Dunn Derrick; her husband of 45 years, Paul B. Curran, Sr.; siblings, Bill Derrick, Eddie (Shirley) Derrick, Tommy (Barbara) Derrick, and Monnie (Ray) Watson.
Survivors include her children, Paul (Peggy) Curran, Jr., Danny (Rosemary) Curran, Katie Curran, Mary Ann (Richard) James, Chuck (Pam) Curran, Jeannie Curran, Mark (Sherry) Curran, Bill (Peggy) Curran, Michael Curran, and Helen (Randy) Akin; siblings, Connie Derrick, Jim (Linda) Derrick, Mike (Betsy) Derrick, Bob (Sue Ann) Derrick; 29 grandchildren; more than 40 great-grandchildren; and numerous grandchildren who are not by blood, but by genuine love and care.
Memorial contributions can be made to the Father Joseph Breen Endowment Fund at St. Edward Church.
Marshall Donnelly Combs Funeral Home was in charge of arrangements.