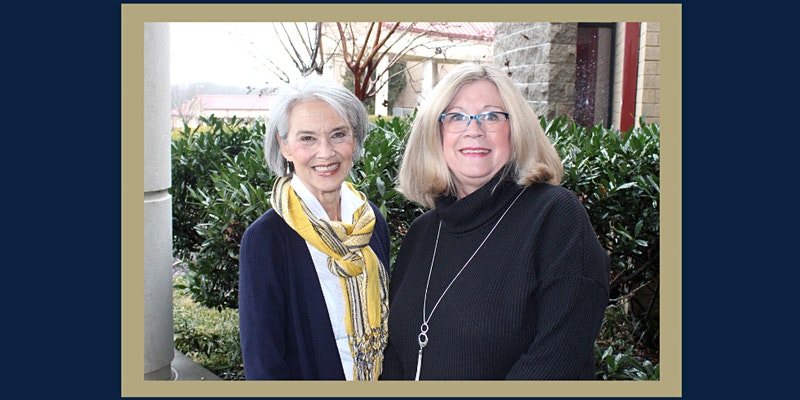 Karen Phillips and Betty Mayberry are two of the pillars upon which Pope John Paul II Preparatory School was built.
For their many contributions to the school, the Pope Prep Board of Trustees will honor Phillips, who recently was named interim head of school, and Mayberry, who retired at the end of last school year, at a dinner on Friday, May 6, at Our Lady of the Lake Church's St. Joseph Hall in Hendersonville.
"Karen and I had more fun just reminiscing about people we wanted to make sure we invited to the May 6 dinner," including family, former co-workers and students, Mayberry said.
"It's going to be very special," Phillips added.
The pair, who have known each other since their families lived a few doors apart when they were growing up in Gallatin, helped open Pope Prep in the fall of 2002.
Phillips, who had been the Social Studies Department chair at Gallatin High School, had been hired as Pope Prep's academic dean by the school's founding headmaster, Hans Broekman.
She was familiar with building a curriculum and department for social studies but realized she would need help with the other departments. She turned to friends and colleagues from Gallatin High for advice, including Mayberry, the Math Department chair; Richard Stephenson, the English Department chair, who was retired; and Jennifer Dye, the Science Department chair, who was returning from maternity leave. They all eventually joined the Pope Prep faculty as department chairs. 
When Phillips called Mayberry to ask if she would help the new school's Math Department chair develop a curriculum, Mayberry was quick to say yes and asked who the department chair was. "We don't have one yet. Are you interested?" Phillips replied.
Broekman and Phillips offered all the candidates for department chairs the freedom to design the curriculum from scratch. "How many teachers have an opportunity to build a department and start a school from inception?" Mayberry said. "That was just an opportunity I couldn't turn down."
Mayberry was already a leader in mathematics education when she joined the Pope Prep faculty. She had received the Presidential Award for Excellence in Mathematics Teaching in 1993 and she was part of a cadre of math teachers from across the country assembled by Texas Instruments who would teach other math teachers how to use the company's graphing calculator in their classrooms. 
As she was helping to open Pope Prep, Mayberry was also the incoming president of the Council of Presidential Awardees in Mathematics, which was a national organization, and president of the Tennessee Mathematics Teachers Association. 
As a math teacher and department chair, Mayberry's goal was to help her students see the relevance of studying math, "to get a generation of kids who love math," she said. "I wanted students to know why we were doing the math, how it could be used in all areas. To give them the tools to grow."
Phillips and Mayberry were already well established as leaders on the faculty at Gallatin High when Dye joined the staff there as a young teacher. She and Mayberry worked closely to make sure the math and science curriculums complemented each other, an initiative they continued at Pope Prep.
"Betty truly is that foundational mentor of mine," Dye said. "She's been the example of what a great teacher looks like."
Phillips, Mayberry and the rest of the school's first faculty were responsible for developing the curriculum and creating a culture of academic rigor that has been the school's calling card ever since.
"A lot of my ideas of what we needed to do in social studies were informed by my experience with AP classes and the College Board," said Phillips, who in 2009 was named the Outstanding AP Teacher of the Year in the Southern Region of the College Board, which administers the Advanced Placement program. "The goal of the AP curriculum is to develop the skills that will make students successful in college."
The faculty and staff at Pope Prep wanted every student to set a goal of taking AP classes, "no matter where they started academically," Phillips said.
"Our true mission is how can we be the right place for every student who is willing to work," Phillips said.
Constant review and improvement of the curriculum also has been a hallmark of the school.
"One thing that has been characteristic of the curriculum here at Pope Prep is it is dynamic," Phillips said. "It changes nearly every year."
"They say don't fix it if it's not broken," Mayberry said. "But sometimes you need to break it to help it get better, especially in mathematics."
Phillips, Mayberry and the rest of the original faculty and staff were aware they were helping to build the culture of the school and its community.
"One of the things that quickly became important to all the faculty here, and I hope it bled out to the students, was we were trying to build community, build a sense of belonging," Phillips said. "The more we can build that sense of community and support the better place it's going to be."
Phillips' coworkers recognized her leadership in establishing the school.
As the academic dean, "she was the perfect fit," Mayberry said. "She knew how to build a team. … There was no better academic dean anywhere in the country."
"It was Karen's heart that brought the school to be the place of love and compassion that it is," Dye said. "Karen is that example of what a true servant leader looks like, in the purest of forms. She cares deeply about the people she works with. She invests her efforts in building up people, not programs."
Andrew Griffith succeeded Phillips as Pope Prep's Assistant Head of School for Academics. "I learned a lot from Karen," he said. "She is a model of what It means to be a Catholic educator."
A line former Headmaster Faustin Weber used to describe Pope Prep applies to Phillips as well, Griffith said. "She has an optimistic vision for kids."
Phillips believed students could grow more than they themselves realized and she pushed them to stretch themselves by taking rigorous classes, Griffith said.
"She has a servant leadership model of being willing to give her time so students have opportunities to grow," Griffith said.
"Karen lives her life with such grace. No matter the situation, you knew Karen was going to act with integrity," Griffith said. "She just cares about people. …
"Her spirit is built into the culture of the place," he added.
Phillips and Mayberry look back fondly at Pope Prep's first two decades. "We've watched it grow. Every experience has made me a better person," Mayberry said. "It's the love we have for each other."
Pope Prep to honor founding teachers
The Pope John Paul II Preparatory School Board of Trustees will host a dinner on Friday, May 6, to honor the retirements of two key members of the school's original faculty, Karen Phillips and Betty Mayberry .
Pope Prep alumni, alumni parents, current students and their families, and friends of the school are invited to help honor the pair, who were among the school's leaders.
The dinner will be held 6-9 p.m. Friday, May 6, in the St. Joseph Hall at Our Lady of Lake Church in Hendersonville. The evening attire will be snappy casual. Dinner, featuring upscale barbeque, sides and dessert, will be catered by Bacon & Caviar. Beverage stations will include beer, wine, sweet and unsweet tea.
Tickets for the dinner are $25 each. Proceeds from the event will support the Mike McLaren Scholarship fund, named for the school's former dean of students who died in 2020 in a motorcycle accident. Tickets are available through Eventbrite. To purchase tickets, visit https://www.eventbrite.com/e/pope-prep-board-of-trustees-dinner-honoring-karen-phillips-betty-mayberry-tickets-271853088907.