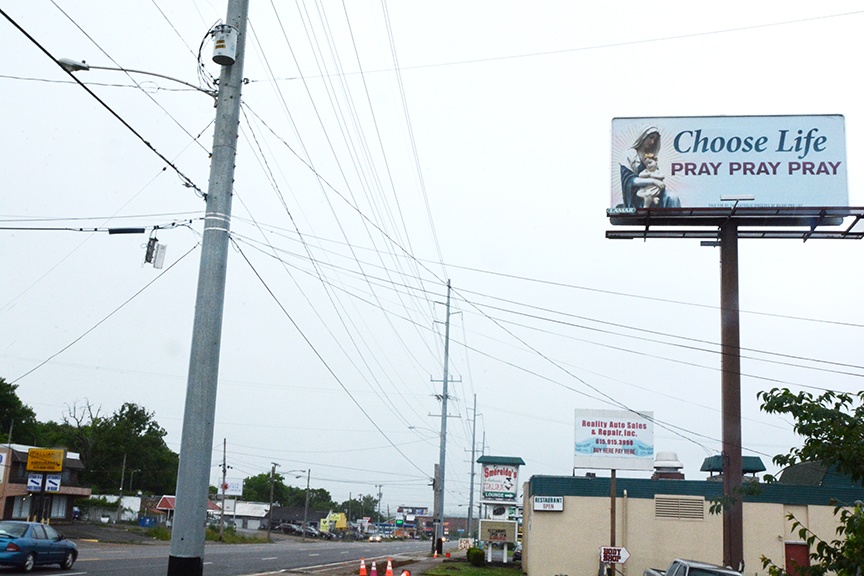 An initiative to spread a pro-life message to the community has spread from Gulfport, Mississippi, to Nashville.
The Pro-Life Billboard Initiative from the Diocese of Biloxi, with help from the Ladies of Charity in Nashville, has put up two billboards, with a third still coming, that include an image of the Blessed Virgin holding the Infant Jesus and the words "Choose Life, Pray, Pray, Pray."
Billboards with the message went up on Monday, May 24, at West End Avenue just east of Lyle Avenue facing west and on Gallatin Pike, a half-mile north of Old Hickory Boulevard, facing north. A third billboard on Interstate 40 2.3 miles west of the Mt. Juliet Road-Exit 226, facing east, will go up on July 5.
The billboard on West End is a few blocks from the Planned Parenthood clinic on Dr. D.B. Todd Boulevard, and the I-40 billboard is near the Carafem abortion clinic in Mt. Juliet.
The billboard placements were chosen "to ensure when they see us, the end result is that the rubber meets the road; people coming into Nashville will see it and perhaps the signs will make them think twice," said Marilyn Cox, a parishioner at the Church of the Assumption and a member of the Legion of Mary at St. Mary's Church in downtown Nashville.
The Pro-Life Billboard Initiative began at St. James Catholic Church in Gulfport, Mississippi, in January 2019, when Penny Sullivan led an effort to promote the right to life and pray for its support worldwide.
"Our mission is to change the minds of women on their way to abortion clinics, and, with the intercession of Our Blessed Mother, we pray to help them decide to choose life," said Karen Rhodes, who has been part of the initiative since the beginning and is now its president.
The group raised money from fellow parishioners to put up a billboard in Gulfport, Rhodes said. "It was simply a matter of talking to (Bishop Louis Kihneman III of Biloxi) first, getting written approval from him, and giving the parish priest the letter to ask for a second collection," said Rhodes.
"The letter allowed our project to approach 16 other parishes, and our four-minute talk asking for a second collection went off like gangbusters," said Rhodes.
The effort soon spread to other communities, including Pass Christian, Biloxi, Waveland, Ocean Springs, Hattiesburg, Jackson, Natchez and Batesville, Mississippi; New Orleans, Hammond, Baton Rouge, Gramercy and Lafayette, Louisiana; Mobile and Birmingham, Alabama; Destin, Florida; Dallas, Texas; Columbia, South Carolina; Atlanta, Georgia; Charlotte, North Carolina; and now Nashville.
The 27 billboards that have gone up to date have resulted in more than 8.5 million total weekly views, Rhodes said. The average monthly cost of displaying a single billboard sign ranges from $1,000 to $5,000.
"The response has been incredible, simply wonderful," said Sullivan, the project's foundress. "Our original goal was to put up two billboards per state, but now it's already looking like we are going to have more displayed."
Sullivan credits the Blessed Virgin for the Initiative's success. "Our billboards feature a woman whom, when God created her, he made someone who is the best of everything," said Sullivan. "All of our success is all the spirit of the Blessed Mother interceding for us, because we are honoring Christ, who as we all know, loved his mother, who was the most beautiful woman that God ever created."
The initiative is now under the umbrella of the Diocese of Biloxi's Pro-life Ministry.
Michelle Pisciotta, M.D., is director of the Biloxi Diocese's Pro-Life Ministries. "I am also an OB-GYN, the diocese's Natural Family Planning Coordinator, and involved in the billboard project since its beginning," said Pisciotta.
"It is such a beautiful image, and people should realize that showing baby parts, sitting in judgment on someone, displaying anger, etc., just won't work," Pisciotta said. "These billboards just get people to stop and think, and choose life instead, without hitting them with statistics, and clutter."
Cox, who led the initiative's debut effort here, said, "I was contacted by Karen Rhodes, who is president of the project, and asked if I knew of any organizations here that might have an interest in displaying the billboards."
Cox recounted how, beginning with her own church, "I approached 15 parishes that have a Legion of Mary and each one was willing to assist with the project."
The Legion of Mary "does a host of work with expectant young mothers, such as referring them to Mulier Care, a mobile health care organization that offers ultrasounds and other pregnancy help for women in need," Cox said.
Although pleased with the ministry's on-going success, Rhodes is not happy with the controversy raging around abortion.
"I never thought that when Roe v. Wade was passed, all this time later would find our country in such a mess," Rhodes said. "Everything is so extreme, with babies now being aborted full term in some states."
She is proud of the billboards' "simple but powerful message, which at least one doctor told me caused a pregnant woman to change her mind about an abortion," Rhodes said.
"The expectant mother saw it, changed her mind, and eventually put the baby up for adoption after giving birth," said Rhodes.
"When we go into a new area, the initiative tries to get a priest to bless the billboard sign, and I do believe that various miracles have kept coming up," said Rhodes.
One such instance, said Rhodes, involved a billboard "which was located one mile from the beach, surviving Hurricane Zeta last October, whose winds destroyed two other commercial signs located side-by-side, right next to ours."
"People want this," said Rhodes. "It's time to end this tragedy," said Rhodes.
For more information about the Pro-Life Billboard Initiative or to donate, visit www.saintjameschurchms.com.