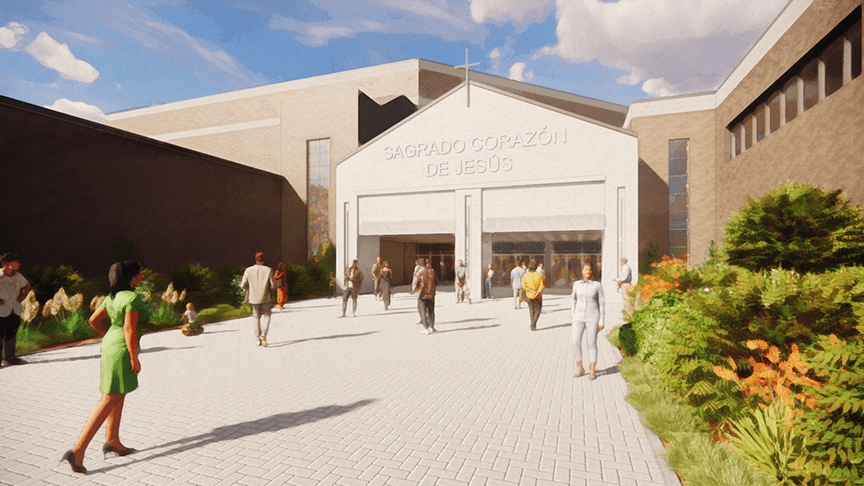 Following years of discussions, plans are officially underway to build Sagrado Hall as an expansion of the Catholic Pastoral Center in Nashville that will serve primarily the Hispanic Community of Sagrado Corazon Church.
As of late August 2022, plans are in place for an early 2023 ground-breaking and an early 2024 completion.
"This space has been in the works and thoughts for a long time," said MaLinda Oden, director of Facilities and Technology for the Catholic Pastoral Center. "It just never came together until now.
"We're doing this for the Hispanic Ministry to support them," Oden added. "They're hard workers, and they have a lot of events, so it's important to support that and give them this dedicated space."
The planned 23,000-square-foot expansion, which will accommodate up to 1,000 people for a sit-down event, will include a prep kitchen with a refrigerator and freezer, warm boxes for food, sinks, and stainless-steel tables for any caterers to use. Additionally, it will include both an indoor and outdoor event space with grills lined up along one side of the outdoor space to cook on and will have tents to shield the area from any inclement weather.
The diocese is partnering with Centric Architecture, Choate Construction and Commonwealth Development Group Inc. to complete the estimated $9 million project.
"It will be one of the largest event spaces in the diocese," Oden said, who noted that the diocese will also use the space on occasion for larger annual events. "We hope it brings a place for gathering and a place for family."
As plans continue to move forward to build the new space, Father David Ramirez, pastor of Sagrado Corazon, said the Hispanic community is excited.
"Everybody is very happy. We are very happy for them, for us," Father Ramirez said. "The diocese … they are always supportive of the Hispanic people.
"Bishop Spalding came to the (Feast of Sacred Heart) celebration, he came to speak with the people, and people were very, very happy. The people love the bishop," he said. "He's very passionate. When we finish any celebrations, he's very compassionate with the people, talking with them and taking photos with them."
Father Ramirez said the new hall will accommodate several events that the community holds throughout the year including retreats, meetings and fundraisers for the Bishop's Annual Appeal for Ministries, A Legacy of Faith, Hope and Love Campaign, and for the community itself.
"We usually have different activities during the year and sometimes we have to ask the diocese for use of Ascension Auditorium or Bishop's Hall" at the Catholic Pastoral Center, Father Ramirez said. With the new hall, "I don't think we are going to need to ask anymore.
"We have a large community, and when bishop needs something, whether it's for the Bishop's Annual Appeal or the Legacy Campaign, they always, always support us," he continued. "I think they deserve this hall."
The Catholic Pastoral Center became the headquarters for the Diocese of Nashville after the purchase of the former Two Rivers Baptist Church in 2014. It houses the Office of the Bishop, Mission Support Offices, Chancery Offices, Catholic Charities, Diocese of Nashville, and the Office of Hispanic Ministry, which was first established in 1992, according to a project brief. That ministry grew into Sagrado Corazon.
"Each week, thousands of Spanish-speaking Catholics come to Sagrado Corazon to celebrate Mass, attend religious education, and participate in the myriad activities that make Catholic life special," the brief reads. "Bishop (J. Mark) Spalding embraces the diversity of our Middle Tennessee Catholic community.
"Under his leadership, our diocesan motto, 'Living and Proclaiming the Good News of Jesus Christ, Welcoming All' intentionally signals an open door, an open heart, and a boldness for Christ," it continues. "Our Catholic community is … diverse, and it requires encouragement and investment to continue to grow."
The final preparations for the ground-breaking come after continued discussions and plans for the architecture of the building as well as fulfillment of specific requirements for 60-day zoning approval and site/grading and permit requests. One such requirement was an Informal Neighborhood Meeting with residents around McGavock Pike to inform them of the details of the project, which happened in July.
During the meeting, which was led by Luke Dougal, architect with Centric Architecture, attendees were able to ask questions about the project including the effect on traffic flow, potential noise pollution, smells from cooking outdoors, and more.
Overall, feedback from the neighborhood meeting was positive.
Nearby resident Doug Almy said he had no complaints about the project.
"I live at the top of Pleasant Green and Western Hills. Yes, we hear noise on occasion, but it's not bad noise," Almy said. "It's fun people having a good time."