A class dedicated to the "art of living" and a chance of introducing more leadership opportunities to sixth graders are just some of the things in the works as St. Cecilia Academy and Overbrook School prepare for the shifting of the junior high students starting in the 2022-23 schoolyear.
The restructuring of the schools' grade levels was announced last August and will shift St. Cecilia to a 7-12 all-girls school and Overbrook to a pre-kindergarten through sixth-grade coed school; both schools are owned and operated by the Dominican Sisters of St. Cecilia Congregation.
"This is the next chapter in our history," said Sister Anna Laura, O.P., principal of St. Cecilia.
The decision came out of a strategic planning process with the Institute for School and Parish Development based in Louisiana in 2019.
"It's just that normal cycle every six years of really charting the course and asking, 'What are our goals? What's going to be our roadmap for ongoing growth for the next six years?'" Sister Anna Laura said.
In prioritizing the goals determined by the strategic plan, one was to "create a thriving junior high program on the Dominican campus," Sister Anna Laura explained.
From there, Catholic School Management out of Illinois came in to study it further.
"Many of the parents who were interviewed during the study said that Overbrook has so many great points of light which are often clouded by the struggle and instability created when some students leave after sixth grade," said Sister Marie Blanchette, O.P., principal of Overbrook. "Our students put their hearts and souls into what they do and come out on top. We want them and others to acknowledge and celebrate their success. Making Overbrook a pre-kindergarten through sixth grade school will focus, strengthen and stabilize the academics, athletics, extra-curricular programs at Overbrook to allow them to shine.
"St. Cecilia Academy has a long history of providing strong academic, fine arts and athletic programs. It is exciting to see our Overbrook graduates be able to benefit and participate in some of the high school extras while in seventh and eighth grades," she said. "The girls will have more time to develop their individual talents with the dance studio and music offerings, as well as learn how to navigate aspects of modern life in an all-girls environment."
New programs, assignments
Since the restructuring plan was announced, the faculty and staff at both schools have been discussing plans for the program as well as potential staffing changes at both schools.
"The Overbrook junior high faculty is fantastic with a really strong academic program, so we're not starting from scratch in moving the junior high to St. Cecilia," said Sister Anna Laura. "Their teachers have been collaborating with our teachers over the last four or five months in looking at our 9-12 program, the courses and … what we want to do to strengthen already strong programs on both sides."
Additionally, because of the experience of the junior high faculty at Overbrook, both schools are keeping their needs a priority.
"They are the key piece to implementing a strong curriculum and building the rapport necessary to help the students flourish," said Sister Marie Blanchette. "I met with each of them, and both schools are sensitive to their interest in teaching at St. Cecilia or staying at Overbrook.
"They have given so much to Overbrook School, and we want them to teach where they will flourish," she said. "We will assist our teachers in every way we can as the programs move forward."
The Art of Living
While the new junior high program at St. Cecilia will cover the basics such as English, Latin, math, fine arts, religion, science, history, and physical education, it will also feature a new signature program called, The Art of Living, Sister Anna Laura said.
The Art of Living "is a course that will span both seventh and eighth grade, and it will cover all those things that make such a difference in success in life," Sister Anna Laura said. "All those things we need for healthy relationships, emotional-social growth, managing stress and living a balanced life.
"The phrase comes from Pope Benedict XVI who said teaching the art of living is at the heart of the new evangelization," she said. "What does he mean by that? It's teaching us again what it is to be human because we live in a culture where it can sometimes be difficult to remain balanced and whole and make choices that really help us to flourish."
From the Art of Living program, will "flow student life," Sister Anna Laura added, which will include field trips to various places around Nashville, including art museums, the ballet and the Grand Ole Opry.
"Different things to experience culturally is all part of the art of living and being fully human on the road to true happiness," Sister Anna Laura said.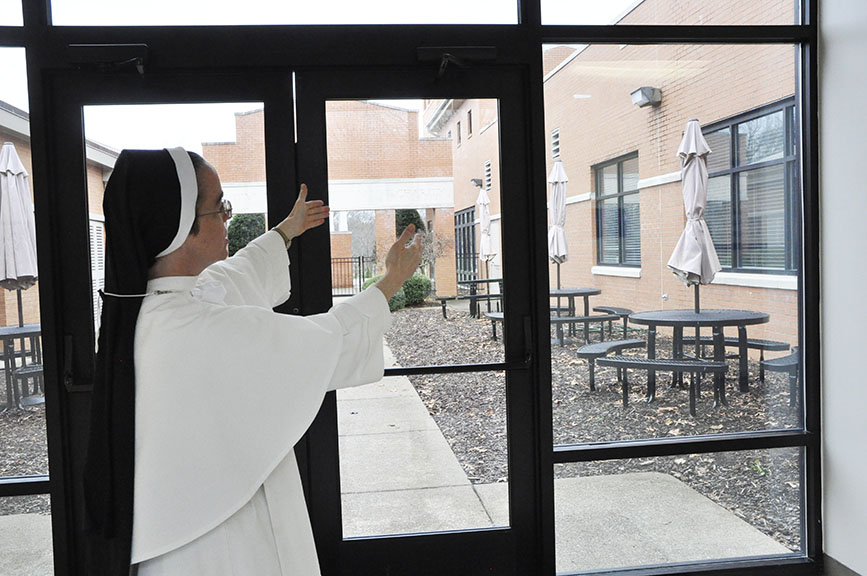 A capstone year
The benefits for Overbrook students will enhance, too, with the shift, particularly amongst the sixth-grade students, Sister Marie Blanchette said.
"When the sixth graders are the oldest in the school, they tend to be more open to developing virtue and leadership capabilities," Sister Marie Blanchette said. "Developmentally, they tend to be more open to serving others and less self-conscious.
"We would love to develop these qualities and capitalize on that openness. We want to help them direct their desire to improve society in meaningful ways," she continued. "We want them to see that their efforts do make a difference by helping to guide the way they use their leadership skills. We will focus on and develop the level of self-confidence that helps them throughout their lives."
Sister Marie Blanchette said sixth graders will also experience a rotating cycle of classes as well as a formal graduation ceremony.
"Students will gain knowledge on how to be a virtuous leader, a kind friend and a confident learner. Giving students time to discuss, understand and grow in life skills appropriate to the middle grades results in students' freedom to be who God has created them to be as they grow in wisdom and grace in community with others," she said. "Many of our students come to Overbrook as 3-year-olds, so graduation will be a time where we celebrate their achievements over their years at Overbrook and pray for them as they embark on the next chapter of their lives."
What about the boys?
While the transition seemed to be something that would affect sixth grade most boys since St. Cecilia is an all-girls school, Sister Marie Blanchette said that actually is not the case.
"Many of our sixth-grade boys matriculate to (Montgomery Bell Academy)," she said of the 7-12 all-boys private school across the street from Overbrook and St. Cecilia. "Now that Pope John Paul II (Preparatory School in Hendersonville) has seventh and eighth grades, the boys have a Catholic school option after sixth grade as well as the girls.
"The landscape is changing so there may be other Catholic options for boys in the future, too," she said.
A special farewell at Overbrook
Sister Marie Blanchette said the change comes with the initiative to make the year extra special for the current sixth through eighth grade students as well.
"This is an historic year as there will be three separate graduations — the last eighth grade graduation, a unique seventh grade graduation, and our first sixth grade graduation," she said.
"Any time there is a change there are people in favor and people who are disappointed. You can imagine that the seventh graders and their families have been most affected by the decision.
"They are so close to their eighth-grade year, and they see how special the eighth-grade year has been at Overbrook," Sister Marie Blanchette added. "They will miss that experience and that is difficult. We are very sensitive to that and are working to make this a great year for them."
Final preparations at St. Cecilia
St. Cecilia will prepare for the additional students by renovating a portion of the school to accommodate the seventh and eighth grades including three classrooms for each.
"That way they have their own space, but they'll still come together with the high school for the big celebrations like St. Cecilia Day," Sister Anna Laura said.
Renovations will happen this summer with Hastings Architecture.
"We've received tremendous financial support for the renovations with some wonderful benefactors coming forward knowing that we would need to do the renovation," Sister Anna Laura said. "The Lord is truly opening all the doors and really blessing this initiative."
Additionally, a new director of junior high will be appointed and announced later in the semester; the post will be filled by a Dominican sister.
Applications
For Fall 2022, St. Cecilia is accepting applications for seventh, eighth and ninth grade students through Feb. 1.
"After our inaugural year, we'll have two entry points, seventh grade or ninth grade," Sister Anna Laura explained.
To apply, visit stcecilia.edu/admissions/apply.
For more information about the new junior high program, visit stcecilia.edu/junior-high.