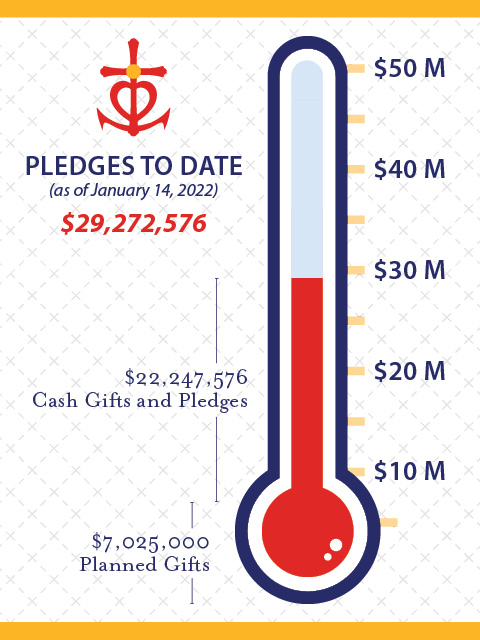 As nine parishes throughout Middle Tennessee prepare to host commitment weekend, signaling the end of Wave One of the Diocese of Nashville's Legacy of Faith, Hope and Love Campaign, $29,272,576 of the $50 million goal has already been raised through gifts, planned gifts and pledges as of Friday, Jan. 14.
"We are overjoyed at the response to call of generosity of the people," said Bishop J. Mark Spalding. "We are creating a Legacy of Faith, Hope and Love with each 'yes' to this campaign."
Ashley Linville, diocesan director of the Office of Stewardship and Development, credits the success to the work of parish volunteers and parish leaders, as well as the generous spirit of the community.
"I've really been impressed with some of the work we've seen from our volunteers. We've had quite a few volunteers that have been very committed to making the calls, setting up meetings, meeting with potential prospects and getting pledges," Linville said. "We've also had quite a few pastors that have just really shown great leadership and have not only made significant gifts themselves but have been communicating with parishioners and making personal asks of parishioners and supporting their volunteers, too.
"I've also been impressed with the generosity of so many. We've had so many people make significant gifts that, when you think about it, it just blows you away," he added. "People have been so supportive, and I think they are really identifying with the message that it is for our future generations; it's for our children and our grandchildren. I think a lot of people want to support that and want the faith to be alive and strong many years beyond now."
The $50 million Legacy of Faith, Hope and Love Campaign is a diocesan-wide fundraising initiative to build up endowments to support in perpetuity parishes, schools, ministries and agencies of the Diocese of Nashville.
The historic campaign, with the assistance of Steier Group, is raising money to create new endowments or enhance existing endowments to provide future revenue for five key priorities: individual parish needs; Catholic education; vocations; parish growth and expansion; and outreach to those in need.
Money raised toward the campaign goal will be split up among the five key priorities as follows: 25 percent for parishes; 40 percent for Catholic education; 15 percent for vocations; 10 percent for parish growth and expansion; and 10 percent for outreach to those in need.
The campaign is being rolled out at churches across the diocese in three waves, with a different group of churches in each wave. The first wave, which began this fall, is about to close out with commitment weekends in the coming weeks. The second wave, which will include 19 parishes, will kick-off in March.
Steier Group, a capital campaign fundraising firm out of Omaha, Nebraska, has assisted dioceses in similar campaigns all around the country. Corporate donations have covered the fees for Steier Group to assist the diocese in managing the campaign.
Throughout Wave One, campaign committees at each of the churches have been making phone calls and visits to parishioners, hosting events and having information available after weekend Masses to let the communities know about the campaign.
St. Matthew Church in Franklin had six parishioners heading the campaign to its parishioners — Tom and Debbie Sloan, Angelia and Jim Brunner, and Lisa and Alex Fisch.
"I didn't grow up in this diocese, but I was fortunate enough to grow up as a Catholic in a community which was strong and vibrant with many Catholic churches and priests. That means Catholics before me contributed their time, talent and treasures to develop and nurture a robust foundation," Tom Sloan said. "This is my opportunity to pay it forward and ensure future generations will find the Diocese of Nashville to have rich educational opportunities, thriving social ministries and plenty of resources to support vocations."
Debbie Sloan agreed.
"This is the first time in 20 years that the diocese has had a major campaign, and we hoped to be able to help our pastor, Father Mark Sappenfield, and our parish support this effort," Debbie Sloan said. "I believe that the use of endowments is a wonderful way to really support a 'legacy' effort since the principle of the campaign funds will truly be working to support these areas of need for many years to come."
St. Matthew parishioners didn't disappoint in response either, Tom Sloan said, and it has proved personally rewarding to him.
"The parishioners of St. Matthew have been overwhelmingly supportive of the campaign … and have been very receptive to considering making a pledge. They state they don't remember participating in a diocesan campaign before," he said. "They want to do their part to help the diocese remain strong and dynamic into the future. I have participated in parish campaigns before, and that experience allowed me to meet some of my closest friends. This campaign is allowing me to meet even more parishioners; people who I have seen at Mass but had never spoken to before."
"That is a secondary benefit for sure," Debbie Sloan added.
But Linville said the idea of meeting new people and "building community" is what is most important about the campaign and something that will be encouraged as the next waves begin.
"Yes, we have a goal and gifts are important, but through every meeting that we've had, being able to share the vision for the future of the diocese and having more people come together to really be part of the community and cement the future and that foundation for the future, to me, that is the most important thing," Linville said.
For more information about the Legacy Campaign, visit dioceseofnashville.com/legacy.